Everything in life you come across has its origin. The same goes for online stuff. You want to put a signature on everything you create and if you stumble upon something really interesting you want to see who made it.
WordPress Author Plugins are a good way of stamping a label and giving credit to people who spend time crafting useful and entertaining things. What follows is a roundup of free author bio plugins for your WordPress websites.
1. Fancier Author Box
Fancier Author Box a WordPress plugin developed, because we felt that none of the author bio plugins currently available are good enough for our needs. It will make your every single or multi-author blog recognizable and make you and your contributors easily reachable by the audience. Using Fancier Author Box you'll also become verified Google Author.
The latest posts tab allows you to choose how many recent posts you'd like to show and gives an opportunity for your readers to instantly find more of your content.
The settings page has all that you need to control how and where your author description appears. You can enable it above, below or both on your pages, posts and custom post types. You also have unlimited color option for every author box element, so it blends nicely with your website.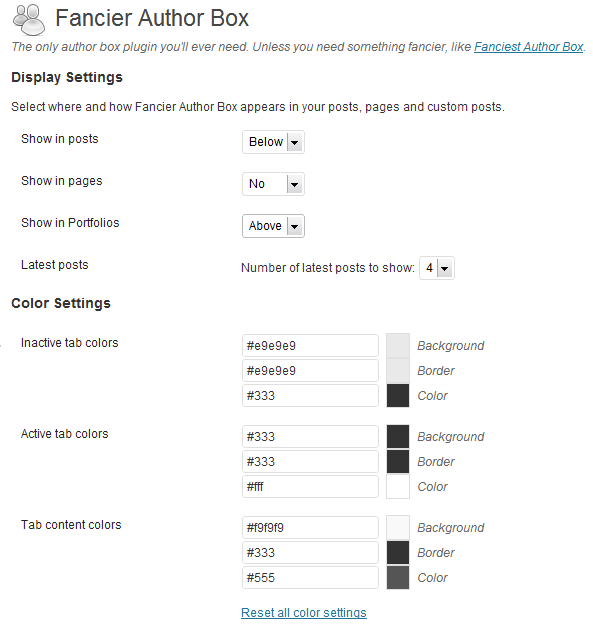 We recommend you give it a try and tell us what you think, as we're constantly trying to improve it for you.
2. Author Box After Posts
Name says it all. The plugin adds an author box after your posts.
Plugin box contains author's avatar, name, post count, site link, personal description and email. Using it is pretty straight-forward. It doesn't have a separate options page, but it does the job well.
3. WP About Author
WP About Author is more customizable plugin than most others.
You have three border styles to match your theme, you can change background color with easy to use color picker, control when to display author bios and display text links or icons of users social media profiles.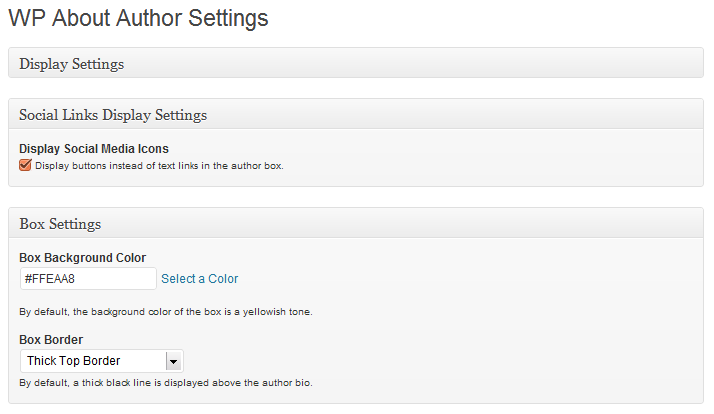 The plugin expands your profile page by adding popular social media fields so it's easier for readers to follow you on whichever social network you prefer. Some of these social networks include: Pinterest, Digg, Flickr, StumbleUpon, YouTube, Yelp, Reddit, Delicious… etc.
4. Another Author Box
A plugin which allows you to add a few social media links such as Twitter, Facebook and Linkedin with icons.
It uses gravatar for author images and uses WordPress profile description.
5. Better Author Bio
Better Author Bio simply adds an author bio box in every post automatically, but you can choose where you want to show it.
You can add links of your Blog, Twitter, Google+, LinkedIn and Facebook profiles on the bio. This is the only free plugin that let's you insert it manually with a shortcode.
---
WordPress author box plugins are a great way of giving credit to yourself or contributors if you're running either a single or multi-author WordPress blog.
If you're wondering what kind of author box plugin we use to put signature on our blog posts, it's the premium version of Fancier Author Box with features like automatically claiming Google authorship, custom social tabs, translation ready and comes in three flavors: widget, shortcode and template tag.
It's called Fanciest Author Box and it's available via CodeCanyon.