You should do WordPress backups to secure yourself from:
Hackers, viruses and malware
Catastrophic server failures
WordPress upgrades
WordPress has become an incredibly popular platform and hackers know it. A backup may save the day if that nuisance ever happens or if some files get deleted by mistake. Doing regular WordPress backups has always been a chore, because it always required some manual operations and certain amount of time and skills to be done properly.
That's why I tried to find a reliable solution that would do this automatically for you. Currently, there are several free WordPress plugins that do a complete automatic backup of your WordPress installation (both files and database), but the one I'm going to talk about overshadows all others.
The free WordPress plugin that does this for you is called BackWPup and is available through WordPress plugin repository.
Automatic WordPress Backup via BackupWPup Free Plugin
Before I start explaining how this works, you should know that I wasn't quite sure how this post would develop. I've tried a lot of plugins and different methods for WordPress back-ups, but this solution seemed the simplest, yet the most complete one.
notice: You must have WordPress 3.1 or higher for this WordPress Backup plugin to function.
Adding a new job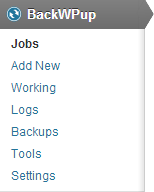 Once you start "adding new job" you should see a page like the one in the image below. The default settings will work for most of you. Your database tables should all be checked and for files you can select the ones you think are the most important to you. I always uncheck the themes I don't use and plugins which are not very important for running my blog. Everything else is checked for backup.
File Backup
This option allows you to choose specifically which blog folders: root, content, plugins, themes and blog uploads to backup.
Job Schedule
Job schedule let's you select the time and frequency of your backups. Once a week should be more than enough for most blogs.
tip: Select the time when you have least traffic, because performing backups takes toll on your bandwidth.
You also have the option for advanced scheduling where you can set the backups hourly, daily, weekly or monthly on a specific hour and minute if you want to be anal.
Also, you can write down the path of folders to include or files and folders to exclude from your backups.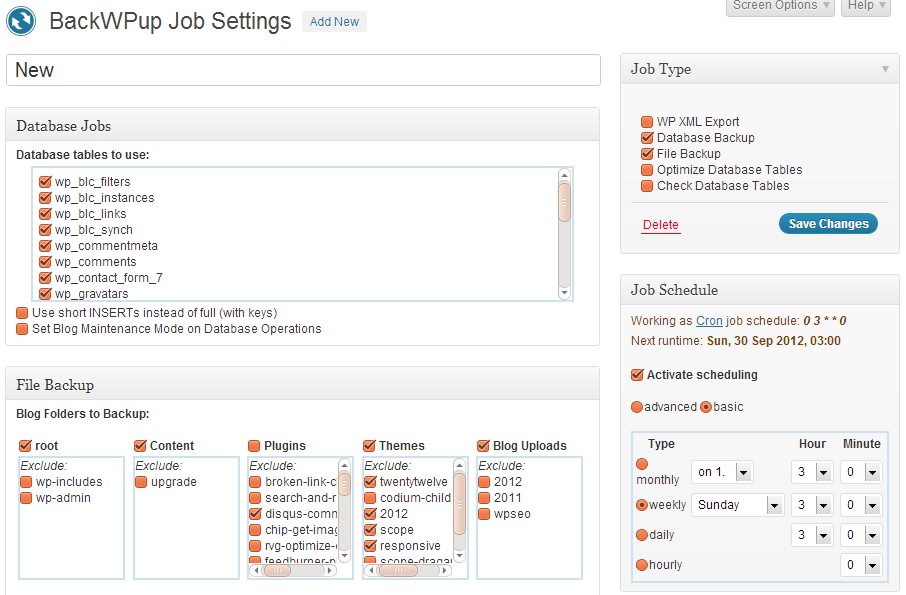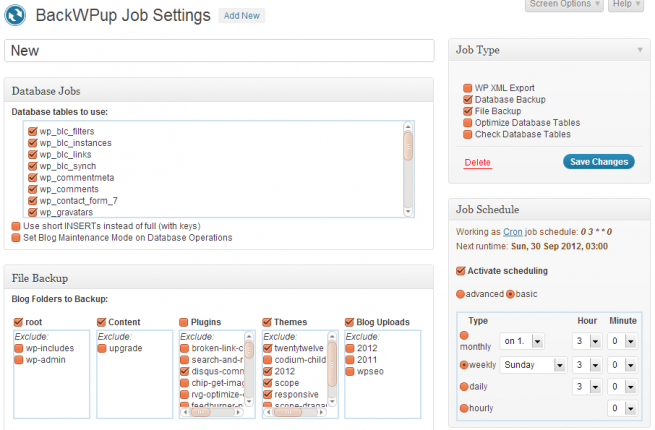 Store Destination
You really get a plethora of options here:
Folder – you must specify the full path of desired folder and also you can set the maximum backup files in folder.
E-mail – you must enter your email address and the maximum file size for sending the backups.
You should almost never use email as a destination because your server may crash in case of large backup scenarios.
FTP Server – in case you want to use FTP server, you must enter the FTP credentials like hostname, port, username, password and the folder you want backups delivered to.
DropBox – My favorite option. You can authenticate with your existing dropbox account or create a new one and choose the root and folder for the backup.
notice: I couldn't get it to work for folders. It only backs up to the DropBox root for me.
Besides Email, FTP and DropBox as your backup dump destinations, there's an option for SugarSync, Amazon S3, Google Storage, Microsoft Azure and Rackspace Cloud.
After you set what you want to back-up, when, how often and where to be delivered, you're pretty much done with providing a great backup solution for your WordPress website.
Jobs
All your jobs are stored here. You can open and change settings at any time or read about all the created jobs, with information about the name of the job, status, size, last run and next run. Each job can be edited, copied, exported, deleted or ran on demand.


Settings Page
The Settings options for BackWPup allows you to set-up a lot of things such as the maximum log files in folder, maximum retries for job steps and for job script retries and also the http authentication. This really is packed with options which are gathered in a nice and logical order, so you won't be confused.
Restore WordPress
In order to restore WordPress database you need to:
Unzip all the files locally on your computer and upload them using ftp software like FileZilla, which is FREE. All the files must be uploaded to the same path as your website unless you choose to upload the files to a different folder and then copy them to the website path. The path will look similar as illustrated on the following examples below:
Examples (depending on your host):
/home/user/public_html
/home/user/www
/public_html/
WordPress files and database have to be manually restored from your compressed backup file to your website using an FTP.

Support
BackWPup plugin offers nice support through its site forum and on WordPress.org. You should probably first read the FAQ section before opening a new thread.
There's no Documentation available yet, but you can expect some prompt answers.
---
All these options make BackWPup very useful, reliable and easy to use plugin. May you never need to restore your WordPress, but why not have peace of mind. If you find this post useful or you know of an easier way to automate this WordPress chore, please speak your mind.
If you want to read about WordPress backups in depth, you can visit the official WordPress page.