We've redesigned ThematoSoup, as you may notice. With that body overhaul done, I thought it would be nice to do a regular engine service and upgrade a part or two.
Good search functionality is what all search engines are about, but it's also a trait of usable websites. There's a lot of search plugins for WordPress out there, but only several worth mentioning:
It's a fact that good search functionality means a more usable website, which means more time people spend on your website, which then means more conversions. Native WordPress search functionality, although constantly improving, has never been up to the task. Let's see how the plugins stack up.
1. Swiftype Search

Swiftype is a fairly new WordPress plugin. Some nicer features of Swiftype include:
Cloud-based service which doesn't strain your servers
Highly relevant search results
Analytics of what users are searching
Auto-complete feature
Manually override for search results
The plugin works by sending an index of all your WordPress content to Swiftype servers, so your server never gets cluttered and since Swiftype doesn't use MySQL at all, search results come up much faster.
The Swiftype Search plugin replaces the standard WordPress search with a better search engine that is fully customizable via the Swiftype dashboard.
During all this time, Swiftype service collects data and stores it in your Swiftype dashboard, where you can analyze them and make some manual changes to search results if you want to.
You need to sign up for an account to use this plugin. The dashboard gives you analytics data and you can make tweaks to your search engine there.
2. Relevanssi

Relevanssi has been around for a long time, so it's a well maintained and regularly updated plugin. Once you install it, you first need to build the index in order for it to work. Relevanssi doesn't use cloud based search service as the two previous plugins, so it may be a little slower.
Relevanssi replaces the default search with a partial-match search that sorts results by relevance. It also indexes comments and shortcode content.
You'll find some nice options here, which could be better organized, but I found zero problems configuring it.
A couple of features I should point out are:
No registration
Search comments, tags, categories, custom fields
'Did you mean…?' suggestions
Posts highlight the search term matches
Exclude posts, pages, tags or categories from search
Match partial words if complete words don't match
Here's a nice video that explains briefly how the plugin works –</p>
You can change the weight of your post titles, comment text, tags and categories depending on what you find most important. If you're not satisfied with the options of the free plugin, there's premium version, as well.
Now, let's see what CodeCanyon has to offer. I've tried several and these are the best WordPress search plugins found on Envato.
3. Profi Search Form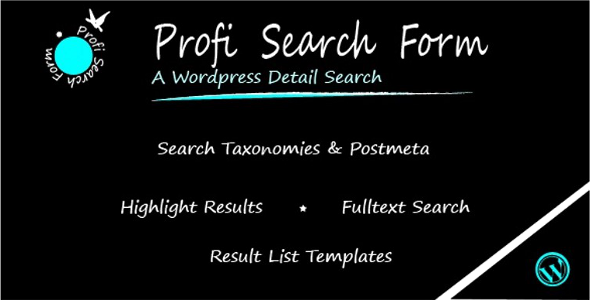 Profi Search form is very customizable and WooCommerce compatible WordPress plugin with search phrases that get highlighted in the search results.
You can use it anywhere on your website as it includes widget and shortcode options. Filtering is done by:
Custom Fields
Taxonomies
Post Types
Conditional Fields
Range Sliders
Map search
This plugin will get your WordPress search functionality and usability to a higher level. Your WooCommerce store will become so much easier to use and your customers will have a better experience searching the product they need.
Range Slider
This is where you can say, the product is supposed for users around this age, in-between these price ranges selectbox, where you can select all products which are good as a gift?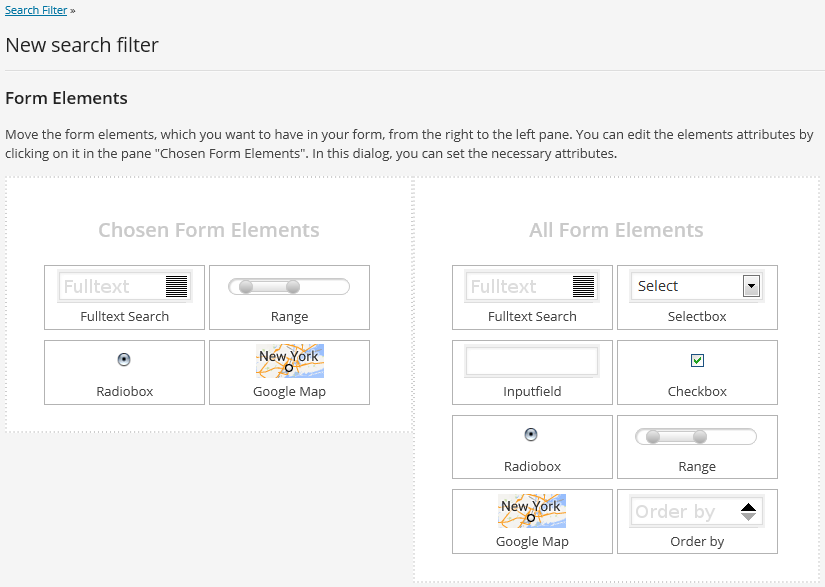 With Profi Search Form for WordPress, you can do just that. It includes:
Full Text Search with the options to highlight the matches
Searchability option
Range Search for numeric values like prices, square meters, etc
Input fields, for min/max/equal or like searches
Area Search with Google Maps
WooCommerce Support
Select, Radio and Checkboxes
Conditional Fields to show certain fields only if a specific value is chosen
Hidden Fields so you can restrict filter results to specific taxonomy categories or custom fields
Usability
The search is completely Ajax based so the results will be shown automatically without leaving or reloading the website. Although Ajax is in place, the "Back" and "Forward" buttons still work, like you expect them to do.
So, when your visitors clicks "Back" their search results will appear.
If you want to learn more, visit the Profi Search Form CodeCanyon page.
4. Ajax Search Pro WordPress plugin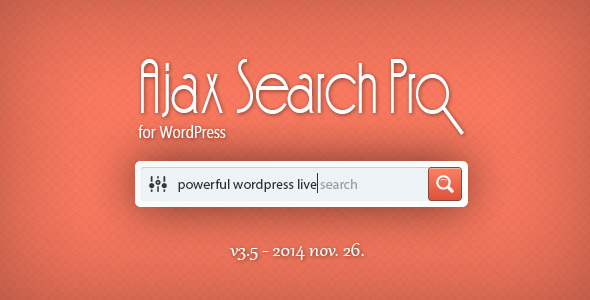 Ajax Search Pro plugin gives you a live Ajax search, so much comfortable search experience. The results are presented with images, so search results look more attractive.
It also works really well with mobile devices on any platform. The search can return:
Posts
Pages
Custom post types (WooCommerce products, bbPress forums, topics, replies…)
Categories
Custom taxonomy terms
BuddyPress users, groups and activities
There are more than 60 colorful, fully customizable, so you don't need to alter CSS yourself. But, it also offers a lot of options for developers who like to tweak everything.
Ajax Search Pro was designed to boost the user search experience to the maximum.
It seems that the plugin is updated regularly and the developers claim that every support ticket is answered within 48 hours or even 12 hours.
Features
Here's a few features Ajax Search Pro plugin comes with:
Compatible with any theme
Adjustable search logic
60 skins
High resolution icons
Widgets, shortcode
Image support
Multisite support
Keyword highlighting
Google Analytics integration
Caching
Search statistics
---
Whichever search plugin you choose, you'll greatly improve your website experience and hopefully keep visitors on your website a little longer. Good search functionality gives people a lot of power and is a major time-saver. As you already know, happy users are the ones that are likely to convert.
If you have experience with WordPress search plugins or know a trick or two on how to configure them for maximum effect, share it with me. I'm an SEO guy and the search has always been my thing.