I'm a meat and potatoes (well, salmon and quinoa) kind of guy and go for simplicity over bloat whenever I can. I really believe that if only a very low percentage of users is going to need a certain option, maybe it shouldn't exist. Until several weeks ago, finding a simple social sharing WordPress plugin was impossible. Most of them had all those social widgets majority of visitors would never use. You know, if I really want to share something on Yahoo! Buzz, I'll share it on Yahoo! Buzz and I won't be stopped by the fact that your site doesn't have a button for it. I might be stopped by the fact that Yahoo! Buzz was killed in 2011, yet one of the most popular social sharing plugins still has a button for it.
Enter Floating Social Bar – plugin developed by Syed Balkhi (WPBeginner) and Thomas Griffin (author of Soliloquy slider, among other things), two very well known and respected WordPress developers. Floating Social Bar does only what you're likely going to need it to do, when you need it. How does that work?
First, you can only add buttons for Twitter, Facebook, Google+, LinkedIn and Pinterest. Sure, saying "buttons for 30+ social networks" would sound cooler, but if "sounds cool" and "just works" are your options, which one would you rather go with?
When you install the plugin, you can go to its settings page (Settings > Floating Social Bar) and set up a few very simple options. First, you'll drag social networks you'd like to use from "Available Social Services" to "Enabled Social Services" and order them they way you'd like them to show in the page.

Then you get to play with plugin settings, all seven of them.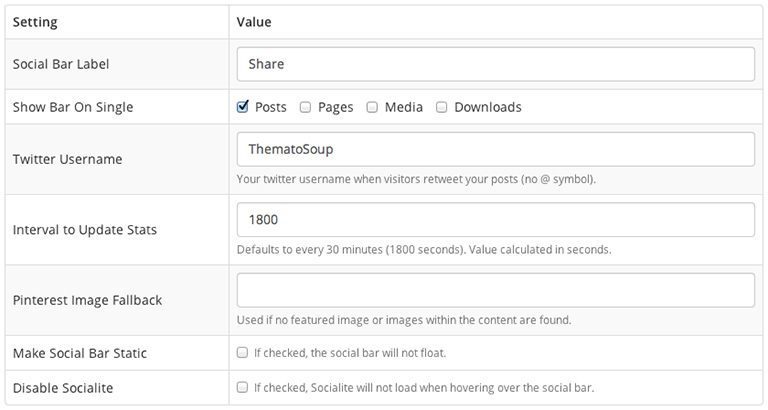 Social Bar Label – text shown next to the buttons, you can leave it empty if you want no label
Show Bar On – you can toggle Floating Social Bar for each post type
Twitter username – if you want tweet text to say "via @YourUsername" in the end, fill this field, otherwise it can stay empty
Interval to Update Stats – Floating Social Bar doesn't load social widgets as soon as a page is loaded, instead it shows images that look like social widgets and updates the count in these images every X seconds, this can impact load time dramatically
Pinterest Image Fallback – if you want to use Pinterest button, you can provide image URL to use as fallback image for posts that have no images in them
Make Social Bar Static – uncheck this and you have a Plain Social Bar
Disable Socialite – Floating Social Bar uses Socialite to load social widgets only when you mouseover them, if you disable this native social widgets will never be used and buttons your visitors see will be plain links that look like sharing widgets
You can also disable Floating Social Bar in individual posts by checking the option in Floating Social Bar Options meta box.
If there's one thing I don't like about this plugin, it's the fact that its settings page is different than the rest of WordPress dashboard. It looks great, probably better than other dashboard screens, but I don't think different font and Twitter Bootstrap were necessary. But that's just me nitpicking. Reality is, if you plan on using any other social sharing plugin, you need a really good reason to do it. Even the name is so simple and obvious, I love it.