Pros:
Your content is protected
Your articles are better ranked by Google
Your articles get a higher click-through-rate because they look so nice
You get credibility and greater social prominence
You get author stats in your Webmaster Tools
Cons:
What is Google Authorship and Why It's Important for You to Become Google Verified Author
Google is very smart in drawing people in. Right after introducing Google+, a social network that was supposed to overshadow all others, Google developed a way for authors to enhance their rankings and display their articles and posts in a more personalized way.
In essence it's your Google+ profile linked to all the articles and posts you write on the web.
It's important to distinguish yourself as a legitimate author and protect your content from scrapers, which lessen the value of your articles by stealing it and creating duplicates all over the web. By verifying your authorship, Google will know which content is original and discard all other.

The thing you see above is called "rich snippet" and by showing your pretty face and a byline ("author: Your Name" or "by Your Name") you encourage people to click on your content. You also strengthen your social presence.
If you want rich snippets for all your WordPress articles, read on.
2 Ways of Verifying Your Google Authorship
In order to enlist yourself for Google Authorship you need your Google+ account with a nice headshot image. After you create one for yourself, you then have two options for verifying yourself as an author.
Option 1
Go to Google+ Authorship Signup Page, sign up with your domain email and wait for Google to send you a verification link.
Make sure a byline containing your name appears on each page of your content (for example, "By Dragan Nikolic") and that it matches your Google+ name.

You can accomplish this by having your author meta on all your posts, which is always set by default in WordPress, so you usually won't have to trouble yourself.

Verify you have an email address (for example: [email protected]) on the same domain as your content, by clicking on the link Google sends you via email.
Your email will then show in the Contributor to section of your Google+ profile page. Don't worry, you can choose ti hide it.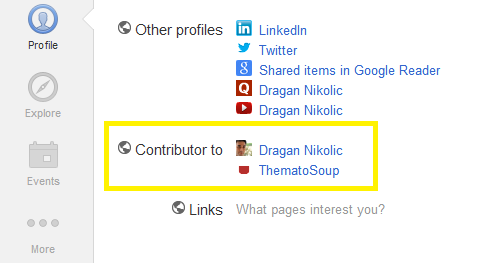 In case you don't have an email address on the same domain as your content or you just don't like this method, go to option number 2.
Option 2
By using this option for verifying Google authorship, you're linking your content directly to your Google+ profile.
Create a link to your Google+ profile from your WordPress posts and articles, for example:

<a href="[profile_url]?rel=author">Google+</a>

Replace [profile_url] with the your Google+ profile URL, for example:

<a href="https://plus.google.com/113280125766859303649/?rel=author">Google+</a>

Your link must contain the ?rel=author parameter. If it's missing, Google won't be able to associate your content with your Google+ profile.

In your Google+ Contributor to section add a backlink to the homepage of your website. You can choose who sees these links. Click save and you're done.
To check whether you've set your Google author markup right, use this rich snippets testing tool. Just enter the URL of one of your articles and click "preview". If it shows a rich snippet, you're done setting your Google verified authorship. It may take some time before you start seeing your image beside your articles.
observation: Google started not to show rich snippets for my own articles. It does this whenever I'm logged in, so check your rich snippets after logging out of your Google account.
---
Hope you've learned why it's important to have your authorship verified by Google and how to do it. You should implement it on your WordPress blogs by using either of those two methods mentioned above.
While it can take some time to become legitimate Google author, I suggest you be patient with all the verification Google does to ensure you're the real deal. However you don't have to go through all this trouble…
If claiming your Google Authorship seems time-consuming, you can always go for our author box plugin. It automatically adds author markup on all your content.
All you need to do is enable the Google+ tab in your Fanciest Author Box settings.