"If you build it, they will come." This is a famous quote from the 1989 movie Field of Dreams. That advice may have worked for the lead character in that movie, however, from a business point of view, this quote can be disastrous, especially for an eCommerce business.
With all the awesome technology that we have today, building an eCommerce store from the ground up may not be the tedious task it once was. The toughest part now is building a solid brand and acquiring new customers for your store.
And that is why many online retailers find it easier to integrate a store on a well-established website or blog rather than starting a new online store from scratch.
A great example of pairing a storefront with an established blog is Nautil.us.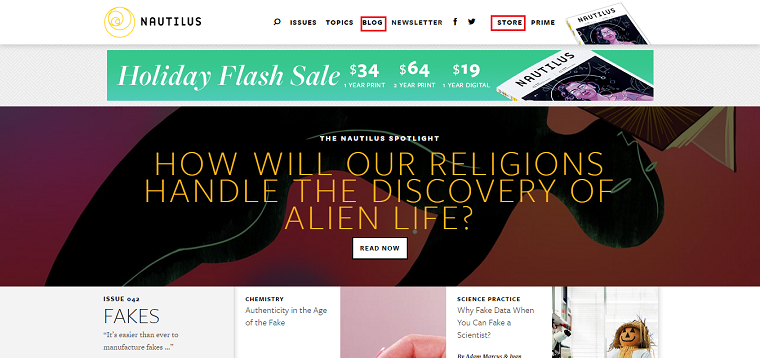 Since they update the site with great content on a daily basis, it encourages their potential customers to keep visiting their site. They are successful in enticing those same visitors to buy goods that mirror the type of content they love.
In this post, I'll explain everything you need to know to start integrating an eCommerce store with your established blog. You'll also find out why WooCommerce is the best option, discover necessary add-ons and learn how to choose a theme that fits your business goals.
Let's get started…
Building a storefront on WordPress
WordPress is no longer just a blogging platform. According to Datanyze, WordPress is the CMS of choice for more than 40% of eCommerce websites in the Alexa Top 1 million sites.
As the eCommerce industry is booming quickly, you can find a lot of plugins that will let you easily add a storefront to your WordPress installation.
Although there are lots of eCommerce platforms to pick from, below are a few benefits of using WordPress for building an eCommerce store.
No learning curve: As you're already a WordPress user, managing your storefront can be easier.
Flexibility: WordPress is a self-hosted platform. Unlike a hosted platform such as Shopify, WordPress allows you to expand the features of your website to any extent you choose.
Availability of themes and plugins: You can easily find tons of free and premium themes and plugins.

The downside of using WordPress is that it's not specifically built for eCommerce and you may need to tweak it a lot to suit your needs.
Maybe your existing blog is hosted on a cheap or shared hosting server. However, when you're turning your blog into an eCommerce store, always make sure to choose a reliable eCommerce hosting platform that is best for building and scaling up your online store.
This is an essential step, especially because an eCommerce store will consume a lot more bandwidth than just your existing blog. If you don't move to a reliable host, chances are you may find frequent downtimes, especially during peak load times.
Why the WooCommerce plugin
Without a doubt, WooCommerce is the most popular eCommerce plugin in the WordPress ecosystem. Automattic, the founding company behind WordPress.com, recently acquired WooCommerce, and hopefully, they will make the plugin even better.
With hundreds of extensions and supported themes, WooCommerce is one of the most flexible eCommerce plugins out there.
Below are the key features of the WooCommerce plugin:
Lightweight: By default, it comes as a lightweight plugin. You can always extend the functionality by installing your preferred add-on plugins.
Extensive payment options: Despite being a lightweight plugin, it comes bundled with the ability to accept major credit cards, Paypal, bank transfers and cash on delivery.
Essential add-on plugins
There are a lot of extensions that help you to turbo charge your WooCommerce store. In this post, I'd like to introduce only a couple of plugins that I believe every WooCommerce store must install.
Stripe:
Stripe is a simple way to accept payments online. With Stripe, you can accept major credit cards and even Bitcoin from your store.
Price: $79 for single site license.
Recommendation engine:
Have you ever wondered how B2C websites like Amazon and eBay suggest recommended products to you when you log in to your account? They use a recommendation engine.
In an eCommerce website, a recommendation engine suggests products to a user based on their onsite behavior and preferences.
If you're a WooCommerce store owner, the Recommendation Engine plugin will allow you to configure Netflix and Amazon style product suggestions for your customers.
Price: $79 for a single site license.
Choosing an eCommerce theme compatible with WooCommerce
Though you can find thousands of WordPress themes in the WordPress official theme directory, not every WordPress theme might be a good fit for an eCommerce website.
If the current theme of your blog is not compatible with WooCommerce, you'll need to find the right WooCommerce theme that suits your needs. Or you may need to hire someone to design it according to your preferences.
Here are a few tips that might help you find a theme for your eCommerce business:
Brainstorm your ideas: Before choosing a theme, write down the features you're looking for. Make a note about the tweaks you'll possibly need to make on it, so it fits your business goals.
Free theme vs. premium theme: Some store owners prefer using a free theme over a premium theme, because free themes found in the official WordPress.org repository are coded with best practices in mind.

If you're looking for a more professional look for your store, you can choose a free premium theme compatible with WooCommerce or build your own design that best suits your needs, but requires more money.
Before launching your store
Before launching your store, you should walk through your competitors' websites. It gives you a first-hand idea on usability and other features you'll need for your new store. This strategy also helps you to get a detailed list of addon plugins you may need, and helps you to get a rough idea of how much you may need to spend as an initial investment on building your store.
With that said, if your initial budget doesn't permit this type of investment at the outset, you can always launch the store and extend it later once it starts generating revenue.
Even if you're planning to launch your store with fewer features, getting a detailed list of the features you may conceivably need for your online storefront in the near future will make the development process more streamlined and focused.
Over to you
One of the best things about integrating a storefront with your well-established WordPress blog is that your new storefront can be easily branded to blend into your website. It can also be helpful when it comes to customer acquisition.
Have you ever thought of turning a blog into an eCommerce storefront? Share your thoughts and experiences with me in the comments section below.