If you're wondering whether your church needs a website, the real question is – Why doesn't your church already have a website?
Many religious organizations stay away from the digital realm. The truth is their followers spend a lot of their time online. It's only reasonable to build a church website to connect with yours at those times when they can't be present with you in person.
One of the most popular platforms for building websites is WordPress and for a good reason. It's easy to use, there's tons of help documentation and tutorials and there's a plugin for virtually everything. It comes with pre-made themes for different niches, one of them being for church websites.
Here's my take on the four of the best WordPress themes for churches in 2020, with their major features, good and bad sides, as well as their pricing.
Notes before starting: Each of these themes requires a moderate knowledge of WordPress to install and customize. Some will be easier than others to configure.
The next entry on the list is not as popular with its 150 downloads so far (at the time of writing), but it's definitely worth considering as a solution for your church website. This theme comes with tons of templates and will definitely give you a hard time choosing the best design for your website.
The good: The design for this theme is simply gorgeous. No matter which template you choose, you'll end up with a church website that definitely stands out from the crowd. It comes ready for a wide range of plugins so that you can easily build a multilingual website through WPML, for example.
There is support for donations through Give so that your visitors can donate to your church using credit cards or Paypal. If you want to collect your visitors' emails and build a list, you can do that through support for Contact Form 7 and Mailchimp.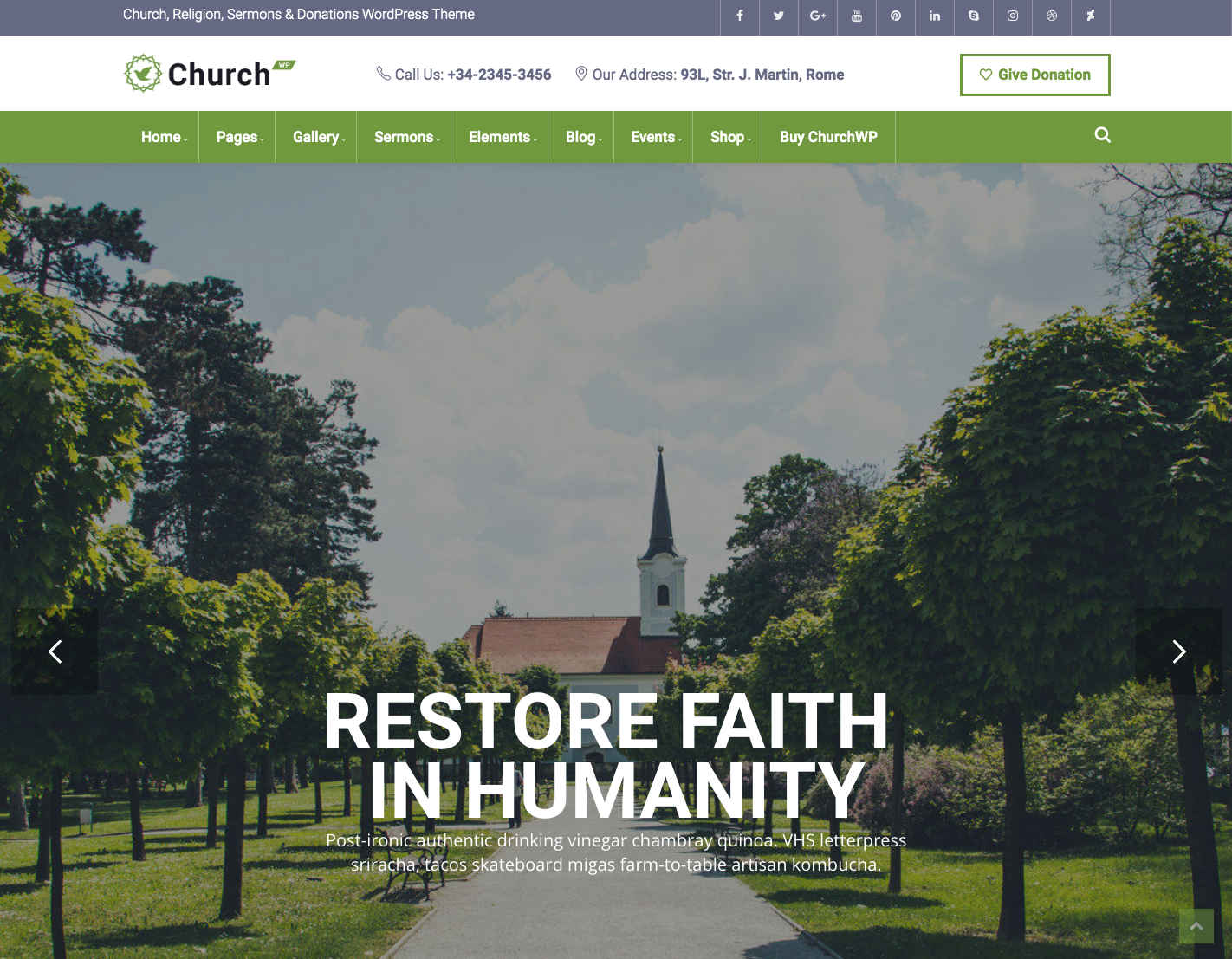 The theme is modern and optimized across devices, as well as ready for SEO, in case you're worried about ranking higher in search engine results. The support is also extremely helpful and timely in their responses to tickets.
The bad: There really isn't much bad to say about this theme. If you want to use all of the advanced features, it's best to get some outside help to make your church website shine.
The price: With a price tag of $59, it's in the middle, but you'll quickly forget about the money once you see how gorgeous your website will look.
This wonderfully titled WordPress theme was primarily built for churches, but could also be adapted to non-profits and NGOs. It allows you great levels of customization to get a website that is uniquely yours.
The good: This theme has a spot for event management where you can upload any upcoming events for your church and promote them on your homepage and subpages. Similarly, you can have sermons showing up on dedicate portions of your website.
The donation widget gets the job done. You can set donation goals and let your congregation (and visitors) see how well you're doing and encourage them to participate.
The bad: This WordPress church theme was last updated in 2015. I'd like to see it updated in the near future since it's one of the best rated church themes on ThemeForest.
The price: At $59, this theme is one of the medium-priced themes. In terms of value for the money invested, it's one of the best choices I could find. The ease of optimization and modern design elements make it a good choice for anyone who wants a reputable church website in 2020.
The second competitor in our roundup comes in the form of Life Churches, a WordPress church theme for modern and traditional churches and religious events and gatherings. Launched in early 2017, it was sold more than 270 times at the time of writing this article.
The good: The entire theme is mobile-ready, which means that your church website will look and function great, no matter the device your visitors are using. It comes in an easy-to-install package so if you're tech-savvy enough, you can get it up and running on your own. Coupled with the theme, you get a handy visual composer page builder and revolution slider to make beautiful pages.
There's a donation system available, which you can connect with PayPal for the most ease with your viewers. There's support for a Woocommerce integration so you can sell goods directly from a store on your church website.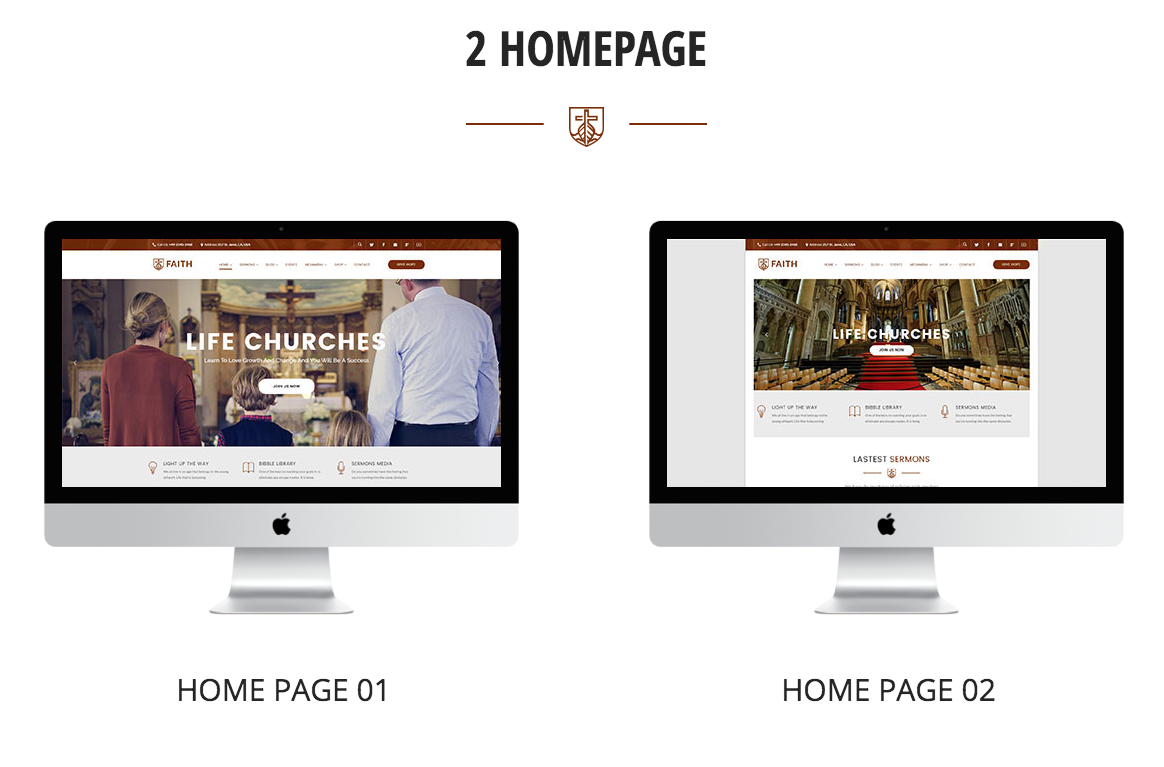 You can display sermons, either in audio or video form, using one of many available layouts that come with the theme. There's also support for an Events calendar. You can show off your upcoming events with a counter for visitors to keep track.
The bad: If you have a problem with the theme and need help with something more than installation, arm yourself with patience. The folks behind this theme aren't well-known for their support, so you may end up waiting months for any kind of reply to your inquiries.
The price: At $49 for a one-time payment, this is a great investment and foundation for a solid church website, provided you know enough about WordPress to install it yourself and insert content.
This is the only theme on this list where the creators have enlisted the help of an active pastor to help create it. What's more, they don't just offer a pretty website – they promise to increase your annual donation and tithe rates. Let's see how it stacks up against its competitors.
The good: Sacredia comes with a ton of extras that you would otherwise have to pay for additionally, such as WPBakery page builder, Revolution Slider and Video Parallax. It has some really neat advanced features, such as an admin map, which pastors can use to identify their visits, see the location of their members, how much time they spent on the site and much more.
The theme is fully responsive and comes packed with a range of different layouts to create a beautiful website according to your own taste. There's a donation portal with multiple causes, the possibility of adding sermons (in various formats, such as audio, video and text), the option of live streaming from YouTube and much more.
The bad: Nothing really.
The price: At $69, this is the most expensive theme in this lot. With all the design elements and features it offers, it also gives you the most and definitely justifies the invested money. My verdict – absolutely worth it.
The most recent entry to the Church Theme niche on this list, the Chapel theme has been around since this October. It's a modern theme built specifically for church and religious websites, although non-profits with an inspiring message might find it appealing, too.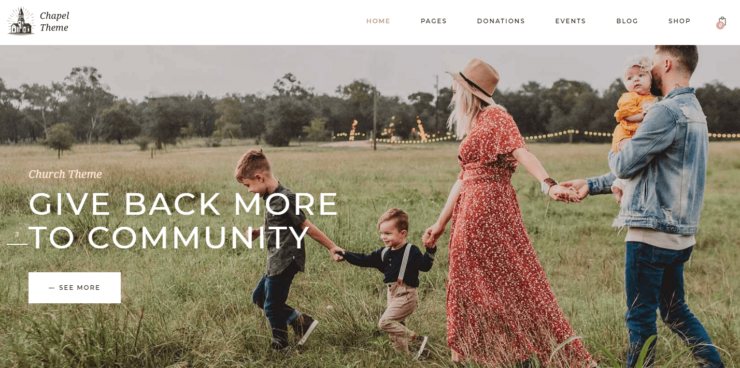 The good: The first thing that will catch your eye about this theme is, naturally, its look — and it doesn't disappoint in that department. The team in charge of the design opted for a clean, contemporary look that really brings your content and message into the focus. You'll also get a fair amount of customization options to help you make the website your own. As far as major features go, Chapel supports event management and donation plugins. You can rest assured you'll be able to use the website to keep your community informed of upcoming events and to let people help with funding your organization. The WooCommerce plugin support Chapel offers will help with the latter, too.
The bad: Because Chapel is such a fresh, new theme, it's hard to figure it out based on reviews because it still hasn't had many. But given the track record of Elated-Themes, the team behind Chapel, this might not even be a problem.
The Price: At $69, it might turn away bargain-hunters, even if it might offer good value for money. This theme belongs to the more expensive themes. You get your money's worth of features, though, if the design alone doesn't justify the price point to you.
Conclusion
The themes mentioned are not generic themes with the word church plastered on their title. They are very specific in answering the needs of religious organizations.
When choosing your ideal church WordPress theme, don't look at the price tag first. Instead, look at how well it answers your needs, what you can do with the design and how supportive the team behind the theme is.
Sacredia and ChurchWP can make your church website beautiful and functional, even if you're not a pro WordPress developer. Don't worry about the extra few bucks spent on them. A quality website is a long-term investment and these are well worth your money.