The CXL Institute (ConversionXL) puts together many well-organized and valuable courses for digital marketers. Some of these are in-depth programs, called mini-degrees, that cover the specific areas of online marketing.
Others are comprehensive courses that give people a more general insight into the current tools and trends in this field. But, what about their pricing first?
Lifetime (unlimited) CXL Access
Lifetime Access to minidegrees varies in price, depending on the minidegree comprehensiveness. It's either $699 and $899 per minidegree. You'll look at digital marketing in a whole new way once you attend any of these. You'll be able to immediately apply learnings and improve your results.
The cost of Lifetime Access to courses is fixed. It's $499 per course. They're shorter than minidegrees and less comprehensive, but they also offer quite the value. You'll be able to interact with the teachers and ask questions.
If you want, you can purchase monthly or annual access for you or your whole team of marketers.
Best of all – for only $ 1, take a look at all 50 courses over a 7-day period – click here.
Monthly or Annual CXL Access
Personal All-Access (single user) costs $199 a month or $1990 annually and you get:
Access to all 4 minidegrees
Access to all 50+ expert courses
Learning roadmap and progress tracking
Cancel or pause at any time.
7-day no questions asked money-back period
Monthly or annual access for your whole team of marketers will cost you anywhere from $267 (monthly) to $2670 (yearly) for teams of up to 3 people and even more than that for bigger teams.
I suggest you go for a one-time payment with unlimited access because CXL Institute minidegrees and courses are being constantly improved. This way you'll always be up to date with the latest marketing methods.
We've analyzed and attended their most valuable digital marketing, growth-hacking and storytelling courses. But, you'll also find technically oriented training such as Google Analytics and Google Tag implementation.
It doesn't matter if you're a freelance marketer, growth-hacking expert or CEO of your marketing agency, you'll surely want to increase your output and productivity by continuing to improve yourself and the coworkers.
So can the ConversionXL courses help you achieve this?
Let's start with the most comprehensive material available at the CXL Institute – Minidegrees.
The number of roles for digital marketing is constantly growing. There's a higher demand for marketing specialists thorough segmentation. That's why the role of growth marketing specialist is being recognized by the clever employers right now and more so in the near future.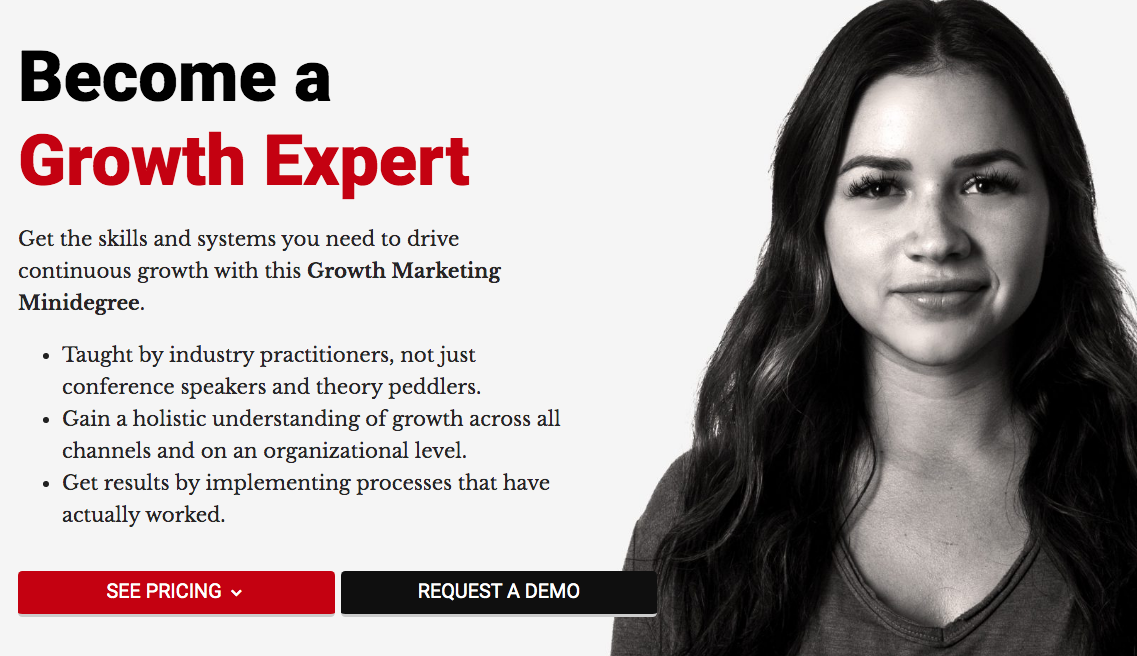 The CXL Growth Marketing Minidegree is held by renowned marketers who are the household names in the online marketing industry. You'll learn different theoretical principles about what it takes to plan and manage growth within a business.
During this minidegree, you'll go through technical skills, analytical and quantitative skills, as well as qualitative research. These tools will be shown to attendees with practical examples so that they can easily understand their applied use.
This minidegree will also teach you the basics of storytelling for better content marketing, together with impactful copywriting. It's essentially a series of CXL courses which covers 7 tracks:
Growth marketing foundations
Running growth experiments
Data and analytics
UX
Psychology and storytelling
Channel-specific growth skills
Growth program management
As for the methods, you'll be using checklists, spreadsheets, and video lessons to become a Certified Growth Marketing Specialist.
This course has been put together and taught by John McBride, Sophia Eng, Sean Ellis, and other well-known marketers.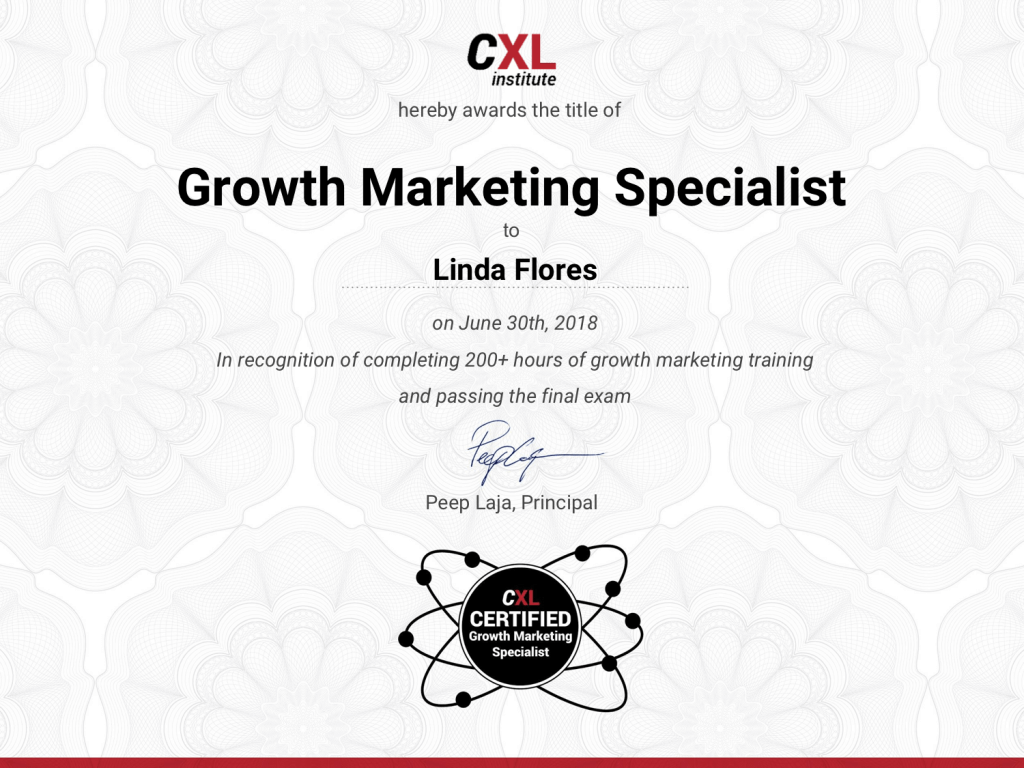 For me, this is one of the best buy online courses available. I was able to improve everything from storytelling and technical skills to the essentials of growth hacking.
The price for the Growth Marketing Minidegree is $699, which you pay only once. You'll then have unlimited access to the course.
Rating: 5/5
Every website needs to be optimized if their owner wants to make it visible online and regularly visited by targeted users.
With the CXL Conversion Optimization Minidegree, you'll learn how websites work as a whole. Also, you'll find out more about different elements within the same website, to improve its conversion rates and create your very own, unique value proposition.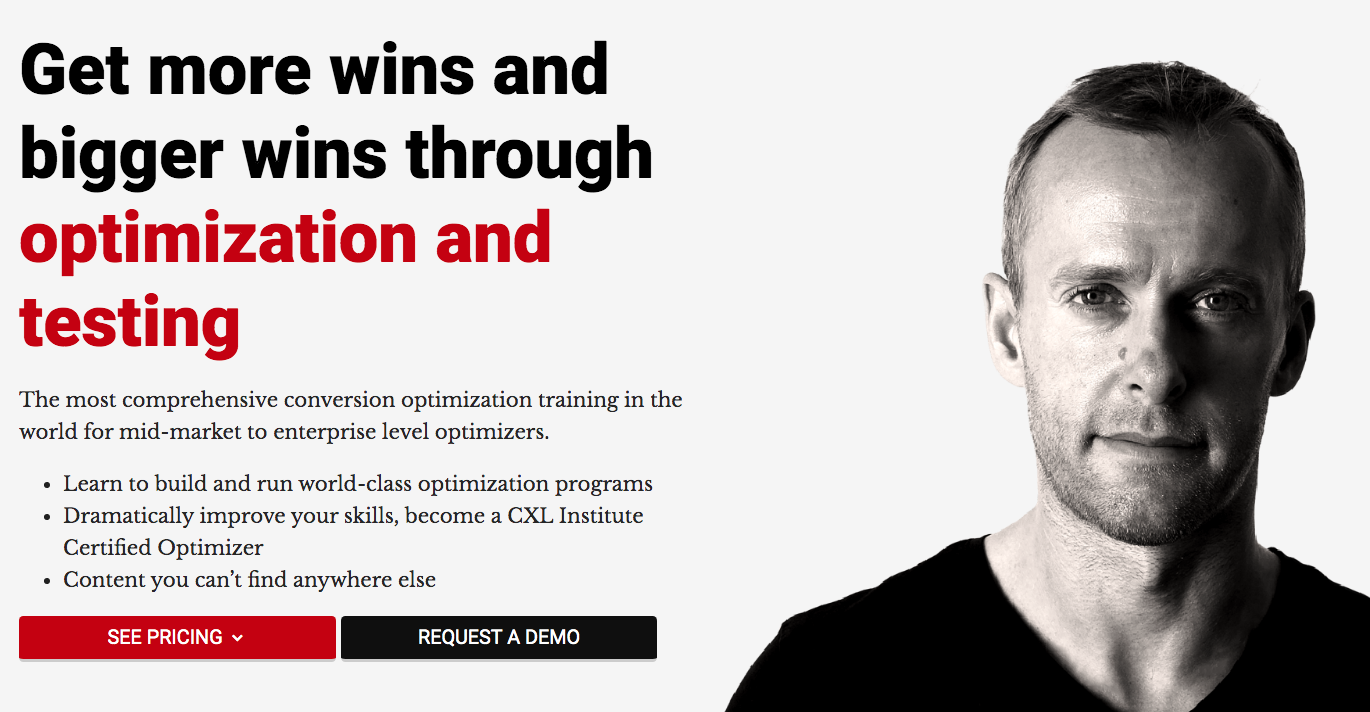 Apart from that, this course will teach you how to implement A/B testing before you launch your website. This minidegree has 5 tracks:
CRO foundations
Conversion Research
Testing Strategies
Optimization Strategies
Conversion Optimization Program Management
Once you learn the principles of conversion, Web Analytics & UX, you'll be able to apply these techniques throughout the Web.
The key tutors on this course are Ton Wesseling, Peep Laja and Stefania Mereu.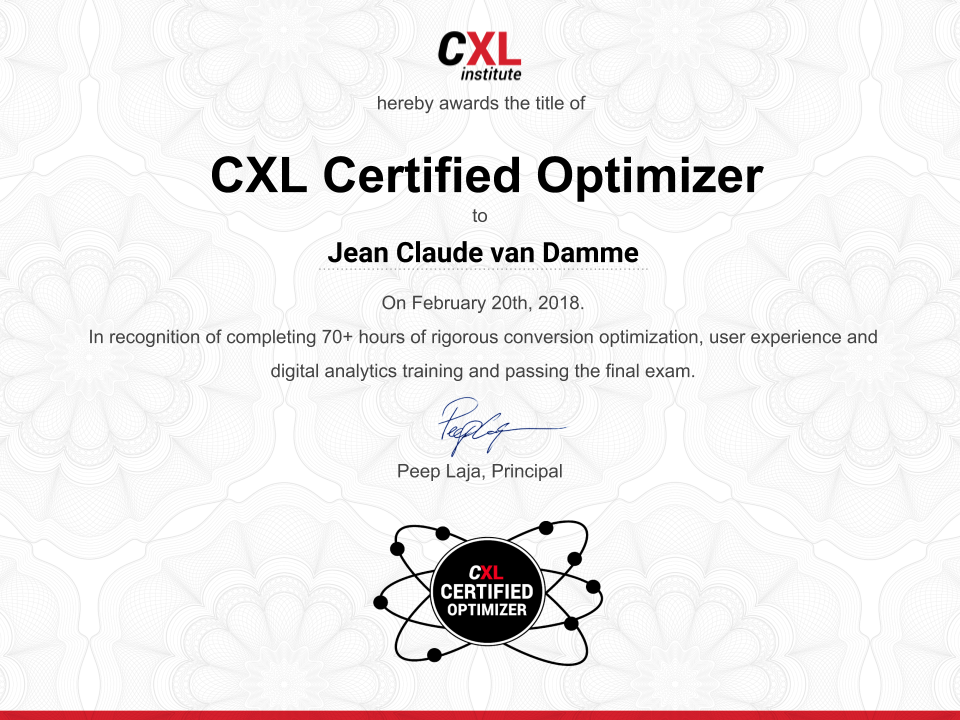 The price for the Conversion Optimization Minidegree is $899 and gives you lifetime access to the course. This is one of the original gems of ConversionXL and highly anticipated training.
Rating: 4.5/5
Knowing how to search for and process data is a difference-making skill in the modern digital environment.
The CXL Digital Analytics Minidegree is the right choice for every online marketer who wants to take the plunge in this area.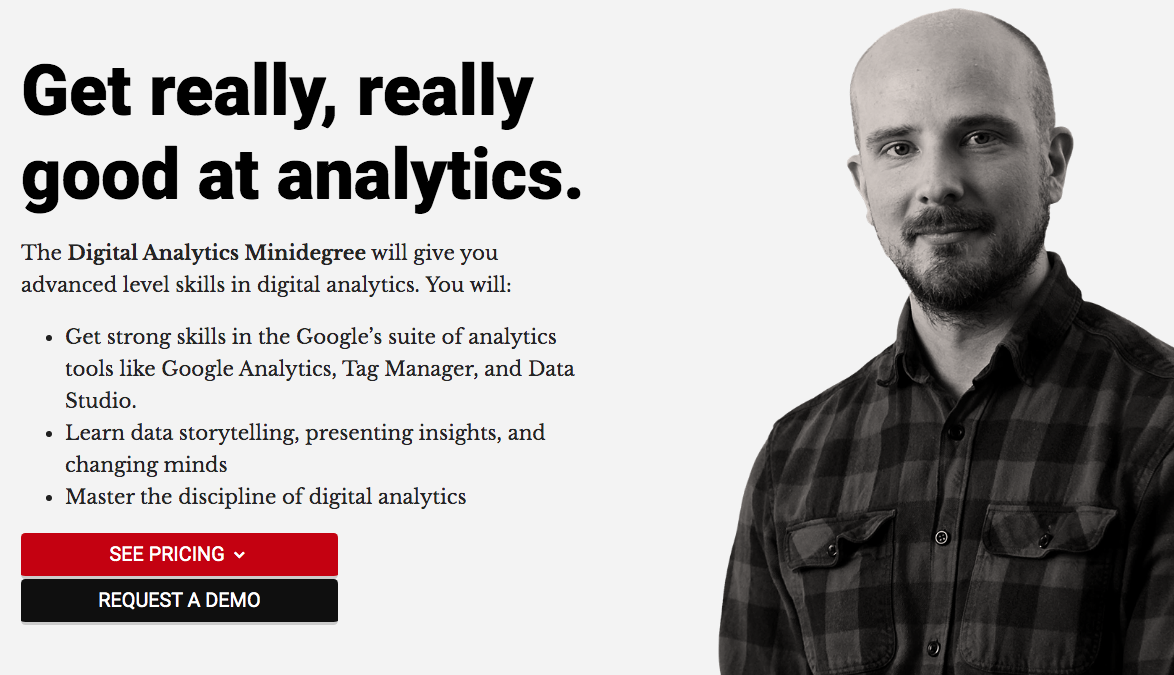 This comprehensive educational program will teach you everything you need to know about Google suite of tools. From improving website speed and data aggregation to cross-device analytics and different sorts of tracking, you'll get an in-depth insight into the world of Google Analytics.
One segment of this course also covers the role of storytelling in digital analytics, while the last part is dedicated to the future of analytics. There are 3 cumulative tracks with over 40hrs ov video content.
The most prominent lecturers are Charles Farina, Yehoshua Coren, Chris Mercer, and other tutors.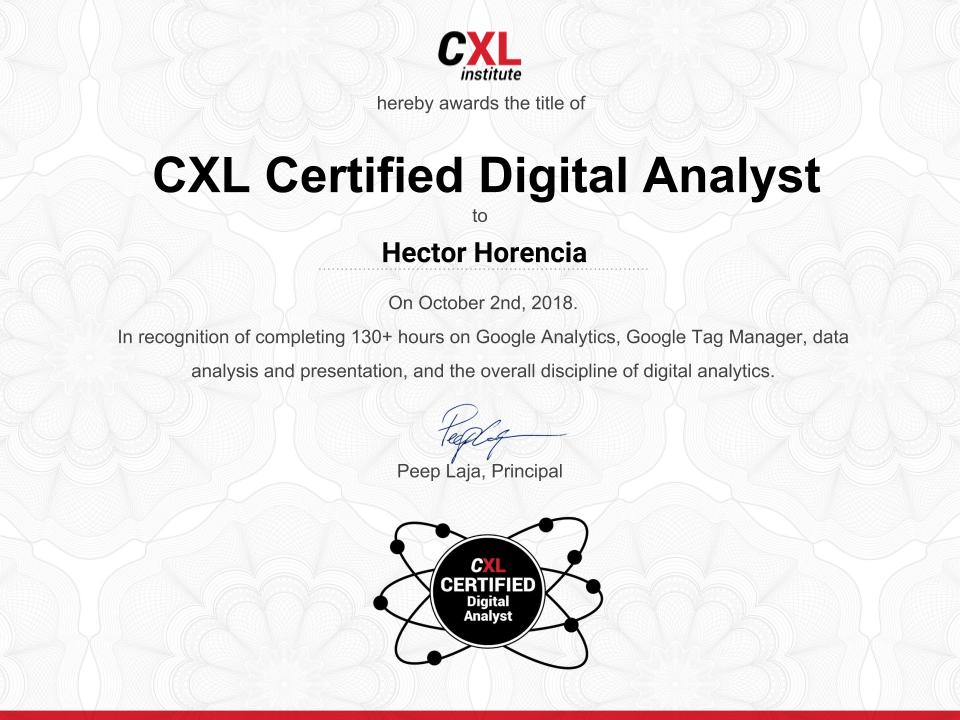 Becoming a CXL Certified Digital Analyst will cost you $899. While it's one of the pricier online learning programs, it gives you so much knowledge and you may apply for many different roles upon completing it. During the minidegree, you'll have an opportunity to consult with the lecturers directly, one-on-one via phone if you need it.
There's a big demand for digital analysts and LinkedIn Job Search shows that there's never been a better time to get into digital analytics than right now.
Rating: 5/5
Learning how the technical side of digital marketing works is recommended, but that's not enough.
It's important to know how your potential customers think and behave on the web, as well as how they create habits.
The CXL Digital Psychology and Persuasion Minidegree will teach you how to use words and design in an appealing and persuasive way.
You'll also become aware of the emotional aspect of your target audience and how to address those elements to properly respond to your brand. There are 3 tracks with over 40hrs of material. The tracks include:
Psychology Foundations
Neuromarketing and Persuasion Models
Applied Behavioral Psychology
What's also important in the contemporary world of marketing is to learn how to join together the conversion optimization features with the elements of psychology. One aspect of this course will focus on this integration, as well.
Moreover, gaining deeper knowledge about neuromarketing – how our brain works when we're customers – will be more than useful for your future business efforts.
The tutors here are Roger Dooley, Susan Weinschenk, Erik Johnson, and several other masters of the trade.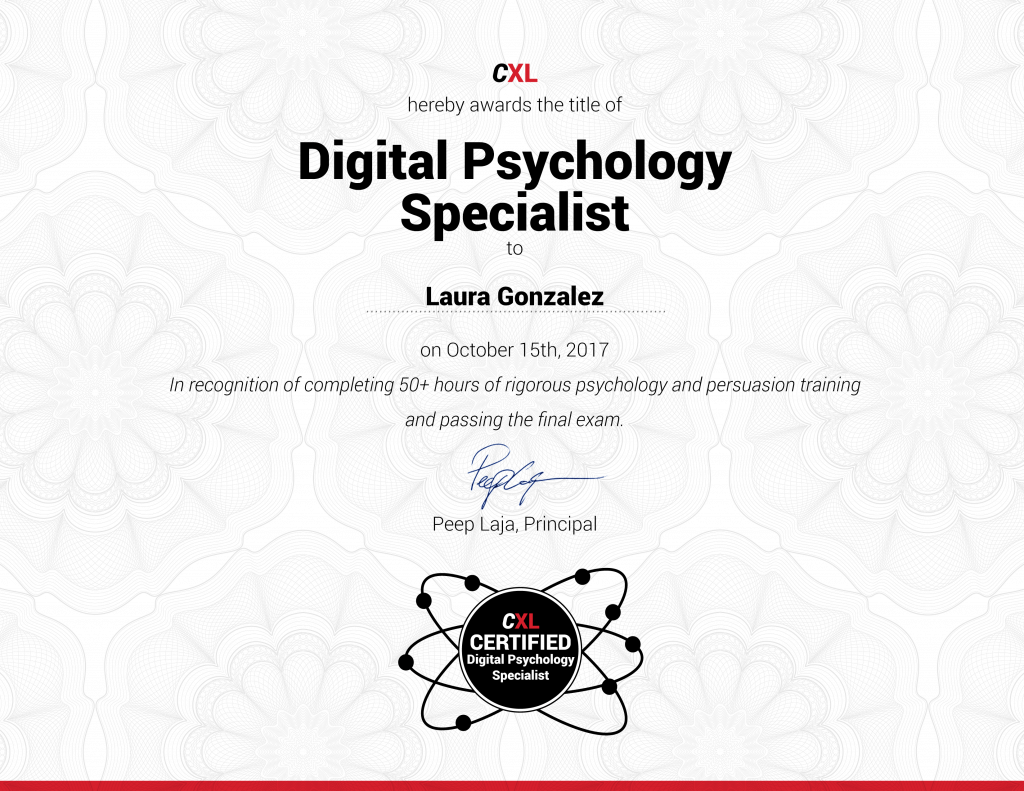 For $699, you'll be granted lifelong access to Digital Psychology & Persuasion Minidegree. Or you can access it by opting for monthly or yearly subscriptions.
Rating: 4/5
---
You've seen what the minidegrees can do for you. Let's now review some of the most popular SEO, growth-hacking and marketing online courses available at the CXL Institute.
No matter if you're a website owner or an analytics beginner, the CXL Google Analytics for Beginners Course will equip you with a vast amount of valuable knowledge of analytics.
Among many other things, you'll learn how to read and process all the major reports that Google Analytics will be sending over to you.
You'll also be taught how to apply Google Analytics in the practical online environment and get deeper into marketing campaigns. The buzzwords like segments, filters, reports, and metrics will be explained in a clear and practical way.
Apart from that, you'll also develop your conversion skills, learning how to find and use conversion opportunities.
Business owners will learn how to connect their business ideas and requirements with the tools provided by Google Analytics. As a result, you should be able to generate a higher number of leads when you finish this course.
This course is organized and held by his analytics majesty Chris Mercer, one of the most successful analytics experts today.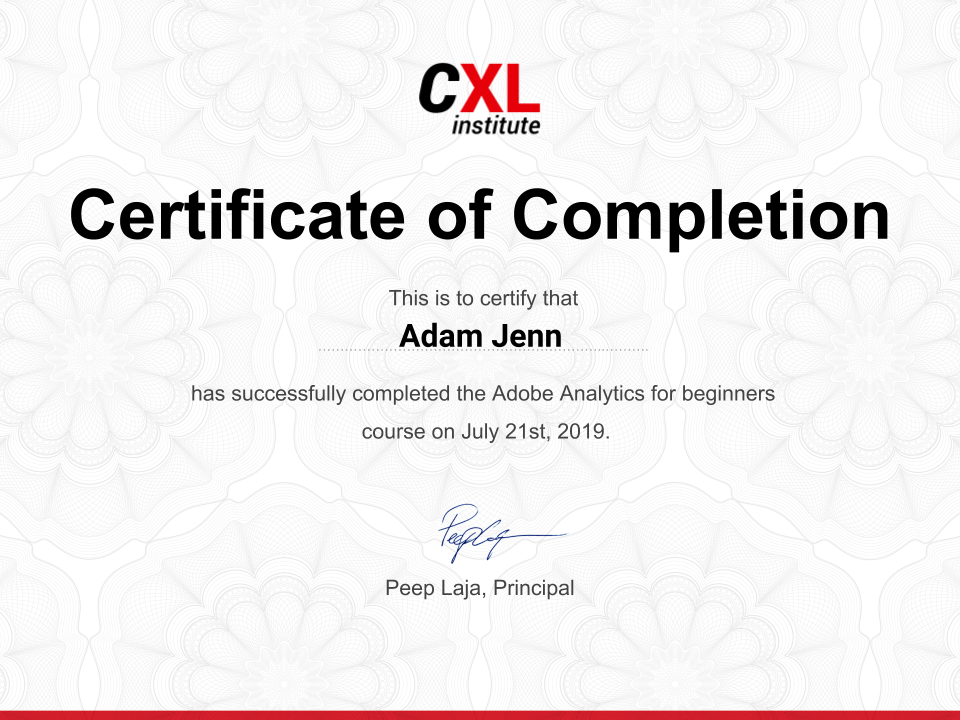 Google Analytics for Beginners online course  lasts for 6h30m.
Rating: 3.5/5
Getting deeper into the features of Google will adequately prepare you for the challenges you're going to be facing in the digital marketing environment.
Passing the Google Tag Manager course is a great starting point for every aspiring digital marketer since it will teach you how to manage your tags without entering the realm of coding.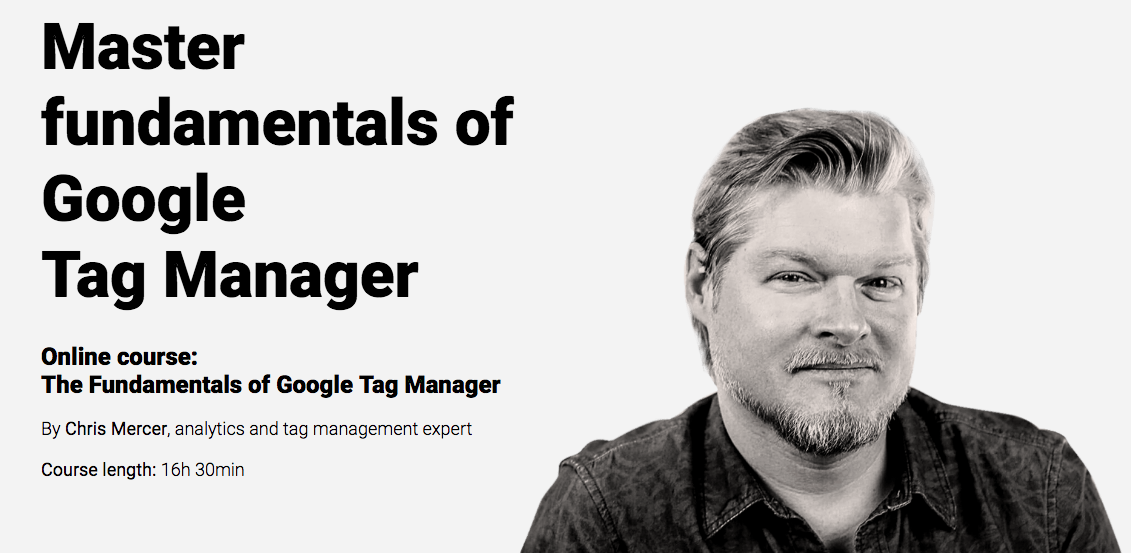 That way, you'll be able to set and adjust tracking features to your current business needs, as well as to apply variables in Google marketing. Also, the tag-managing features will enable you to deal with tracking options without collaborating with developers.
This tool is also a great choice if you want to become familiar with advanced tracking options, or to learn how to keep your tags organized. Further, teaching the students about GTM DataLayers is among the main goals of this program.
Those attendees who enroll in this course to improve their digital services to other companies will be able to set acquisition or retargeting pixels.
Finally, mastering this tool will make it easier for you to collaborate with other marketers inside or outside your company.
The main lecturer is Chris Mercer and the entire Google Tag Manager Fundamentals course is over 16h long.
Rating: 4.5/5
The Advanced Google Tag Manager course will immerse you deeper into the story about Data Layer.
This feature is much more than a sheer JavaScript Array, but a multi-level system that can be used in many practical ways for better marketing experience.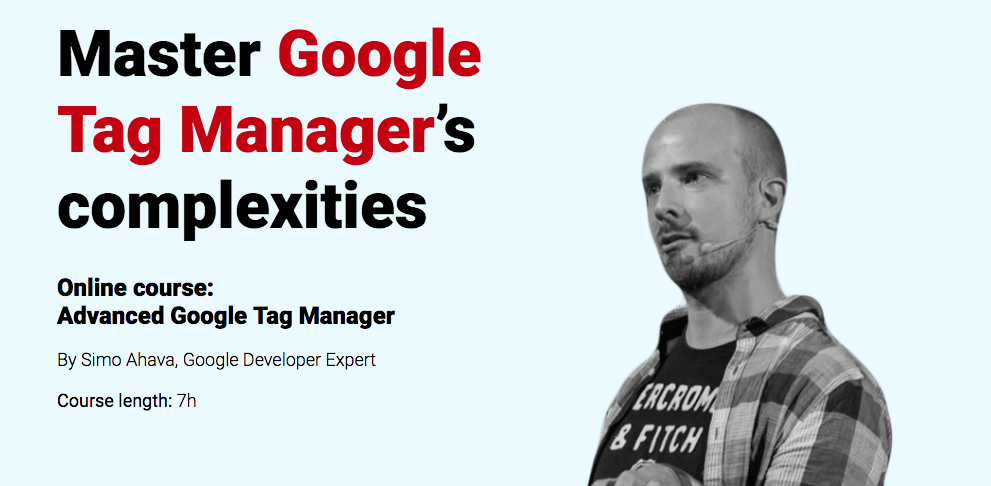 Also, you'll find out more about the data transfer process between your website and the visitors, by getting familiar with the browser state.
This three-way relationship between Google Tag Manager, your website and Data Layer is extremely important for improved marketing and analytics result.
This course is also called advanced because it deals with JavaScript and coding on a much higher level.
By getting deeper into the JS system, you'll improve your knowledge of GTM features, as well.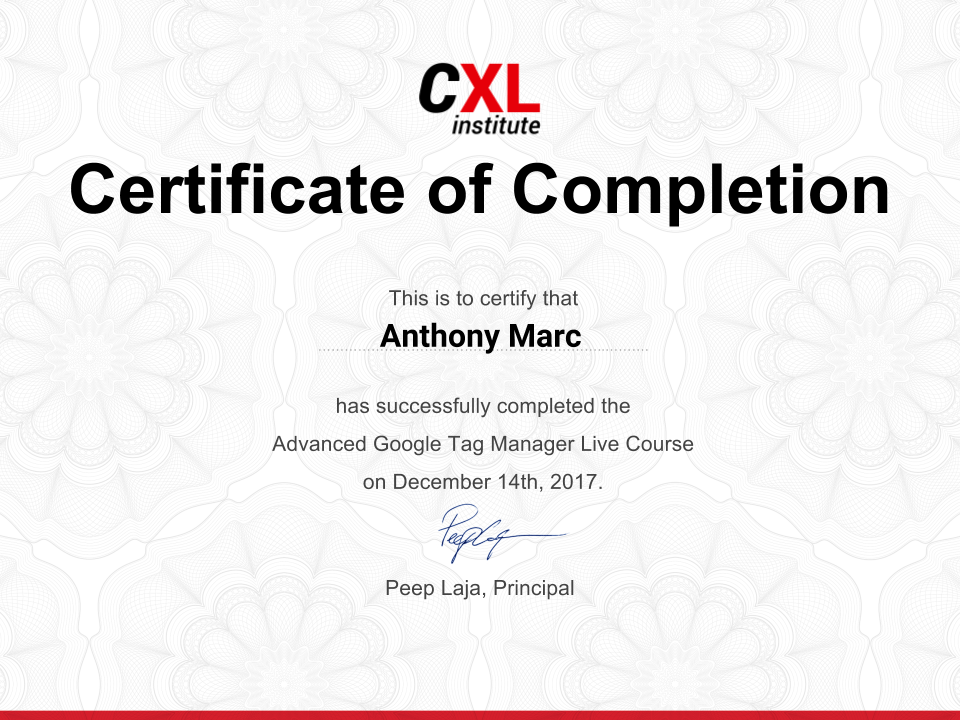 The over 6-hour long Advanced Google Tag Manager Live course is put together and taught by Simo Ahava. If you're an expert technical SEO or you want to become one, this course is a must.
Rating: 5/5
With so many A/B testing tools available with the click of a mouse, it's not a problem to find a software tool for that matter. What's more problematic in this day and age is to find an analytical tester.
This is where the CXL A/B Testing Mastery course makes all the difference. You'll learn why to avoid the trial-and-error attempts, as well as how to combine incorporate your natural feel into an established testing system.
This course will not only teach you how to run experiments with online features, but also how to use the data from the client to solve the big functionality problems. This will make you more competitive in the testing market when compared with the testers who only deal with buttons and arrows.
Finally, you'll also learn the basics of the post-testing drill and how to provide your clients and developers with purposeful reports.
Devised by Ton Wesseling and available at $499, the 7-hour long A/B Testing Mastery course will teach you how to develop the right way of thinking necessary for efficient A/B testing.
Rating: 4/5
In order to learn how to optimize your landing pages, you should enroll in the CXL Landing Page Optimization Course.
After learning more about the purpose of these pages, you'll get into the various aspects of user experience that play an important role in optimizing landing pages.
Then the attendees will move on to the neuroscience functions of the brain and study how we make decisions. These findings will help you understand the importance of well-organized and optimized landing pages.
Also, you'll be taught about the segments in which our brain processes information and how these features affect the conversion rates of landing pages.
Discussing the statistical aspect of a well-researched landing page is also one segment of this course. Conducting quantitative research will enhance dealing with the figures regarding your visitors and your website.
After analyzing the qualitative aspects of landing pages, you'll learn more about proper copywriting for landing pages. Then you're going to join all these elements into your own original landing page, which will be rounded off by a Q&A session.
The author of this 10h-long Landing Page Optimization course is Michael Aagaard.
Rating: 4/5
When you're entering the world of online business, it's important to know how to create a brand that gets ahead of the curve.
The CXL Authentic Storytelling Course, conducted by David Reeve, will teach you how to fine-tune your writing tone, so as to sound more authentic.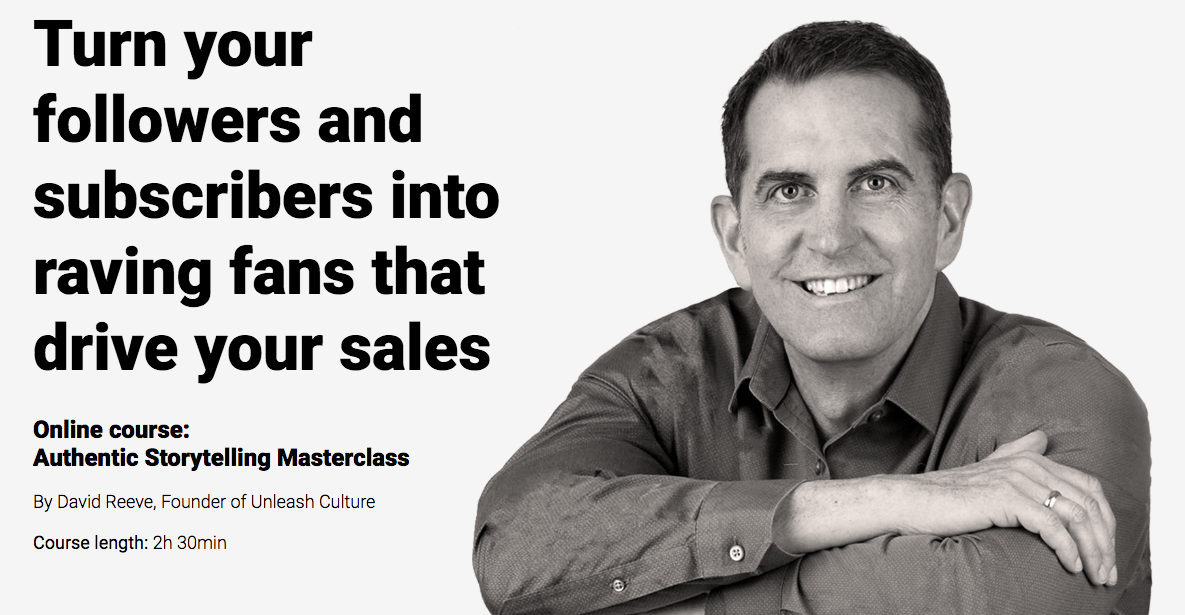 What's more, you'll also get into the process of targeting the audience with the right keywords and terms that will successfully reflect their needs and your services.
As an integrated part of every storytelling effort, the attendees will also deal with setting the core value of your brand. Further, they'll also learn how to apply this value into valuable copies and brand stories.
Get Authentic Storytelling Masterclass, because I think the course is great, even though it's just 2h30m long.
Rating: 4.5/5
Since studying marketing includes several different scientific fields, one of the most useful courses available at the CXL Institute is the Applied Neuromarketing course.
In this program, you'll cope with the theoretical aspects of neuroscience and its application in neuromarketing. In addition to some psychological terms, here you're going to learn about the physiology of the brain.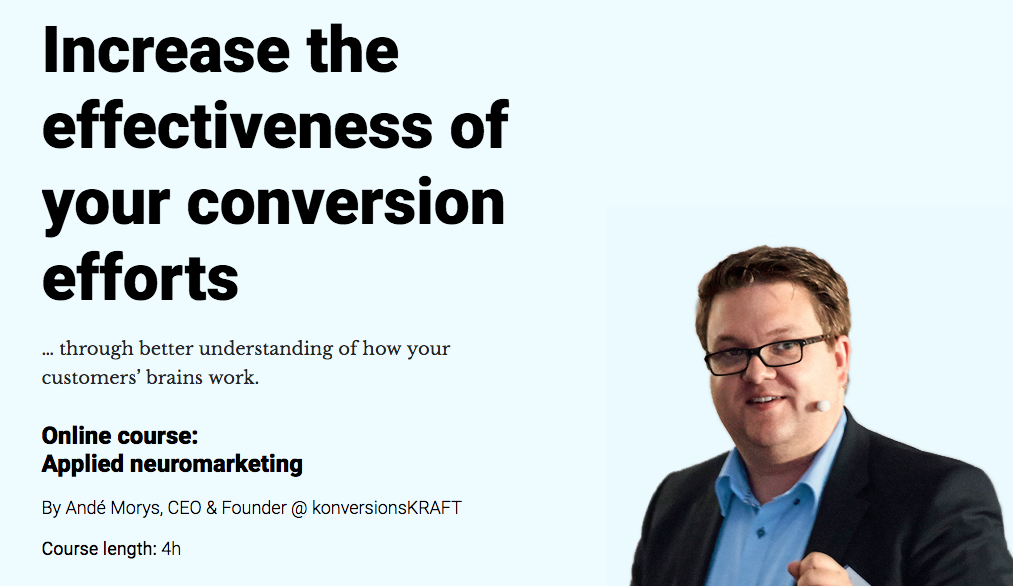 Moreover, the author of this course, Andreé Morys will explain in detail how to affect these neural functions to leave a positive impression on your audience.
One segment of the course will concentrate on our attention and perception, i.e. the triggers that stimulate our brain and the processes inside it.
Another important part of this educational program is the emotional aspect of our marketing habits. Here the attendees will learn about the emotional procedures that people experience when they're deciding to buy something.
In the final part of the Applied Neuromarketing course, you'll apply these skills to a practical example of marketing optimization.
Rating: 4/5
Digital marketing has come a long way from simple CTA techniques. Now that the online audience is diversifying in many different ways, it's important for entrepreneurs and website owners to master the fundamentals of marketing persuasion.
The purpose of the CXL Fundamentals of Persuasive Websites course is to teach business people how to create compelling campaigns. The accent is on the importance of using the methods that don't trick or deceive customers, but only the ones that convince visitors to choose the brand in question.
Some psychological aspects of the decision-making process will also be discussed in this course. Apart from that, you'll learn more about people's motivation for shopping or loyalty to particular brands.
When you've done this part, you'll find out more about creating attractive and catchy copies. The final part of this learning program will focus on the core design features that increase the clickability of websites.
The lifetime access to the 4-hour Fundamentals of Persuasive Websites course will cost you $499 and the instructor is Paul Boag. This may not be the longest of courses but it's packed with value.
Rating: 5/5
UX is mentioned in many of the courses available at the CXL Institute. But this is the only UX course that's purpose-made for marketers.
After learning about the basics of UX design and its position in the process of website creation, you'll move on to user research. In other words, this part of the course will teach you how to find out more about your target audience and learn more about their online preferences.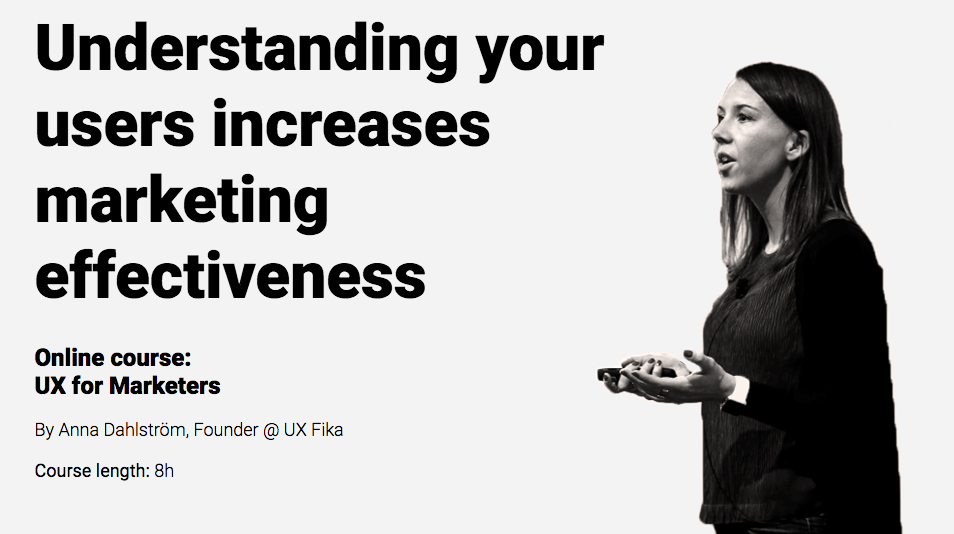 This data input will help you come up with the appropriate UX features for your users.
The next stage of this course is reserved for customer experience maps. These special UX tools will be your closest associates in everything you do in this field. When you learn how to use them, you'll know how to present your brand online in accordance with your audience's expectations.
When you've passed the next two stages – user journey and information architecture – you'll deal with wireframing. Your lecturer will guide you through some helpful templates. Also, you'll be shown some efficient wireframes that have been translated into graphical solutions in a smooth way.
Finally, you'll get into the user testing methods, as well as into using quantitative and qualitative information in this process.
The cost of the lifetime access to the 8-hour UX for Marketers course is $499. Your lecturer will be Anna Dahlström, a renowned Swedish UX designer.
Rating: 4.5/5
In the eCommerce Growth Course at the CXL Institute, you'll get familiar with different elements that make an Ecommerce grow.
For starters, the author of the course, Drew Sanocki, will talk about the statistical aspect of eCommerce growth, presenting you with some accurate stats and case studies.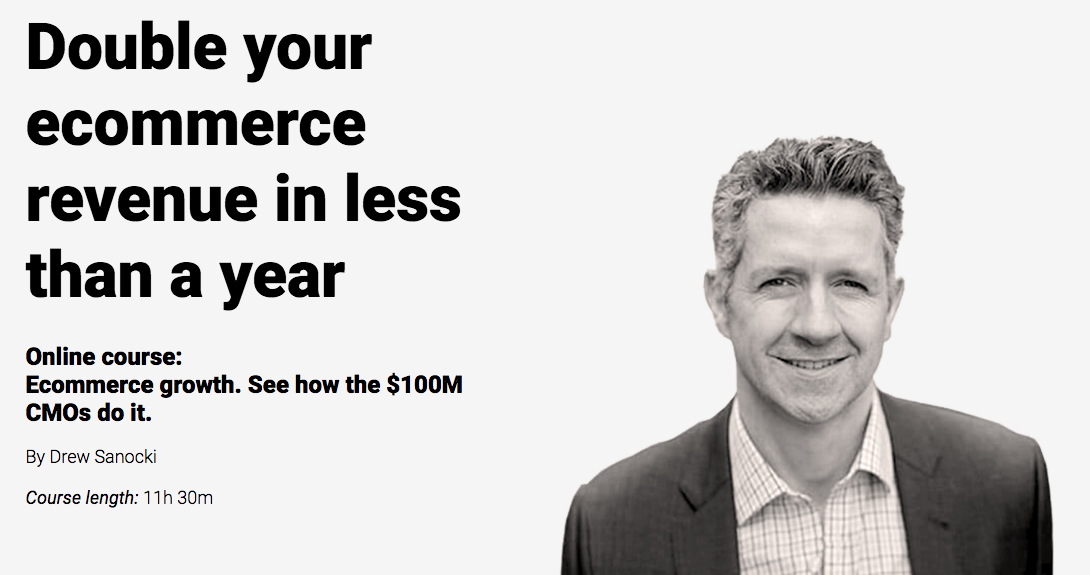 After this initial session, you'll discuss the importance of loyal customers and repeat buyers. Within this segment, you'll learn more about the best retention practices and the advantages of email marketing and remarketing.
The next segment will talk about some tricks of the trade, like bundling or free shipping and other similar details that will help you become more reliable.
When you've mastered the advantages of upselling and cross-selling, the final stages of this course will deal with conversion rate optimization and acquisition methods.
The price for the 11h30m Ecommerce Growth course is $499 and this is for a lifetime license.
Rating: 4/5
Do you want to improve your website based on science? You should attend the Data-Driven UX Masterclass. Lecturer Karl Gilis will teach you how to advance the user experience on your website through some data-driven tactics.
The first you're going to learn from Karl is that your website should talk about your customers and not about your business. He'll teach you that your content needs to tell them how they can benefit from you and not the other way around.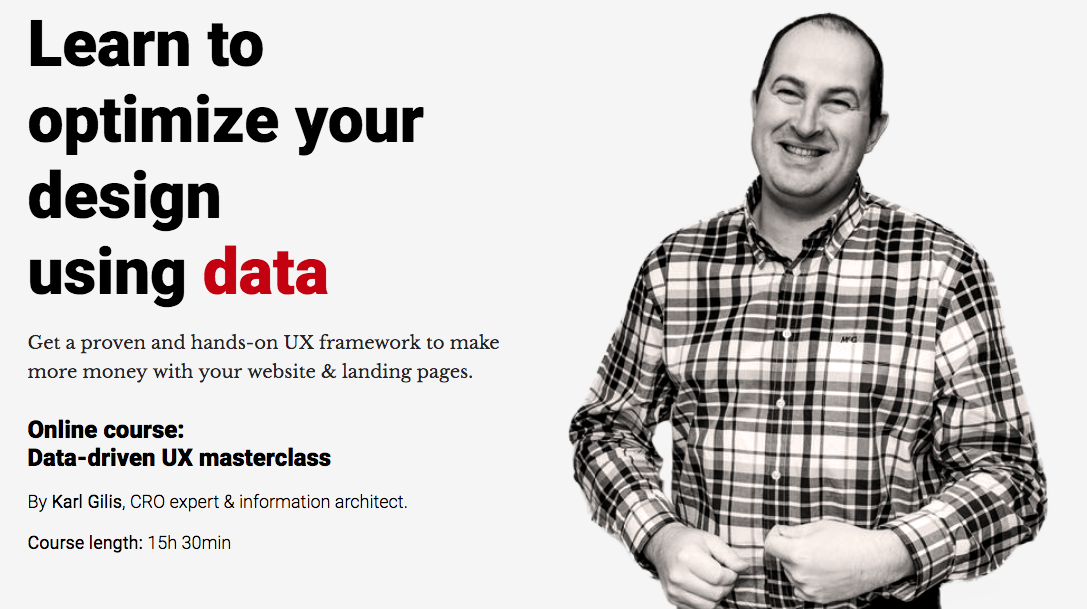 After you've dealt with processing the Google Analytics data and heatmaps, you'll learn how website forms can help you increase your conversion rates.
The next two stages of this course discuss the matter of landing pages and detail pages. You'll learn how to create these pages in line with some rules and examples, instead of sheer intuition.
After you learn more about the importance of your homepage and category pages, you'll finish the class by learning how to build a relationship with your visitors.
This over 15h-long Data-driven UX course costs $499. I suggest you get a lifetime license.
Rating: 4.5/5
In this course, you'll learn how to send a clear message to its target audience. Lecturer Momoko Price will start off by teaching you how to analyze every bit of page copies and find the problematic parts.
Then you'll learn how to make online research to identify the messages that will properly address your potential customers.
The next stage in this course is to find out more about the potential that your customers have in communicating the value of your products.
You'll also get familiar with filtering a large number of brainstormed messages to use only the most resonating ones. It is a comprehensive guide that will help you identify your brand's message.
The next few stages include the practical work, such as structuring your message and adding a certain tone or creating your first draft.
After learning how to distill your copy and remove fluff from it, you'll format your first copy and place it on your website or make it public to address your audience.
The 14h30m long Product Messaging & Sales Page Copywriting course is available for $499.
Rating: 5/5
---
In addition, for 2020 we've decided to review all the CXL Institute courses, so here goes.
Increasing your sales requires generating more quality leads, which you can only attract by developing the right content strategy. However, with such a huge competition out there, you cannot buy the attention of your audience anymore. You need to earn it. The right content should educate, inspire, and engage your prospects. Once you produce such content, you get your audience to trust you. And when they trust you, they become your clients. 
The Content Strategy and SEO for Lead Generation Course will show you how to research key phrases, build and optimize relevant content based on your audience's needs. You will also learn how to understand every stage of the conversion funnel, rank higher on Google, and dominate your competitors. The tools and tactics you'll get familiar with will be of great importance for your business to drive more traffic and results.  
What's more, thanks to this course, all content marketers will learn how to win the loyalty of the audience. Once you complete it, you will have an understanding of how to promote the content, collaborate with influencers, and how to use the power of social media to increase your reach.  
Finally, by taking this 6,5h long course created by Andy Crestodina, you will also learn how to analyze, measure, and improve your content marketing strategy. 
Nowadays, a huge number of people use emails. That's why email marketing has become quite an effective way to reach your target audience and your clients around the globe. Thanks to it, businesses can improve visibility, engage people, and generate more leads.
Sending emails is a cost-effective process, and it is easier than ever to automate and make them personalized. With Email Marketing: Basics to Best-in-Class Course, you will learn how to promote your business and increase your revenue. You will also get to know how to design emails that drive results, avoid most common mistakes, and improve your email content.  
Are you familiar with how much revenue you make with every email subscriber? Start earning money from return on investment thanks to the tips and tricks that Jessica Best put together in this 4h long course. 
In only 4 lessons, you will get familiar with the basics of email marketing. You will find out why it is so popular among marketers and what rules apply to make it successful. Moreover, you will understand how to enlarge your email list and optimize your email content. Once you pass this course, you will be able to make your email marketing data-driven, create words that kill and make your subscribers take action. 
The webform is undoubtedly one of the most essential parts of the sales funnel. Thereby, you need to make sure that it is well designed and structured. When the forms on your website are optimized to be easy to complete, they bring conversion. No one would bother registering forms which are not user-friendly, right?  
Just because optimizing forms affect conversion rates, Tom New designed this 3 hours and 30minute long Form Optimization Course to help you avoid common mistakes of form design. In only 3 lessons, you will learn how to create forms that are more likely to convert website visitors into subscribers and clients. 
This course will help you learn how to make forms that are easy to fill out. Find out the basics of form design, including layout design, navigation, labels, call to action, etc. Moreover, you will also understand how to deal with user inputs. Some of the things that Tom covers here are error messages, user corrections, and mobile form design. 
A huge number of website visitors who are about to make a purchase abandon the site due to bad form designs. By taking this course, you will create high performing forms, avoid losing potential clients and increase revenue. 
Today Account-Based Marketing is a very hot topic in the B2B business world. It helps companies close deals more efficiently and more quickly. Forget about launching blanket campaigns that appeal to everyone. With this type of marketing, you can now create highly targeted, personalized campaigns that will reach specific accounts. 
The CLX Account-Based Marketing Course will help you master the essential tactics and strategies needed for you to accelerate company growth. The instructor, Steve Watt, clearly explains what ABM is, and covers its basics. Thanks to his expertise, you will learn how to create, test, measure, optimize, and scale Account-Based Marketing campaigns. You will also develop an Ideal Customer Profile, a strategy based on your prospects' needs, and contact identification. Steve will introduce you to the right tools for you, and you will find out when to start using them as well.
Moreover, during the six lessons this course covers, you will learn deadly ABM mistakes to avoid. Then, you will get familiar with executive sponsorship and bringing in sales. Find out how to select the right accounts and determine the contacts you need for each account. 
Finally, Steve will also talk about the importance of insight research, buyer intent, social listening, channel and cadence planning. He will show you how to use them in order to generate more quality leads and increase sales. 
No matter how well designed your campaigns are, they could still be ineffective if you don't measure their success. So, this course will also teach you how to optimize, scale, measure and test. 
Advanced AI (artificial intelligence) Marketing is becoming more and more important for marketers around the globe. It allows them to build highly personalized consumer experiences that are more low-cost than traditional campaigns. With its methods, you can easily encourage action and improve your customers' journey. AI Marketing lets you gain a deeper understanding of your consumers, create detailed consumer profiles and join real-time conversations. 
With the CXL Advanced AI for Marketers Course, you will find out the different kinds of AI and understand which AI approach is right for you. You will also get familiar with machine learning and what it means for businesses. In only 1 hour and 42 minutes, the instructor, Gay Yalif, will teach you everything that is necessary for you to be able to apply AI marketing in your marketing funnel. That includes different kinds of data in machine learning, which improve conversion rates and some machine learning approaches.
What's more, you will also find out about the practical applications in the market today. You will decide which of them can be of great help and part of your strategy. Thanks to the structuring experiments to use AI that Gay covers, you will find out how to use those approaches to typical problems. Once you finish this course, you will be able to apply AI to your website and effectively engage your in house resources when back to the office on Monday. Pass this course and learn how to drive more clients, revenue and sales.
Doing marketing data analysis is essential for every business. It not only shows how well your marketing strategy is, but it also allows you to find the strengths and weaknesses of your company. However, are the existing analysis tools reliable? 
Chad Sanderson designed the Advanced Experimentation Analysis Course for the CLX Insitute for you to be able to go into data yourself. You don't need to rely on testing tools anymore. Learn how to understand results and get more value by performing advanced statistical techniques. 
This course incorporates 8 classes that focus on the fundamentals of experimentation analysis. Once you get familiar with its approaches, principles and key requirements for good experimentation analysis, you will learn how to build metrics and manage experiments on your own.  
In addition, Chad also talks about the importance of statistical power and its techniques. He will show you how to go beyond A/B testing by focusing on unconventional methods. Building and analyzing experiments offline and creating charts to communicate testing results are among the other things this course covers as well. 
In the past years, the cost of marketing has increased a lot. So, acquiring new clients is becoming more and more expensive than ever. That's why focusing on organic acquisition is essential for businesses and marketers. 
Advanced Organic Acquisition Course points out the ways that impact getting organic traffic acquisition. It also focuses on creating content and SEO assets that convert leads. Thanks to it, you will learn how to identify content gaps and uncover them. Once you understand how to find missing segments, you will be able to create a strategy that brings valuable traffic.     
The instructor, Adam Melson, will talk about penalties, algorithm updates and fallen referral sources. Thus, you will find out how to recognize them. When you get a clear vision of how they can affect your website, you will understand how to recover lost traffic. Moreover, Adam will show you how to increase organic acquisition by creating the right content assets. You will identify what you need to focus on to drive ROI and get traffic. 
This 10 hours long course also incorporates building relationships with your clients and creating meta-descriptions that convert traffic. In the last chapters, you will find out the methods that will set you up for success. And you will learn how technical SEO can impact organic acquisition as well. 
Can you imagine how much time would you have to spend reviewing analytics, making reports, and following your competitors? It is hard to consider that. Since artificial intelligence outpaced our human ability, we are enjoying its benefits to grow the audience and increase sales. 
AI is not only getting smarter but cheaper as well. Its power can change the future of our companies for the better. The Applied AI for Marketers Course will show you its different types and how to use them for CRO. Find out what marketing problems they can solve and understand which data you should use to apply it. What's more, the instructor Guy Yalif will also show you how to pair AI with people to increase your revenue. 
In only 4 lessons, you will find out how to use AI for A/B testing and running iterative generations of experiments. Finally, Guy will also walk you through some common cases for AI in B2B and B2B that will help you increase conversion. 
Brand building should be a key part of every marketing strategy for growing your business. You should present your company in the best light possible so that people can recognize you and trust you. Once you create a visual identity of your business, you will generate awareness, promote your company, and make more money. 
With the Brand Building for Small Businesses and Consultants Training, you will learn how to build a reputable brand. Improve your current identity or create a completely new one with the tips this course offers. 
The instructor, Mike Murphy, starts this training program with the foundations of branding. So, you will find out what branding is and how to design the best brand by spending less money. He will point out the most common branding mistakes that businesses make as well. 
In addition, you will understand what visual branding is, how to use a lookbook, and how to outsource your visual branding to designers. Find out how to serve your clients and understand the desires of your audience. In the final lesson, you will connect the problems of your clients to the services you offer. This will allow you to keep your brand organized. 
When you finish this course, you will be able to create a consistent brand that tells a unique story, attracts an audience that converts, and increases your sales.
Data-driven personas are representations of your buyers and when structured well can drive your business forward. They help you understand how your users think, what they are trying to do, etc. This is essential to know for your business since it contributes to improving the quality of your leads. 
The Building Data-Driven Personas Course, conducted by Stefania Mereu, will show you how to combine different methods with research. Thus, you will be able to create well-designed personas. The beginning of the course focuses on the use of personas in organizations and on the elements of good personas. Then, Stefania will present you with some approaches to creating user personas.
Moreover, you will find out how to optimally combine qualitative research with quantitative data. Then, you will also get familiar with examples of personas for different businesses. Finally, during this 8-hour long course, you will learn how to package the personas so that you make sure this process is successful. 
Running a CRO agency is not an easy thing to do. There are so many things you need to consider. You have to gather leads, create ads, manage clients, and so much more. Every agency offers different services and develops different strategies. However, they all have one single end goal – to transform their visitors into their clients. 
The CRO Agency Masterclass focuses on developing a CRO program so that you are able to attract the right clients and close big deals successfully. Once Craig Sullivan guides you through the CRO fundamentals, you will be ready to learn some tips and tricks for building teams, managing clients, and selling services. He will introduce you to some tools that CRO agencies should use and will talk about the psychology of selling. Thus, you will be able to close bigger deals by understanding the mind of the customers.  
This 11 lesson course will also prepare you for meetings with clients. Moreover, Craig will provide you with a specific checklist involving key things such as different audits. Then, you will learn how to set up the CRO process, run experiments, test cycles and communications. In addition, this training covers optimization of the process, meetings with customers, AB testing and modeling exercise on a real site as well. 
Retaining website subscribers is one of the biggest challenges businesses face, especially start-ups. To keep them subscribed, you need to provide them with value, answer their questions and solve their problems. However, it takes much more than just replying to their messages or answering their calls. You need to create a process where you will build trust and mutual growth. 
The Customer Retention for Subscribers Course covers the retention points that will improve the business – client relationship in the long-term. The instructor, Val Geisler, will open this training by pointing out the ins and outs of retention and how it impacts your company. Then she will focus on the difference between good and bad retention. You will find out how to create user experiences based on your clients' journeys. What's more, during this 3-hour long course, you will learn how to create retention strategies, and measure and improve retention in the long term. 
If your customers and executives feel bored during your data presentations, then you should change the way you communicate with them. The Data Presentation and Visualization Course will provide you with some fresh tips and tools that will make your presentations interesting and acted upon.  
In only 5 sessions, the instructors, Lea Pica, Ian Littlejohn, and Judah Phillips will help you discover the most common pitfalls when presenting data. You will learn what the audience wants to hear and understand the data visualization approaches. They will also teach you how to design data which looks appealing and create successful digital analytics. 
During this 9 lesson training, you will get familiar with some types of data sources and aggregation methods as well. Furthermore, the instructors will also guide you through the best practices of visualization, pointing out themes, layouts, category, time and field filters. Finally, after the last lesson where different dashboards are covered, you will be able to create full reports, hold engaging presentations and change minds.  
Most of the businesses use Google Analytics to pull data and create reports. However, Analytics is a tool that has its limitations. It takes hours to export, filter and format data. With Google Data Studio, you can create reports in less time. Plus, it allows you to customize different dashboards and pull data from many sources, including Analytics, Adwords, Google Sheets, etc.  
Thanks to the Data Studio Masterclass, you will discover how to use this tool and make pulling data easy. Ian Littlejohn is an analytics trainer and the instructor of this class who will show you the best practices for building and presenting reports. This 4-hour long course covers best practices and principles of visualization, different data filters and dashboards. Once you finish it, you will understand how to tell better data stories to your audience and your company. 
Whether you are creating reports, checking budgets, or calculating the performance of your marketing strategies, you are certainly using Excel. It is a practical tool that keeps you organized and makes your job much easier. Excel is easy to use, however, most of the marketers believe they know all of its functionalities, but they are wrong. 
That's why Fred Pike designed the Excel for Marketers Training so that you can use everything it offers efficiently. He offers a step-by-step guide so that you can understand its more advanced features well. This course also includes a little touch of Google Sheets as well.
At the very beginning of the training, Fred covers sorting and importing data from Google Search Console, creating a Pivot Table, adding formulas to tables and downloading data from Google Analytics as well. Then, he goes through documenting and troubleshooting data, some more features of Pivot Tables, Excel errors, Named Ranges, and some other functionalities. Moreover, you will find out which functions to use when you deal with string data and how to tie sources together.  
In only 4 lessons, you will also get familiar with some more examples of conditional formatting, forecasting, shortcuts, and third-party tools. When you finish this training, you will become a successful Excel user.
Can you imagine your products or services being wanted by many consumers? That is possible with the right Demand Generation strategy. Thanks to it, you can stand out from your competitors, reach new markets and increase the number of returning customers. The goal of Demand Generation is to grow and nurture lead and client relationships in the long-term. However, to do that successfully, you need to develop a good plan so that you can create interest in them. 
With the Foundations of Demand Generation Course, you will be able to put together a good strategy that will convert leads into long-term clients. The instructor of the training, Ramli John, will guide you through its principles so that you can truly understand its importance. Then, you will learn how to align marketing and sales and enter the mind of the ideal buyer. This will help you understand which leads are qualified. 
Furthermore, you will understand how to create the right content since it is one of the key points to attracting leads. Landing page funnels, content promotion and targeting with outbound marketing are also among the other things that this course covers. Finally, during this 9-lesson training, Ramil will also show you how to take care of your leads using Facebook Messenger and email.
Google Ads is a crucial advertising platform that can make your business grow. However, it works differently for every company since they all have different business needs. With the Google Ads Course, you will get the recipe to running ads the right way. It will help you target the right people and get positive results according to what your company needs. 
So, you will get familiar with some essential metrics, set a specific goal, and understand the Iceberg Effect. The instructor, Johnathan Dane, will also show you different kinds of research tools to get higher conversions. What's more, he will explain the importance of Search, Shopping, Display and YouTube temperatures in structuring campaigns. Then, you will find out the essentials of targeting, including remarketing and demographics.
In addition, this training offers the essential bells and whistles so that you can achieve your goal quickly. It also guides you through the main dashboard of Google Ads, campaign building and ad groups creating.
In only 1 hour and 50 minutes, Johnathan also talks about software, filters, rules, and scripts. Weekly and monthly optimization routines, keywords, audience and general expansion are covered as well. 
Collecting and analyzing data is part of the job of every marketer. However, Google Analytics reports can be full of insights. So, sometimes, it may be difficult to turn the insights into action. Because of a lot of raw data, you cannot tell where to look and what to make of it. 
The Google Analytics for Experienced Marketers Course, will help you understand what your data exactly means. You will find out how to analyze and make sense of the data, not just read reports. This training will teach you how to use the data to solve specific problems and become a good marketer. 
Thanks to the instructor, Yehoshua Coren, you will first find out how Google Analytics works. Then you will learn about its limitations, functionalities, and key reports. He will help you define success for your business and then customize your Analytics setup.    
Moreover, Yehoshua also focuses on admin configuration and data quality. Thus, he will show you how to use filters and some other features to maintain data integrity. During the 8 lessons this training offers, you will learn how to do performance marketing and get familiar with some advanced elements of Analytics as well. Last but not least, you will also understand how to solve different problems related to your business.
Google Tag Manager is a management system that all marketers and analysts should count on. Passing the Google Tag Manager Course, you will learn how to solve most of the problems you face when doing analytics.
This training program will help you make the cross-domain tracking simpler and will allow you to deploy tags without counting on the help of a developer. Chris Mercer, the instructor, will show you how to use GTM, keep your tags well ordered, set up custom events, retargeting and tracking pixels for acquisition campaigns. 
In just 9  hours, you will simply learn how to manage workflow better, stay organized and get more value from your data.
Heuristic Analysis helps you identify any usability issues connected to the products you offer. Thanks to its experience-based techniques, you can easily solve problems and increase customer satisfaction. The Heuristic Analysis Frameworks for CRO Course will show you how experts approach CRO. You will learn proven conversion heuristic frameworks that will optimize your strategy.
The instructors Dennis Yu and Logan Young will teach you how to use persuasion principles and cognitive psychology to understand user motivations. You will learn how to analyze user behavior and stimulate users to buy. During this 7-lesson long course, they will also cover confirmation effect and systematic evaluation. Once you finish this training, you will be able to draw better results, improve the validity of your results and increase ROI.
The Intermediate Facebook Ads Course covers some tools that experts use, enterprise topics and long-term strategies. With the help of Dennis Yu, you will find out how the Facebook algorithm works and how to create a powerful Facebook strategy. He focuses on goals, content, targeting, automation, campaign structure, etc. 
In 7 lessons, you will get familiar with some tips on boosting posts. Then, this training will also introduce you to building campaigns, campaign optimization, team management, Facebook for agencies, personal brands and much more. After finishing this training, you will have the skills to create better ads in less time. 
Whenever you go through your data, you need to be sure that it is useful for you. To do that, you need to take Analytics to the next level. Thanks to the Intermediate Google Analytics Course, marketers will become smarter, more data-driven and richer. It focuses on building an audience, running effective acquisition and retention campaigns.
In 16 classes, you will learn how to master attribution and get more of the data you look at. Thanks to this training, you will be able to pull out advanced insights, create enterprise-level reports, and use the potential of enhanced e-commerce to promote your product and make it smarter. 
What's more, the instructor, Chris Mercer, will teach you how to do powerful customizations. This is great since you will be able to create customized analyses and reports based on your business needs. He also goes a bit deeper when it comes to conversion and sales funnels. Thus, he will reveal some tips and tricks that will make you a smarter marketer.  
If you are a marketer or analyst, then you are probably using Google Tag Manager. However, do you feel like there is much more this tool can offer? If yes, then you should definitely take the Intermediate Google Tag Manager Training. It will bring you from beginner to intermediate and will allow you to unlock its true power.
This course will not only teach you to manage tags and data more efficiently but also how to spend less time on reducing errors. Learn to use the powerful features of GTM that will take your tracking to an advanced level. With the help of Chris Mercer, you will understand which common mistakes to avoid. This will save you lots of time and money in the future. 
In addition, in only 2 hours and 30 minutes, you will get familiar with the most useful tools marketers use. You will discover some great solutions for engagement and ecommerce tracking. Chris will show you how to create a system that will help you with greater data control and company governance. 
Lifecycle emails are one of the most powerful marketing channels for growing your business. However, ecommerce companies very often underutilize them. In the Lifecycle Email Marketing for Ecommerce Course at the CLX Institute, you will learn how to build a powerful lifecycle email marketing system. This will help you get more quality leads, generate more clients, and drive more sales with fewer promotions.
The instructor, Austin Brawner, will introduce you to the best practices to utilize magnetic opt-ins and recover lost sales. Thanks to these tips, you will be able to increase your revenue. Furthermore, in only 4 hours, you will learn how to segment your email list properly and increase the lifetime value of your clients to drive repeat purchases. 
Getting deeper into LinkedIn advertising will allow you to run ads with great performance. This platform makes it possible for you to reach a larger target audience which is much more selective. 
Taking the LinkedIn Advertising Course, you will find out how to create killer ads and noticeable offers that drive high-volume clicks and conversions. You will also learn how to target smarter, fine-tune your funnel and increase your ROI. 
In this training, AJ Wilcox provides you with different tips that will help you avoid different pitfalls, identify high-value opportunities, and target quality prospects. You will understand how and who to target, what type of offers to create, and how to test offer variations systematically to improve performance. In 4 lessons, you will find out how to renew interest in what you offer as well. Thanks to these tips, you will generate results continually. 
Discussing analytics, monitoring, tracking, and managing A/B tests are also other segments of this course. The instructor will show you how to focus on these terms without wasting too much time on LinkedIn Ad Manager. 
Behind every successful business lies marketing management. Building a team and setting specific, actionable goals are crucial in advancing your goals. The Marketing Management Course is the right choice for all marketers who want to run their own brand and hire and manage a team. 
Therefore, this training covers creating strategies that will help you set objectives and results so that your team can easily fulfill the goals. In about 2 hours time, Kristen Craft will show you how to create project plans, resolve conflicts, employ and integrate people successfully.  
Apart from that, you will also learn how to keep your team motivated and run and track marketing campaigns. Those attendees who will take this course will learn how to grow the people in their teams, manage their long-term career and build a personal brand as well.  All these leadership strategies will contribute to your personal and professional growth. 
The Maximizing Audiences for PPC Campaigns Course will immerse you into advanced techniques for creating higher-converting PPC audiences. In 6 lessons, you will learn how to earn better ROAs and increase your impact across channels. Your instructors, Joe Martinez and Michelle Morgan will also guide you through some strategies for creating negative audiences and writing specific ads.
Every successful marketer should know how to connect with people. Thus, this course will teach you how to find and target the right audience and maximize its performance. You will learn where the audience is located in your funnel and how to avoid the audience overlap. What's more, retargeting and remarketing are also among the other things that this training covers. 
With so many tools out there, it is difficult to tell which of them is really necessary for your business. The Optimizing Your Marketing Tech Stack Course will not only show you which tools are right for you, but it will also help you to piece together different tools to finally get positive marketing results. 
Marketing tech stack allows you to track the conversion journey of your clients from the beginning to the end. However, it is difficult for businesses to create the right tech stack at the beginning. That's why Dan McGaw created this course so that you can make your business grow. 
During this 8 class training, Dan will cover different topics, including stack integration and stack taxonomy. You will learn how to analyze data selectively so that you can bring decisions that generate more conversions. Moreover, you will also find out how to capture emails, automate your marketing, and use your existing data to increase your revenue. 
Website personalization is essential for companies since it improves customer loyalty and increases conversions. It makes it possible for businesses to provide users with unique experiences and build trust. 
The purpose of the CXL Personalization Course is created for you to understand how to use personalization for B2B and B2C. In the 8 lessons it offers, you will learn how to use it with other technologies, including analytics, account-based marketing, A/B testing and SEO. Your instructor, Guy Yalif, will help you develop a strategy and pick the right personalization tools for your business. 
In just 8 sessions, you will find out how to segment and target clients, avoid common pitfalls, and analyze and frame results. All these tips this course offers will help you increase conversions and revenue. 
Product Analytics is an approach that helps companies find out who their clients are, how they engage, and what makes them convert or return. Tracking all these things is essential for businesses since thanks to them, you will be able to provide users with a better experience. And, better experience means more converting and returning clients and more money. 
The Product Analytics Course will show you how to collect and analyze product data in the right way. It will help you find out how to track essential metrics and implement them as well. You will also learn which tools and methods to use including, Google Analytics, Mixpanel and Snowplow. 
Moreover, the instructor, Matthew Brandt, will also show you how to understand the users, and he will answer common questions and challenges. This 6-hour long course also incorporates reporting and monitoring data and using different Google Sheets functions. 
Product Marketing is the action of selling your product to your customers. This includes launching, promotion, and much more. The Product Marketing for Technology Companies Training will help you become a product marketing pro.
Thanks to the tips that Lucas Weber shares, you will be able to get the skills necessary to win sales and drive results. You will understand how to coordinate a launch, retain clients, and measure and evaluate the success of your product marketing. He will also show you how to use competitive analysis and create data-driven decisions. 
Once you finish the 6 classes this course offers, you will be able to develop a message that makes your product stand out, create content that brings more conversions, and simply win more sales.
Launching a product is easy. The hard thing is getting people to find value in it and start buying it. Most SaaS companies use the traditional top-down approach to grow their businesses, especially by offering free trials. However, people are tired of generating leads that are not converting. 
Wesley Bush is a marketing expert who will show you that there is a more efficient way to convert leads. He will teach you how to adopt a bottom-up marketing approach, and with his help, you will be able to create a product-led grown engine and drive more sales. 
I only 8 lessons, you will learn the importance of Product Qualified Leads (PQLs). Then, Wesley will show you how to create product personas and identify your product's aha moment. What's more, you will find out how to build onboarding tracks which are essential in getting more new users to experience the core value of your product. Finally, this course also focuses on customer success and turning free trial users into paid clients. 
Passing this CLX training, you will be able to develop a product-led grown strategy that will help you increase your sales.
Just because psychology and neuroscience are important in creating better conversion experiences, Brian Cugelman and Michael Aagaard created the Psychology and Neuroscience for CRO Course. With the help of these experts, you will find out how to leverage these studies to get better results and more conversions.
You will learn some tactics that you will find useful in optimizing user journeys. Among the other things this course covers, there is also digital psychology for better design and building relationships and trust with people that are significant to your business.  
In addition, Brian and Michael will also talk about cognitive psychology and teach you how to create intuitive content. Then, you will learn some strategies for emotional design and human behavior as well as how to audit conversion processes.  
One of the most important marketing activities for every company is acquiring new users through referrals. The reason is simple; you reduce spending money and get valuable users at the same time. 
With a step by step guide, the Referral Marketing Course teaches you how to build a successful referral plan and implement it. Dominic Coryell, a growth expert and instructor of this training, will also show you how to promote your referral program the right way. He will include in-app, onsite and email promotions. 
Finally, in the fourth and last lesson, you will understand how to optimize each level of the referral program. Furthermore, you will find out how to use referrals to accomplish your current goals, no matter what you aim for.
Planning your content calendar with SEO in mind can be challenging. There are lots of questions to be answered concerning keywords, ranking, etc. The SEO Driven Editorial Calendar Training is created for the purpose to provide you with all the necessary tips so that you can maximize your traffic. 
In just 4 lessons, the expert Dan Shure will help you establish your content goals. He will teach you how to brainstorm topics, identify competitors, and research keywords that will rank. Then, you will find out how to align topics to pages and content types the right way. On-page SEO, content creation, measuring content success and other best practices that you will get familiar with, will help you grow your site traffic as well.
The purpose of the SEO Foundations Course is to help you acquire customer acquisition skills so that you can finally start getting relevant traffic to your website. Those who will enroll in this training will learn how to create an acquisition strategy and reach Google's top rankings in a short time with little effort. Thanks to the instructor, Dan Shure, you will find out how to optimize paid search. Thus, you can drive clients cheaper than your competition. 
During the 8 classes that this course incorporates, you will get familiar with the key aspects of SEO, which will improve your traffic. Learn how to do keyword research, create content that ranks and build links. 
Also, you will get a bit deeper into local SEO and understand its importance in standing out of your competition. Finally, you will be introduced to the tools which will help you measure the success of your SEO campaigns. This will help you get insights that will improve your conversions and increase your revenue.
Doing A/B testing should be an integral part of every marketing plan. It not only helps you improve your strategy, but it also increases engagement and conversion rates. The Statistics for A/B Testing Course will show you how to run A/B tests successfully and interpret statistics.
By pointing out the most common mistakes, Georgi Georgiev will make sure you avoid different pitfalls and misinterpretations. Confidence intervals, multivariate and concurrent tests will also be in the focus of this training. 
In addition, in 9 hours, you will learn how to segment data, run non-binomial tests, and plan and analyze sequential tests. Finally, you will get to know how to test faster and plan ROI-positive A/B tests that will bring great returns.
Optimizing the infrastructure of your website ranks it higher on search engines. So, for you to get more visitors, leads and sales, you need to implement technical SEO. Enrolling into the Technical SEO Course, you will understand its importance for your business. You will also learn how to start doing technical audits and optimize your on-page content with the right structure and keywords.  
Martijn Scheijbeler will be your instructor and will guide you through good URL structures, JavaScript frameworks and crawlability. He will also cover sitemaps so that you can make your content visible on the search engines. What's more, this 3-hour long training also focuses on structured, improving website speed, and international SEO. Once you finish this training, you will have the necessary knowledge to outsmart your competitors. 
For most people, YouTube is just a channel where they can play music and videos. However, for marketers, it is a platform full of opportunities where businesses can reach new audiences. The YouTube Ads Course will show you how to target the right people and create the right campaigns to drive profitable traffic.
The instructor, Tom Breeze, will show you how to find the right clients, increase your reach, and identify keywords. Then, you will understand how to create perfect videos with the right formats and set up an account successfully. 
This 3-hour long training also focuses on finding "selling moments", campaign optimization and analysis as well as diagnosing and fixing ad problems. Capture the power of YouTube and increase your leads and sales.
---
Who Can Use CXL Institute Courses
The most important benefit of attending the CXL Institute is that it increases the value to your work as well as the work done by your employees.
You can transform your business from a custom web development company to a high-performing CRO-based digital marketing agency. You ensure a secure future for your company by extending the scope and quality of work.
You'll become far more engaging than before. For us at ThematoSoup, I can honestly say I don't think we would have been able to make the change from strictly WordPress-oriented development to a marketing agency as effectively if it was not for the in-depth marketing, conversion optimization, copywriting and storytelling courses.
I loved the ability to set up custom training roadmaps for each of us. There is a huge amount of material on CXL and the roadmap feature allows me to prioritize which training I want each person to take and also in what order.
Online learning has become almost as effective as face-to-face education. Along with lower costs, more comfort during learning, the convenience and flexibility it provides, it's easy to see why you should consider the CXL Institute courses and become an expert in your marketing niche. Another good thing about CXL is that they're LinkedIn certified education provider and you can add the certifications to your LinkedIn profile.
If you want me to check out and review other growth marketing online courses, just drop me a line in the comment section below.