Sooner or later, every business website has to rely on landing pages in order to drive conversions. Being the key lead drivers that they are, business websites put in a lot of effort and time into creating the best landing pages as per their understanding of it.
For the mere fact that almost 75% of businesses have problems finding suitable expertise for optimizing their landing page copy, the need to choose the right tool is critically important to assess. Since so many excellent tools are available for creating great landing pages and sales funnels, it is just fine if you are confused to take a certain route.
The best Landing Page and Sales Funnel creation tools available for you options available in the market are:
In this blog post, we are exploring the three in a comparative manner to help you make the right choice and eventually, great landing pages, too.
A great Visual Editor for WordPress, Thrive Architect helps its users create beautiful, engaging and visually impressive content & layouts for their website. It is of huge help when it comes to creating better content and landing pages.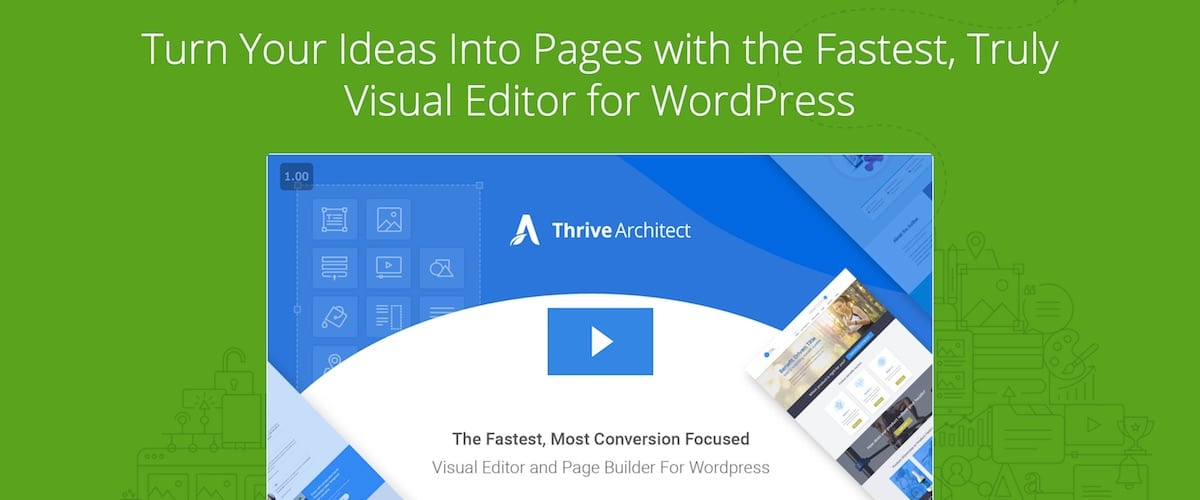 Thrive Architect can help you grow your business even if you have no coding skills. With its fairly easy to use drag and drop editing, you can create great landing pages in a jiffy.
Touted to work with a laser-like focus on business websites, Thrive Architect can help you create High-Converting homepages, Sales page, Webinar Pages, Product Launch Pages, and Landing Pages and grow your email list.
ClickFunnels is the ideal drag-n-drop web page editor and an online sales funnel builder. With the help of services from ClickFunnels, businesses can take care of their ideas for online business, their brand's online marketing and create appropriate online sales funnels for the products and services they are dealing in.
Eliminating the need for traditional and expensive sales funnels that required dealing with everything, ClickFunnels offers a package that takes care of everything for you. Its salient features include one-stop funnel creation system, a creation of Smart Lists and simple Follow-Up Funnels, all-in-one affiliate software named Backpack, Pypeline high-touch CRM system etc.
Instead of having your marketing and sales stuff scattered all over the place, ClickFunnels brings all of your digital marketing needs under one roof, claims the brand.
A popular tool meant for building landing pages, Leadpages helps users boost their site's conversion rate with its amazing landing page templates and optimization services.
Leadpages is the right toolkit if you are one of the growth-minded marketers who believe in creating the highest-converting campaigns ever. Some of the features offered by LeadPages include mobile-Friendly Templates, easy customization, Pop-up Boxes, built-in Payments, unique Facebook ad builder, Instant Ad Creation, Human-Friendly Analytics etc.
Comparative Analysis
Now that we've introduced ourselves to the tools, let's see how they stack against each other.
Ease of use
As you can see below, all of the tools feature drag and drop page builders with Thrive Architect a little easier to use than the other two.
Thrive Architect – Drag and drop editing
ClickFunnels – Drag and Drop web page editor
Leadpages – Drag and drop editing
Features
All of the landing page builders are incredibally robust.
Thrive Architect
A visual page builder that works swiftly and is meant for business and conversion-focused websites
Lets you create optimized and conversion-focused Landing Pages From templates for lead generation and higher conversions
Build a simple one-page site
Pre-built conversion elements such as customizable buttons, testimonials, countdown timers, and lead generation forms
Create obile rsponsive pages
If you arestarting to blog on your business website, you can write beautifully formatted log Popsts
Ultra-Flexible Column Layouts
Attention-Grabbing Text & Image Combinations
Total Font Customization
Full-Width Layouts With a Wow Factor
Advanced, Attention Grabbing Hover Effects
Instant preview of the page on different screen sizes
Mobile Responsive Editing
Dynamic Animations & Actions
See all the Thrive Architect options.
ClickFunnels
Drag and drop web page editor to help you quickly build sales funnels that convert
Simple Dashboard
Smart shopping cart with one-click upsells
Email and Facebook Marketing Automation
Lets you quickly build high-converting funnels with one-stop funnel creation system to generate leads, make sales, upsells, webinars
A simple 'drag n drop' editor, ClickFunnels Page Editor for non-technical people
Integration with Actionetics which lets you create "Smart Lists", and send messages and sequences that speak directly to your customers, based on the actions and behaviors of the visitors going through your funnel
Actionetics MD to help you create simple Follow-Up Funnels to reconnect with your customers using ONE easy platform
'Backpack' all-in-one affiliate software that allows you to add an affiliate program to the back of any sales funnel in minutes using pre-designed template pages
Get a 14-day trial of ClickFunnels.
Leadpages
Create a campaign with Mobile-Friendly Templates, easy customization, Pop-up Boxes, and built-in Payments
Easily build ads, place pixels, and reach the right people with a unique Facebook ad builder
Convert your leads by testing, optimizing, and integrating all digital marketing tools via A/B Testing and Marketing tool integrations
Smart end-to-end analytics and insights along with Campaign ROI and Human-Friendly Analytics
Just drag, drop, click, and type to customize your landing pages and opt-in forms
The Leadpages WordPress plugin to ease the publishing at a WordPress site with just a few clicks
SEO-Friendly Pages
Unlimited Domain Publishing
Ultra-Fast Hosting
Digital Asset Delivery
HTML Editing
Start a free trial of Leadpages and tell us what you think.
Pricing
Thrive Architect – $67 Annual Subscription with a one-time payment
ClickFunnels – Free 14 Day Trial, the plan starts with a $97 monthly payment
Leadpages – Available as a monthly, annual
and a 2-year plan. You can opt to try the service with their 14-day free trial
Supported integrations
All of the tools feature a pretty large list of integrations, but Leadpages is aclear winner here.
Thrive Architect – MailChimp, MailPoet, MailerLite, MailRelay, Facebook, Twitter, Amazon Web Services, Infusionsoft, Google.org, ConvertKit, Postmark, WebinarJam
ClickFunnels – MailChimp, AWeber, GetResponse, ActiveCampaign, GoTo Webinar, WebinarJam, Ever Webinar, Maropost, Constant Contact, Twilio, Sendlane, ShipStation, Stripe, Clickbank, OntraPort, Infusionsoft
Leadpages – WordPress, Weebly, Squarespace, Drupal, Joomla, GoTo Webinar, Facebook, Twitter, LinkedIn, Google Plus, Stripe, PayPal, HubSpot, Marketo, Ontraport, Google AdWords, Facebook Ads, MailChimp, SendReach, MadMimi, GetResponse, iContact, Emma, ConvertKit, Drip, Aweber, ActiveCampaign, Constant Contact, 1 Shopping Cart, Shopify, Interspire, Infusionsoft, Salesforce, Zoho, Google Analytics, Google Tag Manager
Support quality
All of them are pretty equal when it comes to customer support and training.
Thrive Architect – You can raise a Ticket to seek redressal for any of your issues or go for the Live support. The service also offers training to help you get accustomed to the product features and configuration
ClickFunnels – Phone, Live Support, and Training are your go-to options
Leadpages – Phone, Live Support, email, and Training
Conclusion
More than 20% of businesses have reported that they do not have an effective strategy for landing page testing. One of the reasons behind this can be the lack of knowledge related to tools and services meant for creating great landing pages.
I hope the comparative guide above makes it a little easier for you to choose from the top three options and that it helps you create great landing pages and drive more conversions to your business website.