WordPress is a versatile platform, there's no denying it. It's being used for eCommerce, corporate, portfolio, non-profit websites, for social networks using BuddyPress and for running forums, with the help of the bbPress plugin. But, the multipurpose themes have always come at a price.
With Gumbo, we're giving back to the WordPress community premium, but free, extremely easy to setup and use multipurpose theme.
This time, the blogging platform is on steroids. Gumbo is a multipurpose WordPress theme, built with two things in mind:
Minimalism
WordPress best practices
It is designed so that your content can do the talking. It's clean with lots of white space, so your readers can focus on what's really important – your message.
Minimalist design doesn't mean Gumbo is without features, it just means that they've been carefully thought through and can easily be configured via Theme Customizer. Let's look at some of the Gumbo highlights:
Responsive & Retina Ready
WooCommerce Support
4 Page Templates (Masonry)
Featured Content
Typography (15 fonts)
Translation Ready
Infinite Scroll
Responsive & Retina Ready
Gumbo is a responsive and retina ready WordPress theme which focuses on your content. Everything you throw at it will look good on any screen size.
We've decided to use Genericons (icon fonts) for visual representation of post types and other image elements in the Gumbo theme. Benefits of using icon fonts are numerous:
Infinite scalability (retina support)
Screen reader compatibility
CSS control
No JavaScript required
Load faster
Use less resources
WooCommerce Support
We understand that ecommerce support has become a standard feature in today's templates. Gumbo theme is WooCommerce compatible, which means that once you install WooCommerce WordPress plugin, you can immediately start creating products, building your online store and selling.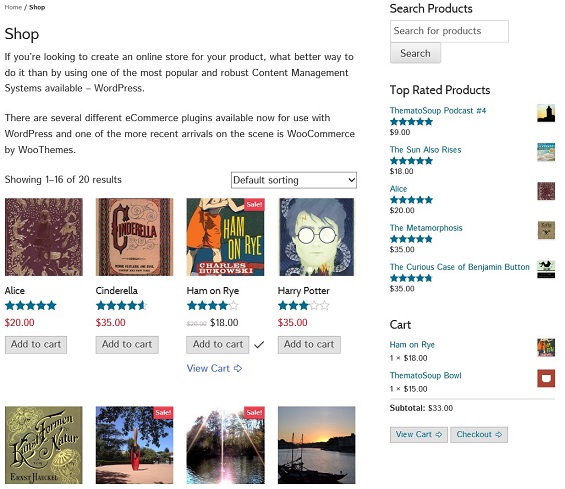 Page templates
Masonry
Widgetized template
HTML sitemap
Authors template
Masonry
I know there a lot of fans of this Pinterest-like layout. That's why we've included Masonry page template.
You can select how many posts per page you want to show, whether you want to hide the page title or you can even exclude certain post categories from showing.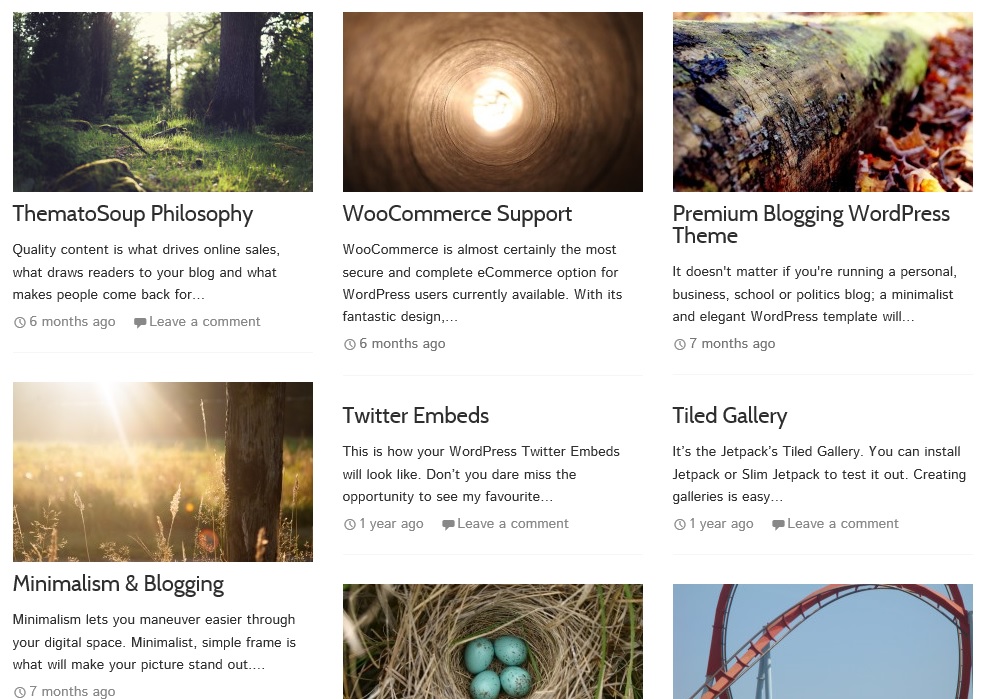 Widgetized Template
This is the one-page template you can use to add widgets in your "below content" widget area. Widgetized Template works together with Widgetized Page widget area and has some specific options, which you can enable in Screen Options of your page editor.
You can also embed videos and display them above, below, right or left of the text.
Custom backgrounds and boxed layout
Gumbo theme is, by default, set to full width. If you want to change this, you only need to set a background color or upload an image or a pattern and your website will change to the boxed layout.
You can install the Gumbo theme to see more about Full Width & Boxed layouts.
Layout Options
Gumbo theme has 3 layout options you can select in Theme Customizer:
Right sidebar
Left sidebar
No sidebar
In addition to this, you get the option of three different header layouts, as mentioned above.
Change Settings for every post or page
You can override default Customizer settings on your posts or pages by enabling Screen Options > Layout Options. Once you do, you'll get a meta box below your editor.
This way, you can control your font size, layout options, hide the header or footer for your custom landing or squeeze pages.
Navigation
Website usability and user experience are greatly determined by how efficient visitors can browse. With Gumbo, we thought about user satisfaction so we implemented several layers of navigation:
Main navigation
Post navigation
Breadcrumbs
Social menu
Navigation below title and tagline
It's the default header layout found in most WordPress themes. It looks clean and uncluttered with a lot of space for extensive navigation with many menu items.
Navigation next to title and tagline
This is more of a corporate look. No space is wasted and navigation is right beside your branding or your name.
Center Aligned
This is one of the most used header layouts. It's got the personal touch bloggers are so fond of.
Post Navigation
This is your call to action below each of the posts. If you want visitors to read more of your content, this fancy post navigation will give them a nudge.

Breadcrumbs
Breadcrumbs are another way to make it easier for your readers to navigate and browse your website. It comes especially handy if you run an online store. Breadcrumb navigation is compatible with Yoast's WordPress SEO plugin.
Just install WordPress SEO plugin, go to SEO > Internal Links > Enable Breadcrumbs.
Social Menu
If you want to connect with your readers on social networks, then the social menu might help you do that. These icons link directly to your social media space and the social menu is a way to easily display your links in the top menu.
Color Options
Three is the number of color schemes you get with the Gumbo theme:
Featured content
Once in a while, you'll create an article so great you'll want to feature it on your homepage. Gumbo Customizer holds an option for this case, too. It's an option called Featured Content.
The options for Featured Content Width:
It's a simple and unobtrusive slider, which helps you grab attention with ease.
Typography
It's the main mean of communication with your audience. For the Gumbo theme, we've selected 15 typefaces that are great for legibility:
Helvetica
Georgia
Droid Serif
Arimo
Lato
Open Sans
Ubuntu
Cabin
Istok Web
Notorio Serif
Rosario
Tinos
Source Sans Pro
Roboto
Titillium Web
You can pick from some of the most popular Google Fonts for your headings and body text. You can also set your headings to be bold or regular weight, as well as uppercase.
Widget Areas
Widget areas give you flexibility and you can find plenty in the Gumbo WordPress theme. There is total of six of them, seven if you install WooCommerce WordPress plugin.
Mighty Text Widget
We've revamped the most used widget of them all. Text widget now has several new and useful features you can set:
Title
Text
Icons with variable size
Variety of Genericons
You can use the text widget to easily create call to actions, testimonials or showcase your products' features.
THA Hooks Interface Plugin
Gumbo is using hooks defined by the Theme Hook Alliance and this is something developers will definitely find handy.
The Alliance is a community-driven effort to agree on a set of third-party action hooks that THA-compatible themes pledge to implement in order to give desired consistency.
Since Gumbo is using these hooks, you can download and use THA Hooks Interface plugin which creates an interface where you can add code to almost any part of your website.
---
WordPress has been the core of our business over the years and Gumbo is our way of saying "thank you" to the community and to end-users. If you think Gumbo can be made better, drop us a comment below.
You can download Gumbo theme at WordPress.org.