The article has been updated to include 2 of the most popular and comprehensive LinkedIn Learning Paths. We use affiliate links, so we may get a little commission if you decide to join LinkedIn Learning using the links in the article.
"Intellectual growth should commence at birth and cease only at death."― Albert Einstein
In our quest to better ourselves, we must constantly evolve and keep learning. Up until a century ago, learning was only for the privileged and wealthy. Nowadays, learning resources are much more easily available. Besides formal education, there are numerous free and paid online courses you can take and one of them is LinkedIn Learning.
Today, we'll take a look at this learning platform, its history, the pros and cons and see how it stacks up against some other paid online courses out there.
LinkedIn Learning Cost
For the US and available as a Premium subscription, LinkedIn Learning costs $29.99 a month.
If you decide to buy an annual subscription, LinkedIn Learning costs $299.88 per year. This means you get 2 months for free if you choose this plan.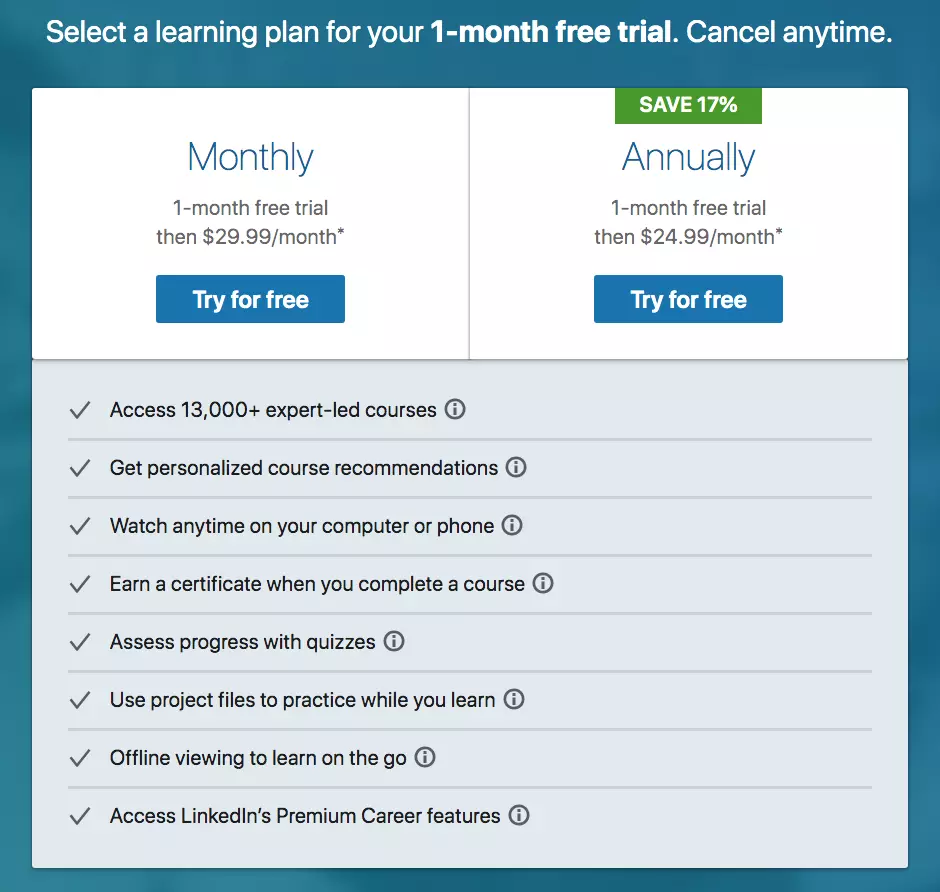 The subscription gives you access to all courses, which you can watch at any time on your phone. You get access to certificates once you pass a course and offline access to courses for when you're on the go.
The LinkedIn Learning plan gives you the features which are also available in the standard LinkedIn Premium subscription:
InMail (to contact and message anyone on LinkedIn)
Ability to see who viewed your LinkedIn profile
Ability to see who else applied for the same jobs as you
Once you factor in that the competitors such as Udemy and Coursera charge per course, you will quickly go over the price of one monthly payment for LinkedIn learning. You are essentially only limited by time. Know much you can watch and learn within a month.
Another thing worth mentioning is that you get some Premium LinkedIn account features with the Premium LinkedIn Learning account. A normal Premium LinkedIn account costs $29.99 and upwards monthly, so you get two for the price of one.
What is LinkedIn Learning?
You've heard of LinkedIn by now. It's the largest platform for professional networking. It's the social network to go present yourself as a professional and find colleagues and potentially land a job.
LinkedIn Learning is the network's platform for online courses, launched to help LinkedIn members educate themselves and better their careers.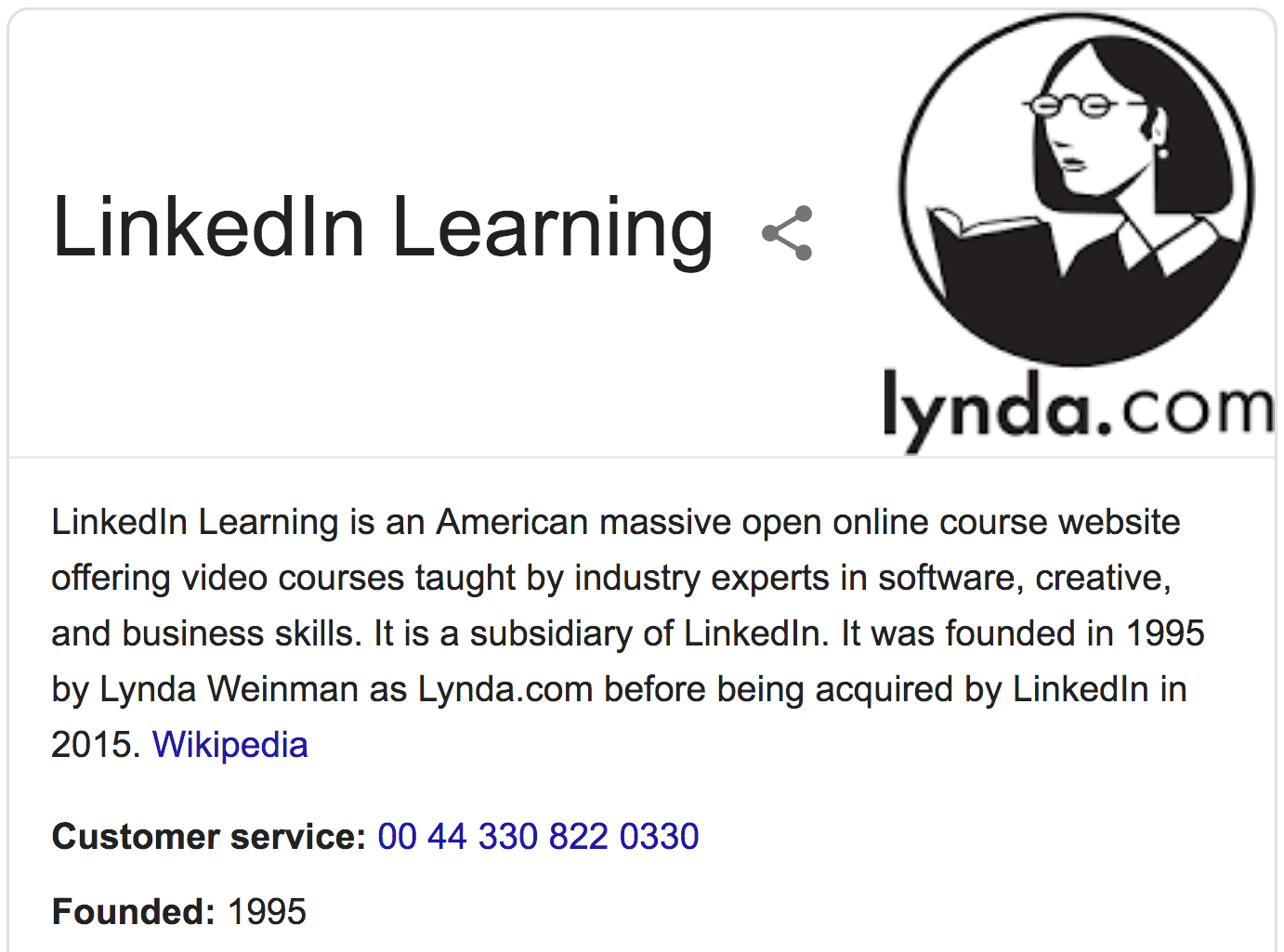 The platform was launched in 2015 when LinkedIn acquired Lynda.com, the famous online learning platform. Subsequently, all of the courses available on Lynda now became available on LinkedIn Learning as well.
Similarly to Udemy, LinkedIn Learning is a paid platform. It has more than 13,000 available courses which you can attend on-demand. You get certificates after completing courses and taking tests. You can showcase these certificates on your LinkedIn Profile.
Review – How Does LinkedIn Learning Work?
Let's say that you want to give the platform a go and find useful courses to attend right away.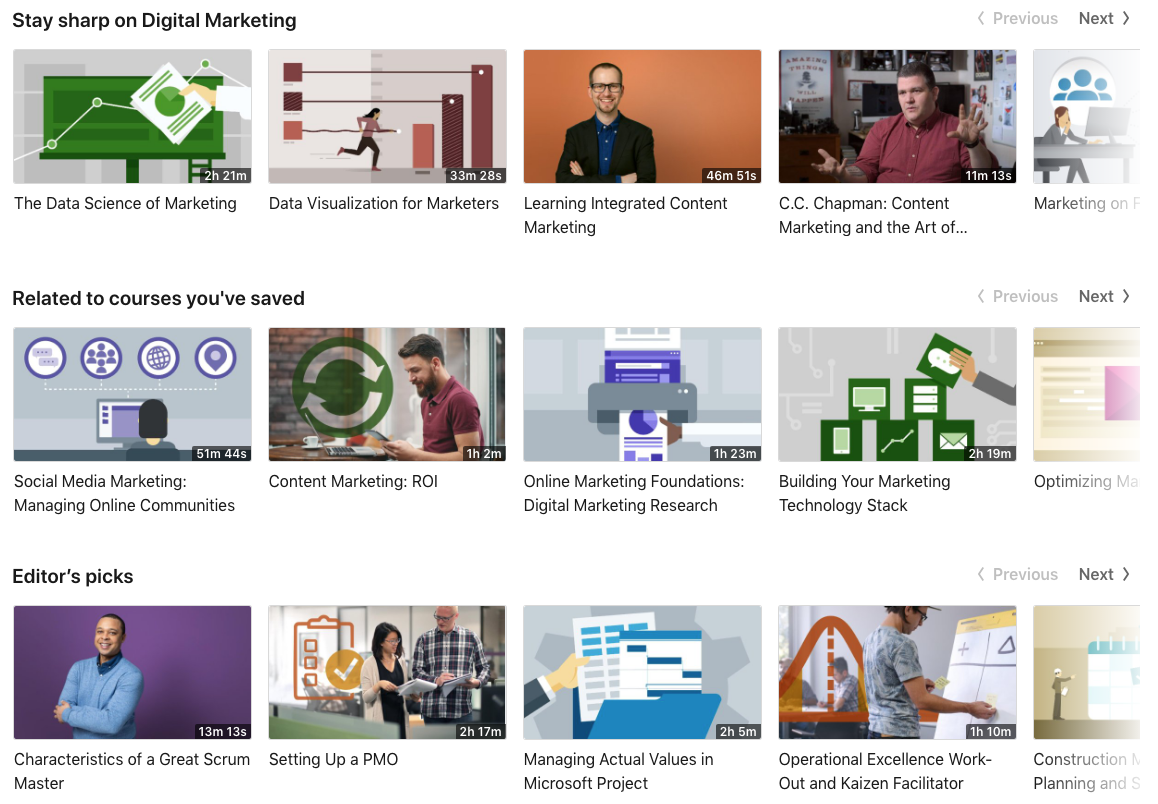 You can do this in three ways:
You can choose a certain topic, for example, sales. Once you put that in your search bar, you will find relevant courses. Note: there are tons of courses, so take your time to choose the right one before you get started.
Choose a specific tool or software you want to learn. For example, you can take a look at specialized Excel or Photoshop courses. If you need a certain tool for your next job, this is a great way to pick up on something relevant to get a promotion or a new position. Be mindful of the course release date to find the most recent and relevant information here.
Perhaps the most interesting way is called Learning Paths. Just as its name says, this learning method lets you take a path towards a certain field of expertise. For example, say that you want to get started with content marketing.
Learning Paths will suggest courses in copywriting, SEO writing, content promotion, etc. It can't give you a degree in digital marketing, but Learning Paths is a great way to quickly get up to speed in certain fields where no formal education is available.
Once you've found a course you want to attend, you'll get the following information:
Course difficulty
Course length
Date released (especially important for software and tool courses)
The number of viewers
The number of members who like the course
The content which you'll learn upon course completion
What's included in the course (files, quizzes, type of access, certificates, etc.)
Companies where most viewers work
Course description
Skills covered in the course
About the instructor
Related courses
All of this may seem overwhelming, but it's great information. Once you take a look at a few courses, you can use all of this info to choose the right one, which we'll discuss in a minute.
All the videos come with transcripts, which is particularly handy if English is not your native language and you want to pick up on some new terminology. The transcripts also allow you to quickly make notes as you highlight the words within them.
Let's take a look at the two most valuable LinkedIn Learning Paths for Growth Hackers:
A: Become an SEO Expert
B. Become a Digital Advertising Specialist
SEO (Search Engine Optimization) has probably become the most essential digital marketing tool for every company that promotes its business online. The more competitive the market becomes, the more business owners become dependent on this tool. Thanks to it, you can easily build brand awareness and a strong relationship with your leads and clients, become more trustworthy as a business and improve your search engine rankings. 
Millions of web users search for numerous queries a day hoping to get an answer to their questions or solutions to their problems. By optimizing your website with the best SEO practices, you will have the opportunity to appear as one of the top suggestions in the result pages of Google or any other search engine. 
To become an SEO expert means to learn how to increase the quality of your website by making it load fast, easy to use and navigate. With Become An SEO Expert LinkedIn Learning Course, you will learn how to put your business or the company you work for ahead of the competition, turn more prospects into clients, and increase sales. 
To become an SEO Expert, you need to complete the following courses:
A huge percent of modern consumers look for products and services online by searching for different key phrases on search engines. Once you learn the techniques and fundamentals of SEO that the instructor David Booth covered in this 3h 36min long course, you will be able to increase your website rankings, get more clicks and web traffic. 
You will get familiar with the basics of this digital marketing tool, learn how to read search engine result pages, research and optimize your website pages for keywords. Then, you will also find out how to analyze the quality of your content, define your audience, style, topics, and angle, and incorporate links into your content. 
Every SEO expert should know how to measure success and progress, promote content via social media, optimize e-commerce sites for search, and configure websites for mobile use to expand reach. Thanks to its expertise, David will make sure you take advantage of all the benefits SEO offers. 
The importance of links for Search Engine Optimization is of great importance since they play a major role in how Google ranks pages of websites. Thus, if you are eager to learn what a high-quality link is from an SEO perspective and how to select and incorporate good links, Peter Kent will teach you all.   
In just 1 hour and 7 minutes, you will find out how to improve your search engine rankings by building strong links. You will make a difference between real and fake links, learn how to avoid problematic links and analyze incoming links to a website.
You will get familiar with local pages and directories, social networking links, and paying for links vs. baying links. Working with bloggers is also among the other things that this course covers. 
To understand SEO well, you need to understand the keywords first. They are the vital foundation of your digital marketing efforts. When you learn how to use the right keywords, your website will get higher search engine rankings and more web traffic. 
The author of this Keyword Strategy Course, Matt Bailey, will help you understand how keywords work. You will learn where to find them and how to create your keyword list with the help of different management tools. Find out how to examine keywords demand, use long-tail keywords, phrase patterns and plurals, organize keywords data, and apply keywords to your website. 
What's more, in 4 hours and 21minutes, you will be able to create successful PPC ads with different keywords, interpret data and understand searcher intent. Matt will also show you how to measure keyword competitiveness and keyword insights to improve your marketing efforts. 
The way how Google ranks websites changes continuously. Therefore, you need to be up to date with the latest SEO changes to stay ahead of your competitors. There are numerous tools on the market that will help you not lose track of the latest changes regarding Search Engine Optimization.
Marketing Tools: SEO is a 1h 47min long course by Brad Batesole that presents the top trending tools that will help you evaluate, monitor, and improve the overall SEO of your website. 
You will find out which are the tools that will help you measure performance, spy competition, and make improvements. Once you finish watching this course, you will understand the importance of Google Search Console, Screaming Frog SEO Spider, Keyword Planner, etc. 
Use these tools to set your own SEO goals, structure data, generate a sitemap, as well as to get page insights and reports. 
Just because videos don't often rank on universal search, it doesn't mean that you shouldn't optimize them. On the contrary, by applying smart SEO practices, you will get more views and higher rankings on video search. The SEO expert Ian Lurie will guide you through the SEO: Videos Course and show you the fundamentals of smart video optimization to increase views and engagement. 
You will find out which are the best ways to improve the visibility and descriptive text of your Vimeo, YouTube, and other videos. In only 1 hour and 7 minutes, you will understand the factors for higher ranking and establish the proper video hosting service. Also, you will learn how to deal with negative comments, interpret video analytics, and create your channel. 
Improving the SEO of your WordPress website is crucial for driving more web traffic. WordPress is SEO friendly since the code it generates follows the best SEO principles. However, we can always do something more to increase visibility and website rankings. 
Now, you are probably wondering what may that be. If you take the WordPress: SEO Course guided by the instructor Patrick Rauland, you will learn about some keyword strategies and SEO factors. In only 1h 15min time. You will find out how to focus on basic setup and usage scenarios and how to use the All in One SEO Pack and Yoast SEO plugins. 
Finish this course and be able to import SEO content, add social info to posts and pages, configure XML sitemaps, redirect Google Search Console errors, and build a reusable import file.
According to Google, 46% of searches are local. It means that almost half of the users search for given key phrases trying to find local businesses. Local SEO Marketing helps local businesses to promote their services at the exact time web users are looking for them. That's why Local SEO is of great importance since it helps businesses that offer different local services to be easily found by web users by ranking higher on Google.  
By taking the Local SEO Course by Brad Batesole, you will learn how to achieve maximum visibility and drive more web traffic to your website. You will get familiar with different tips for evaluating and optimizing your website, on-page content, how to research effective keywords, and verify your company's listing with Google. 
Once you finish this 2 hours and 31-minute course, you will be able to set up Google My Business page and integrate links and reviews. What's more, Brad will teach you how to understand your competition, so that you can always take a step ahead. 
It is quite important to learn, understand and do an International SEO if you have an audience abroad and want to expand your website presence to a foreign market. International website visitors are situated in different locations and speak different languages. Therefore, you need to develop a good strategy so that you can easily convert them into clients. 
In his course, International SEO, David Booth will show you how to determine the target market and optimize your website the right way. You will learn about the technical elements of this kind of SEO, and the practices you should use to inform search engines who you want to target. 
The importance of backlinks, international content strategy, keyword research based on local competition, and several SEO tools are also among the other things that you will get familiar with, in only 1 hour and 59 minutes. 
The days when people read newspapers and magazines are long gone. Now we live in a digital era where the whole world is online. We scroll down our Facebook, Twitter and Instagram profiles several times a day. This creates great opportunities for businesses to reach a larger audience, target specific social users on different locations and tell brand stories.
These are only a few of the reasons why digital advertising has become an essential part of every business marketing strategy. By creating ads on social media channels, you can target an audience who is interested in the services you offer. When you reach the right people with the right message, you can easily convert them into clients and increase sales. 
What's more, unlike with traditional marketing, with digital advertising, you can easily keep track of the success of the ads and get measurable results. This enables you to tell whether your social media marketing strategy is good or not.  
With Become A Digital Marketing Specialist Learning Course, you will learn the basics and technical subjects of digital advertising. By getting familiar with the essential concepts of this form of advertising, you will become a digital advertising specialist and be able to create a strategy that works for your business. 
Becoming a Digital Marketing Specialist incorporates the following courses:
With the Online Marketing Foundations Course by Brad Batesole, you will learn how to promote your business online with the right strategy that will engage and convert potential clients. He will explain today's digital marketing techniques in simple terms. Thus, you can create social media campaigns on different platforms on your own.    
In 4 hours and 43 minutes, Brad will show you the components of the digital marketing landscape, the characteristics of an effective website, and the fundamentals of a conversion funnel. You will find out how to identify conversion goals, choose a successful domain name, and responsive design. 
This course also covers measuring website analytics, SEO, email marketing, content marketing, mobile and influencer marketing. Once you finish it, you will understand how to connect with communities on social platforms. Then, you are ready to create your first message and display ads. 
People constantly search for different keywords online. When they want to travel, they search for agencies and vacation packages, and when they are hungry they search for nearby restaurants. A huge percentage of web users also use search engines to purchase different products and services. However, will your business pop up in these search results?   
The SEO Foundations Learning Course by LinkedIn will help you use the advantage of search engine optimization (SEO). Thus, you can increase your website visibility and search rankings. The instructor, David Booth, will help you master the basics of SEO, keyword research, and search engine results. You will learn how to optimize your website pages, code and site structure, and nontext components.
What's more, in 3 hours and 36 minutes, you will understand how to attract the right traffic to the right pages on your website. Also, this course covers linking your content, social media promotion, content analysis, local SEO, e-commerce optimization, and mobile configuration.
Thanks to SEO Foundations Course, you will be able to measure SEO effectiveness and progress which is essential in creating a powerful marketing strategy that will bring you results in the long-term. 
Developing a unique brand voice and creating content that kills is essential in today's digital marketing world. The competition is huge, so you need to represent yourself in the best light possible and create a message that will make your audience engage and convert. The right content strategy creates trust, encourages conversions, and cultivates loyalty.
With the Content Marketing Foundations Learning Course, you will learn what content marketing is, and discover its fundamentals and concepts. Thanks to the help of the instructor Dayna Rothman, you will understand how to create a buyer persona, develop a brand voice, write, edit and design content. Moreover, you will also learn how to set goals, promote your content on different channels, track performance and measure your content marketing efforts.
In only 2 hours, you will be able to create your content plan. Craft the right content strategy for your business and be ahead of your competitors, convert more leads and increase sales.  
Marketing tactics constantly change. What worked in the past may not work now. That's why you need to keep up with the current, popular strategies that will help your business grow. Growth Hacking is a new technique that helps marketers produce low-cost strategies that bring more clients and increase sales.
By taking the Growth Hacking Foundations Course, you will find out how to build a growth team, identify your clients and map a client journey. The instructor, Brad Batesole, will show you how to generate ideas, survive growing pains, and recognize growth opportunities. In just 1 hour and 36 minutes, Brad will teach you how to fuel your growth by using SEO, advertising, social media, influencers, etc. 
When you finish this course, you will also understand how to track your growth process and measure its successfulness. 
Google Tag Manager (GTM) is a powerful management system that helps marketers in managing marketing tags without being dependent on IT or web departments when adding or altering snippets. It is simple and easy to use, so marketers can operate it without relying on the help of developers. 
Learning Google Tag Manager Course can be of great importance for your business. Once you learn how it works, you can take advantage of all the benefits it offers. You will discover how to work with accounts and containers, Google Analytics, built-in tags, and variables. The instructor, Corey Koberg, will also teach you how to work with control versions and create triggers. During this 1 hour and 22 minutes long course, you will find out how to debug bags and use HTML tags as well. 
Pay-per-click (PPC) is an advertising model that helps you increase your website traffic. With Google AdWords, you can increase brand awareness and reach a larger audience. Thanks to the Google Ads (AdWords) Essential Training, you will understand how Google AdWords works and learn the PPC fundamentals. This course will teach you how to define your clients and marketing goals.
The instructor, Brat Batesole, will show you how to set up an account, research keywords, create campaigns, and write advertisements and text ads. Then, when you set up your first ad, you will learn how to use AdWords reporting and Google Analytics to track performance. 
What's more, Brad will also show you how to optimize ads to get more clicks. During these 3 hours and 8 minutes long course, you will understand the basics of ad extensions as well. Once you finish it, you will be able to create effective PPC ads on your own. 
One of the most common pitfalls businesses face is not having a clear marketing strategy. To be successful, you need to take a holistic approach. The Building an Integrated Online Marketing Plan Course will show you what to focus on, how to create an effective plan, and much more in 2h and 21min time. 
The expert, Matt Bailey, will help you define who you are as a business. However, you will also understand where your business and your client's needs align. You will find out how to create your value statement, identify customers, and measure lifetime value and loyalty. Also, defining marketing goals, creating content, and building a long-term content calendar are also some of the things that this course covers. 
What's the best social media platform to share your message and promote your business? Is it Facebook? Twitter? Maybe Pinterest? Matt will help you find out. You will learn to think like a publisher. Once you combine the right message with the right channel, you will then get successful results. 
With such a huge competition out there, you need to tell a story that will sell your brand. That's why marketing copies exist. Their purpose is to get the reader to take action, and that's what all business owners fight for. 
The Learning to Write Marketing Copy Course focuses on writing copies that tell stories the right way. With the help of Ian Lurie, you will learn what copywriting is and get familiar with its different types. Learn how to draft on paper, write headlines, sell pages, and rewrite copies.
In 1 hour and 51 minutes, you will also find out how to manage a copywriting team, develop a brand voice, and use an editorial calendar.
---
Some of the minor courses are valuable, too. I recently took a look at the lesson called PowerPoint for Teachers by Faith Brill. Coming in at just over 37 minutes, you may consider it too short for an actual lesson. But the amount is just right for someone who's never worked in PowerPoint. I just wanted to get acquainted with the most used tools and features.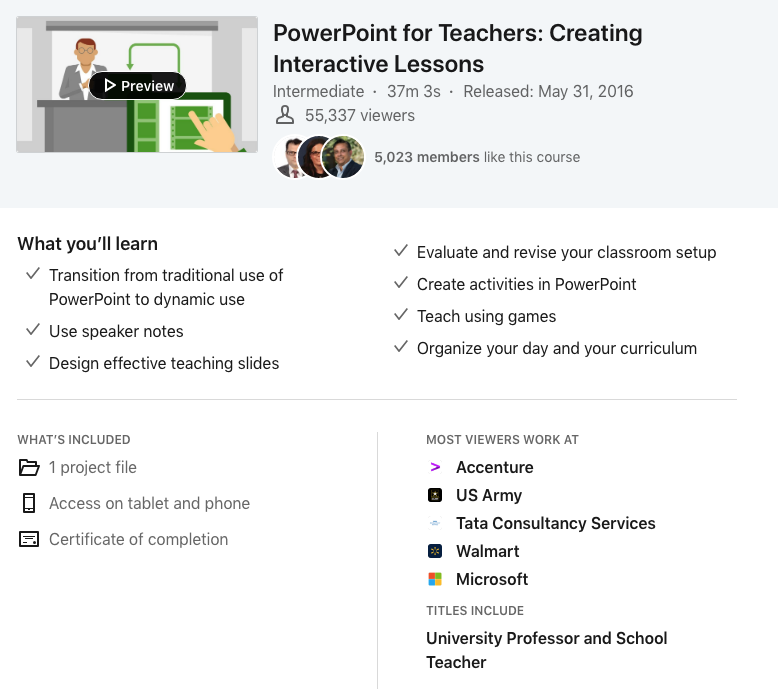 Faith Brill is one of the main educators at LinkedIn Learning and she takes a topic that we all think we're too familiar with – PowerPoint.
She puts a new twist on this Microsoft Office tool. Faith teaches us how to make presentations into excellent learning tools, instead of slides with bullet points that most people simply ignore.
---
Another good example of a starting course is UX Foundations: Style Guides and Design Systems. Taught by Chris Nodder and lasting for 1 hour and 40 minutes, this course is a must for anyone who wants to get started with user experience from scratch.
You'll learn the basics of style guides and design systems, define your audience and voice. As part of your learning path in UX, I strongly recommend taking this course.
---
If you want to do something for the better of your company, you can take the course titled Human Resources: Strategic Workforce Planning. The title may seem complicated, but it's all about providing practical value – teaching you how to manage a company in case you've suddenly lost an important member of your company management.
Taught by Wayne Cascio, this 47-minute course is a must for anyone looking to deepen their knowledge of human resources management.
---
If you're looking to brush up on your soft skills, what better person to learn from than the COO of Facebook?
In Option B: Building Resilience, Sheryl Sandberg and psychologist Adam Grant talk about how to build resilience in the face of adversity.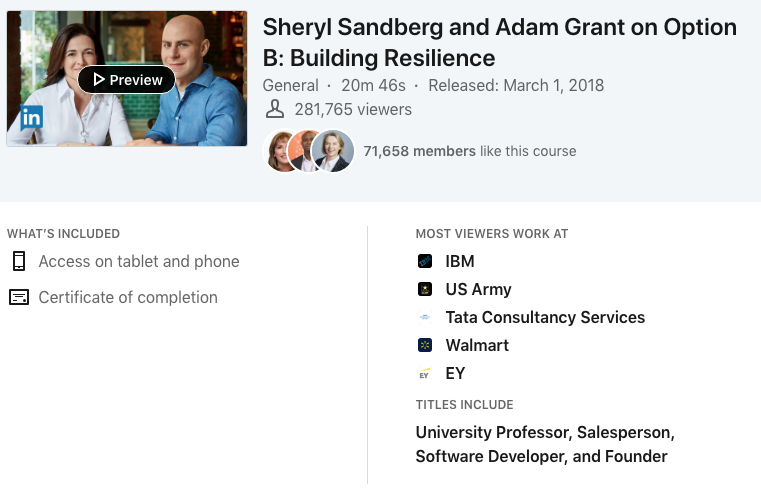 It's only 20 minutes long but it has been seen well over 280,000 times so it's worth dedicating your time to it.
Quality of the Courses
The courses I've personally listened to are of high quality. In terms of the speakers, the content and the quality of the video materials. Not all courses are perfect and not all will give you the same quality of content.
The one major downside to LinkedIn Learning is that how much you can do with it depends entirely on yourself. Learning Paths will give you some guidance on the best choice of courses, but you will have to do a lot of digging on your own.
There are thousands of courses available and you may run into five of them on sales prospecting, for example. It's up to you to do research and pick up the best one.
Final Impressions
The good side of LinkedIn Learning is that you get a wide selection for your money and that you can try it out for a month for free before committing to a subscription. LinkedIn Premium features are worth it if you're an active job seeker. The courses are good quality and Learning Paths can be extremely useful in pursuing a new career.
The courses range from 5 minutes to 10 hours and there are some great, but also some not-so-great instructors, so finding the right course can take a bit of time. The good thing is that you don't buy courses, so you can go over as many as you want.
LinkedIn Learning is a great option if you're already on LinkedIn and actively searching for a job, and you could benefit from learning new skills and Premium account features.
If you're actively looking for new courses to learn from and to add certifications to your LinkedIn profile, you should try the LinkedIn Learning platform.