Good search functionality is what all search engines are about. But it's also a trait of usable websites. Google values websites with good user experience. And search functionality is one of the fundamental things in achieving this.
There are a lot of search plugins for WordPress out there, but only several worth mentioning:
It's a fact that good search functionality means a more usable website, which means more time people spend on your website, which translates to more conversions.
Native WordPress search functionality, although constantly improving, has never been up to the task. Let's see if the plugins can help.
Relevanssi doesn't use cloud-based search service, so it may be a little slower depending on your hosting, but you'll have maximum control and you get to keep all your website data.

Relevanssi has been around for a long time, so it's a well maintained and regularly updated plugin. Once you install it, you first need to build the index in order for it to work.
Relevanssi replaces the default search with a partial-match search that sorts results by relevance. It also indexes comments and shortcode content.
You'll find some nice options here, which could be better organized, but I found zero problems configuring it.
Rating 4/5
Relevanssi Premium
What if you need more than a good WordPress search plugin, more than a good search functionality? What if you have meaningful content on your website that is not just pages and posts but also comments, tags, categories, PDF or inside custom post types and you want your users to find it?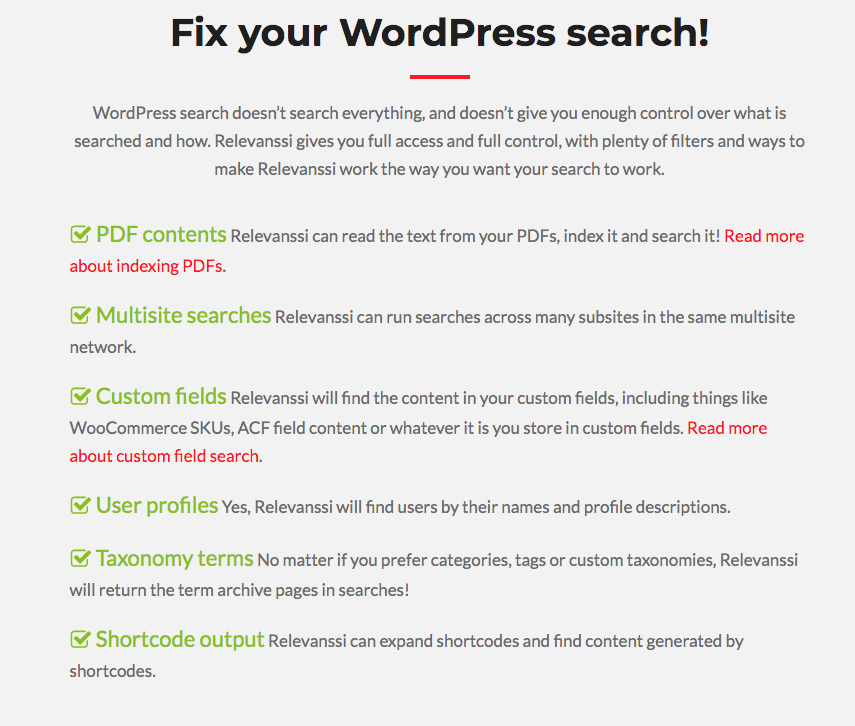 The premium features you can expect are:
No registration
Search comments, tags, categories, custom fields
Fancy 'Did you mean…?' suggestions
Highlight the search term matches
Exclude posts, pages, tags or categories from search
Match partial words if complete words don't match
Here's a nice video that explains briefly how the plugin works.
You can change the "weight" of your post titles, comment text, tags, and categories depending on what you find most important.
Here's the list of features that you can only find in Relevanssi Premium:
Export/import settings
WP CLI support
Guaranteed support from Mikko (the developer)
Have sticky posts in searches based on the search term
WordPress Multisite support
Adjust weights by post type
Adjust weights by taxonomy
Adjust weights by post date
Change the operator on the fly if necessary
Use the NOT operator to exclude search terms
Include user profiles in search results
Index PDF content
Indexing DOC, ODT, RTF, ePub… content
Include taxonomy terms in search results
Search arbitrary MySQL columns in wp_posts
If your website is a store or content-heavy and relies on great search functionality, my warmest suggestion is to go with a Permanent license. This way, you'll get a premium product and lifetime upgrades and updates.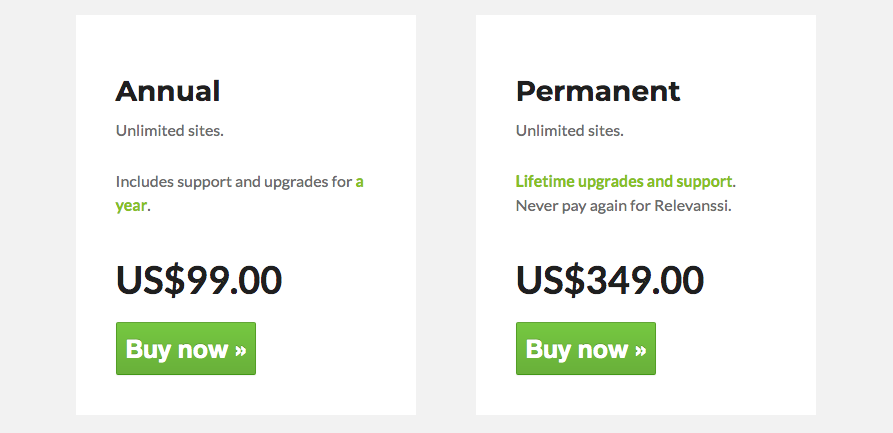 Relevanssi Premium doesn't have a lot of competitors when it comes to the regularity of updates and awesome support. All requests are answered within 24hours with no exceptions and you also get a 30-day money-back guarantee.
Rating 5/5
SearchWP idea is to be one solution for your website visitors and developers' best friend at the same time. It's one the most complete search solutions for indexing and searching WordPress backend and frontend.

SearchWP indexes and serves all your:
E-commerce product details
PDFs
Custom fields
Shortcodes
Taxonomy (tags, categories…) terms
Post titles and article content
What's interesting is that it works with PDFs, but also other office files and text documents you upload in WordPress media library. It integrates natively with WordPress, so you don't need to code anything to get it working on your WordPress website.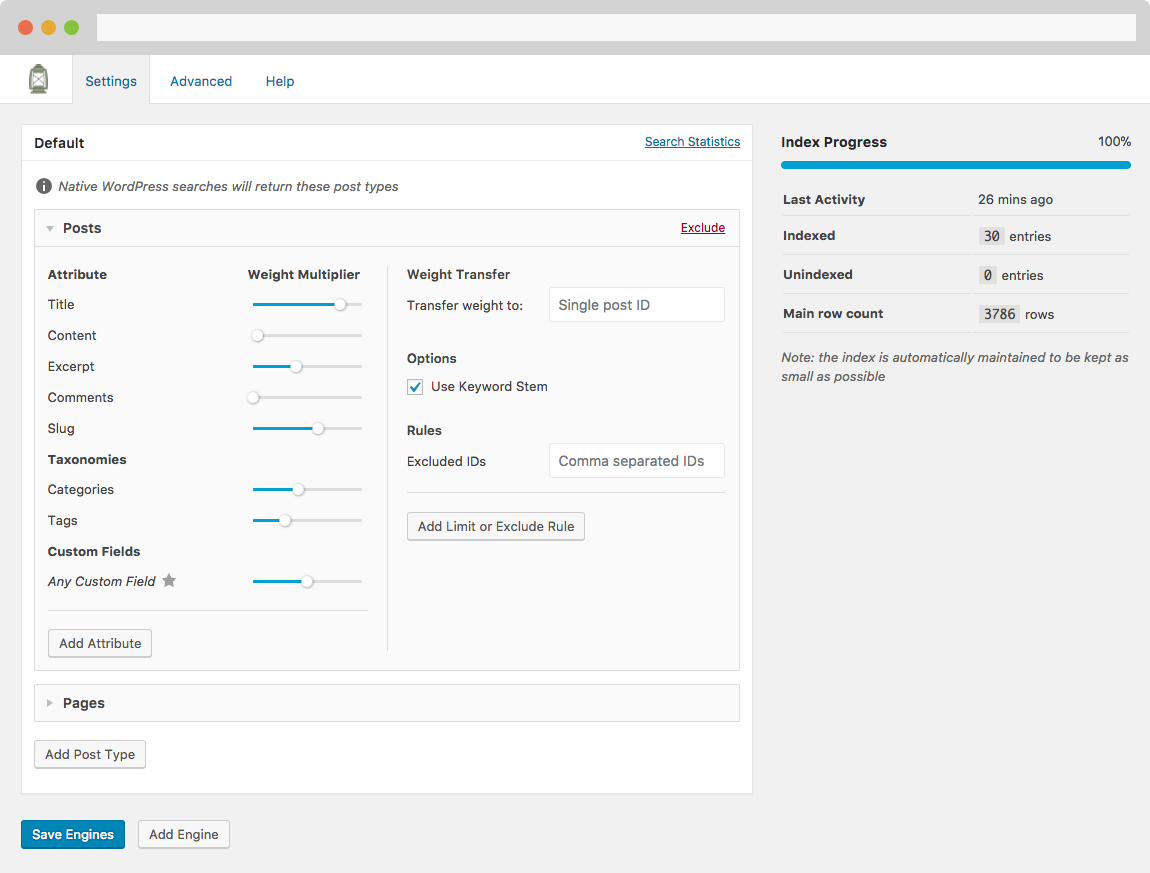 You can exclude terms from the index or attribute them so you serve more relevant and useful results for your visitors.
Integrations:
WooCommerce
Easy Digital Downloads
bbPress
WP Job Manager
It integrates with WooCommerce, so if you have a store with many products you'll have them easily found.
Remember that every good browsing eCommerce experience starts with a good search experience.
And if you sell digital products SearchWP integrates with EDD (Easy Digital Downloads WordPress plugin). It also integrates with bbPress and WP Job Manager is another plugin SearchWP plays nicely with.
Rating 5/5
Toolset Search is one of the easiest solutions to get a complete search without having to be a coding expert. That's because you can build and customize your website without using PHP.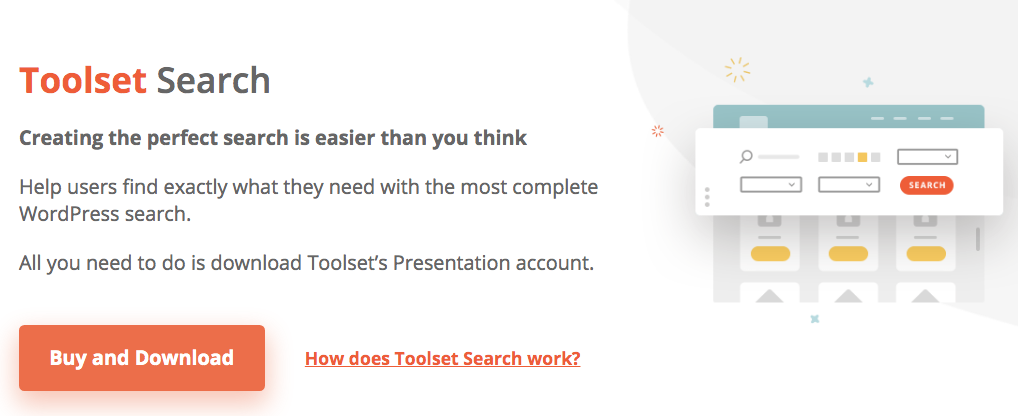 You can add a number of features to your search with Toolset Search including:
AJAX updates giving you live results on-the-fly
Multiple filters for your custom fields and taxonomies
The ability to search through any type of WordPress content
Complete control over how your content is displayed
The ability to display results on maps
Pagination for your results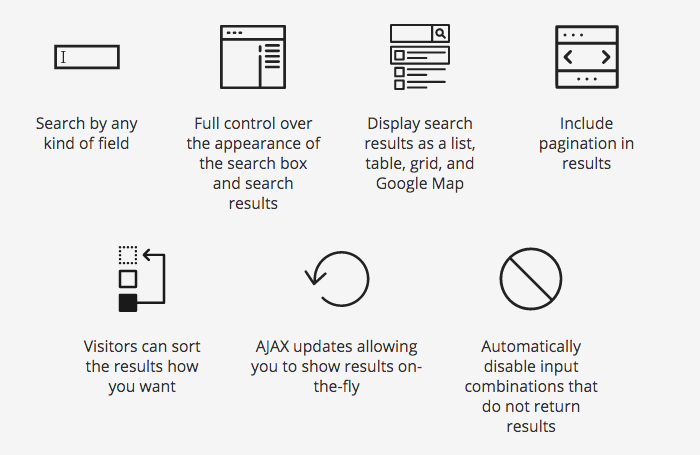 Indeed, Toolset Search is ideal for coding beginners who will be able to add an important complex feature they didn't think they were capable of.
Experienced developers will love how much time they can save implementing Toolset Search as opposed to building one with PHP.
Rating 4.5/5
Ajax Search Pro plugin gives you, you guessed it, a live Ajax search. It's a different search experience. The results are presented with images, so search results look more attractive.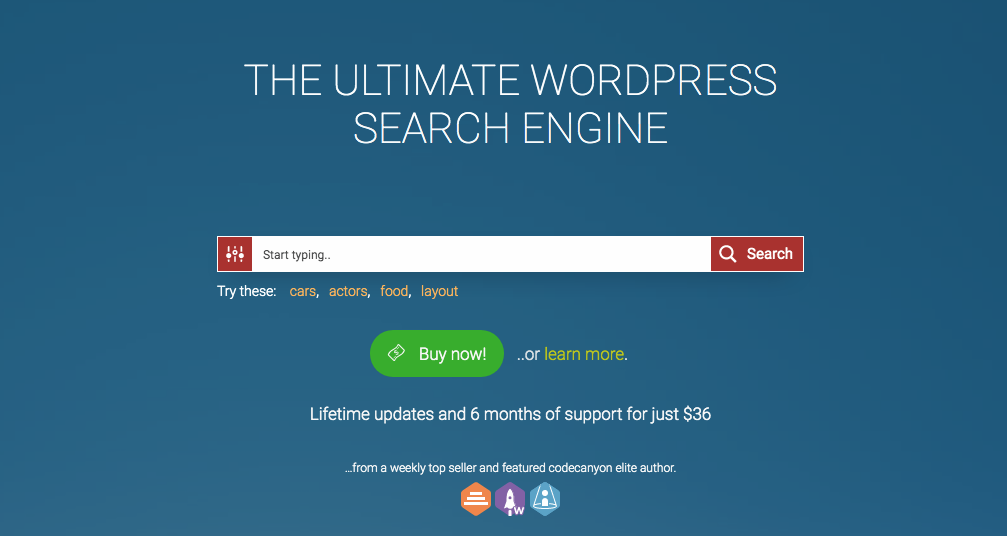 It also works really well with mobile devices on any platform. The search can return:
Posts
Pages
Custom post types (WooCommerce products, bbPress forums, topics, replies…)
Categories
Custom taxonomy terms
BuddyPress users, groups and activities
There are more than 60 colorful, fully customizable, so you don't need to alter CSS yourself. But, it also offers a lot of options for developers who like to tweak everything.
Ajax Search Pro was designed to boost the user search experience to the maximum.
It seems that the plugin is updated regularly and the developers claim that every support ticket is answered within 48 hours or even 12 hours.

Features
Here are several distinct features the plugin comes with:
Compatible with any theme
Adjustable search logic
60 skins
High-resolution icons
Widgets, shortcode
Image support
Multisite support
Keyword highlighting
Google Analytics integration
Caching
Search statistics
Ajax Search Pro for WordPress is an amazing plugin that works perfectly with Relevansii giving your visitors live search results.
Rating 4.5/5
Reactive Search Pro is a very customizable and WooCommerce compatible WordPress plugin with search phrases that get highlighted in the search results.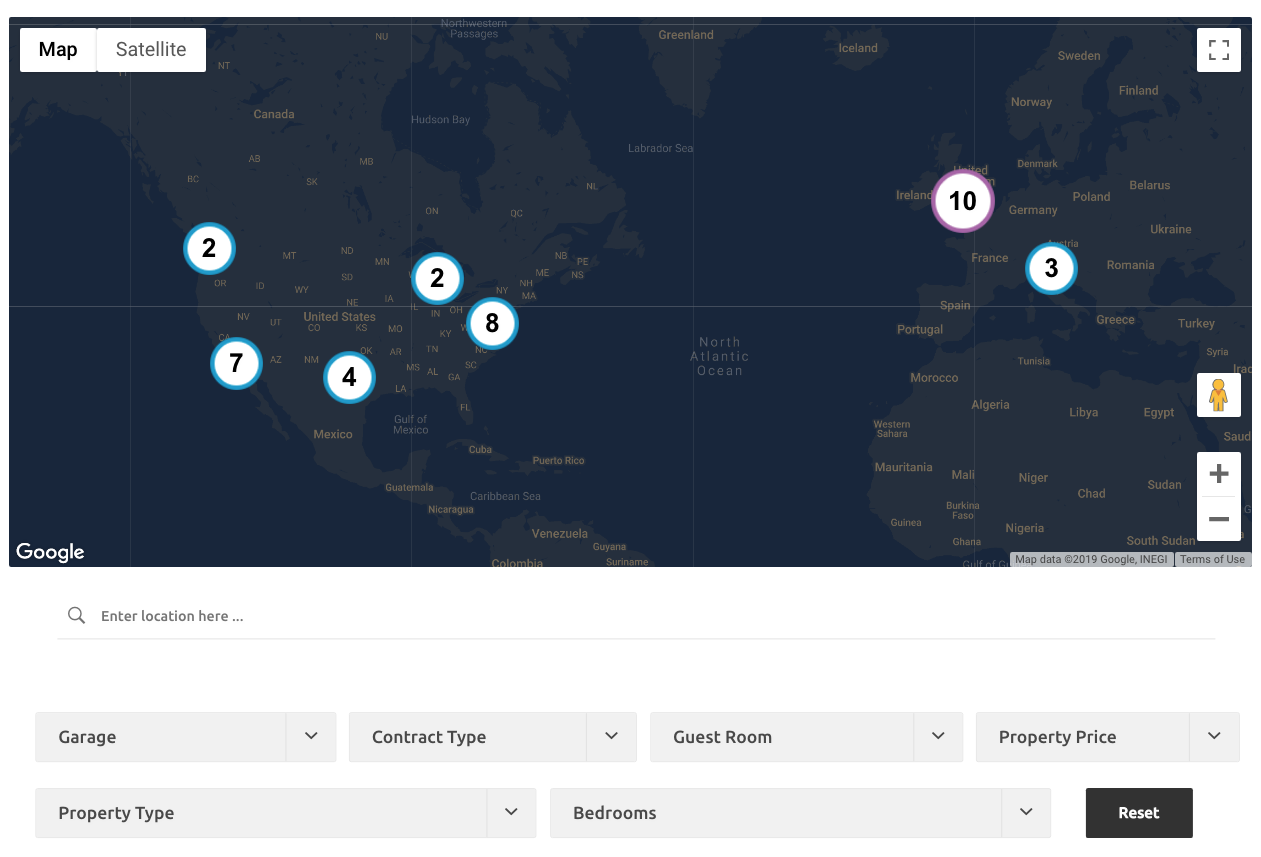 The plugin is simpler to configure than most and quite extensible. Filtering is done by:
Custom Fields
Taxonomies (categories and tags)
Post Types
Conditional Fields
Range Sliders
Map Search
Location Search
Meta Search
Product Search
User Search
Media Search
Image Search
BuddyPress Group Search
Comment Search
This plugin will get your WordPress search functionality and usability to a higher level.
Your WooCommerce store will become so much easier to use and your customers will have a better experience searching the product they need.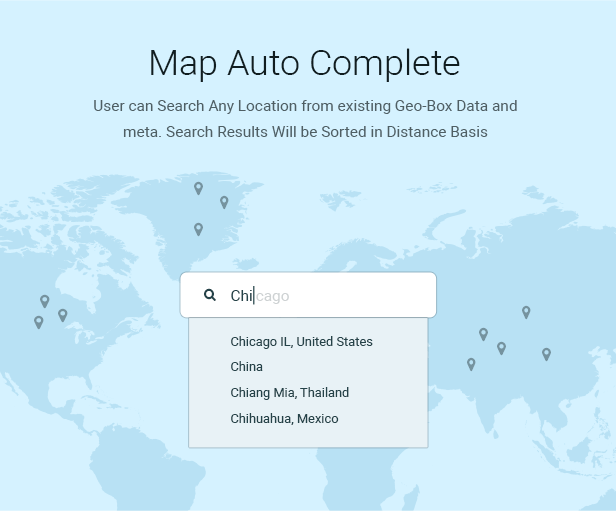 With Reactive Pro Search for WordPress, you can do a lot of things:
15+ search Attributes (checkbox, radioboc, selectbox, text box, etc)
Drag and Drop Interface
Grid Builder for Search Results
Map based Interface
Search banner on the homepage
Top Bar Search
WooCommerce Support
WPML Compatible
Select, Radio and Checkboxes
Conditional Fields to show certain fields only if a specific value is chosen
Hidden Fields so you can restrict filter results to specific taxonomy categories or custom fields
Rating 4.5/5
Swiftype is a fairly new WordPress search service.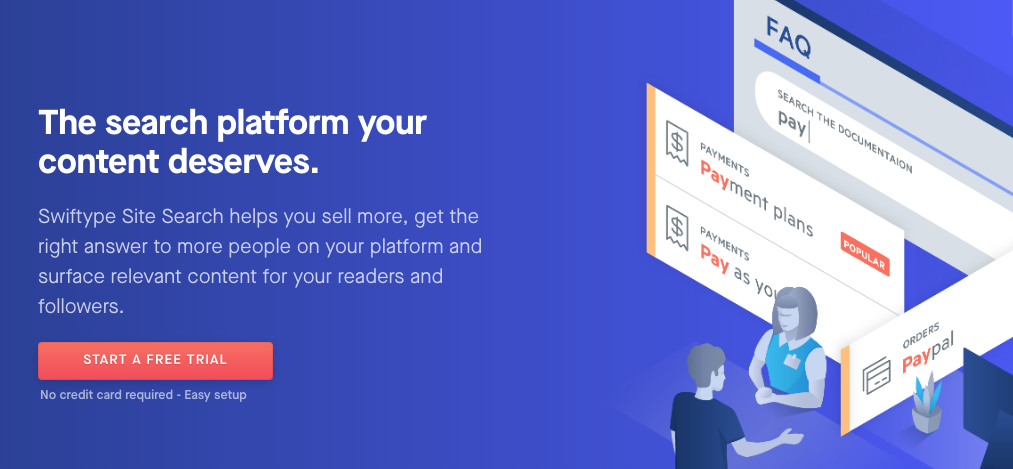 Some nicer features of Swiftype include:
Cloud-based service which doesn't strain your servers
Highly relevant search results
Analytics of what users are searching
Auto-complete feature
Manually override for search results
App search
The plugin works by sending an index of all your WordPress content to Swiftype servers, so your server never gets cluttered and since Swiftype doesn't use MySQL at all, search results come up much faster.
The Swiftype Search plugin replaces the standard WordPress search with a better search engine that is fully customizable via the Swiftype dashboard.
During all this time, Swiftype service collects data and stores it in your Swiftype dashboard, where you can analyze them and make some manual changes to search results if you want to.
You need to sign up for an account to use this plugin. The dashboard gives you analytics data and you can make tweaks to your search engine there.
Rating 3.5/5
---
Whichever WordPress search plugin you choose, you'll have an easy time implementing or upgrading your existing search bar. You'll greatly improve your website user experience and keep visitors on your site a little longer. Good search functionality gives people a lot of power and is a major time-saver.
Happy users are the ones that convert.
If you have experience with WordPress search plugins or know a trick or two on how to configure them for maximum effect, share it with me. I'm an SEO guy and the search has always been my thing.