Selling premium WordPress themes can be done in a variety of ways and there are many online markets which can help you do just that. You might consider submitting your theme to WordPress.org theme repository if you're looking for initial exposure, backlinks and brand recognition, or you can use your own website for WordPress theme marketing purposes, if it's already well established.
Providing that you want to build and sell a theme that will be rich in features and have outstanding design with all the little details cleverly thought through, I highly recommend ThemeForest.
So, what is ThemeForest?
ThemeForest is Envato's most profitable marketplace that specializes in selling premium WordPress, Magento, Joomla, Shopify, Tumblr, PSD, HTML, email and other templates. Envato is an Australian based company founded in 2006 which committed itself to producing high quality items, so be sure that you match their criteria before you decide it's time to make some money for the time and hard work you've invested.
They also have a wide array of blogs where you can find tutorials on how to develop and use your creative skills to your full potential.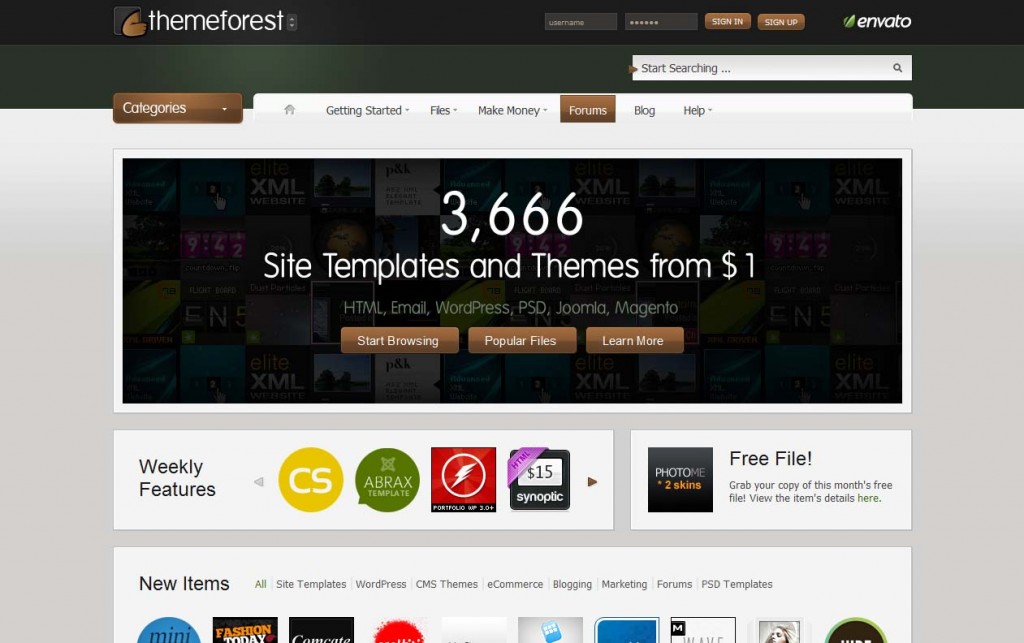 ThemeForest ensures that your work will get the visibility it deserves since they've established themselves as a go-to marketplace for the vast majority of template-loving clientele. You can focus on your work and not worry about transactions or your WordPress theme marketing.
Envato marketplace authors make between 50% and 70% on every item sold, which means that you are deprived of at least 30% of your earnings, which may seem a lot, but when you think of the marketing exposure ThemeForest provides it doesn't seem to be so wallet hostile anymore. Prices range from $12 to $60 for WordPress templates, based on the overall quality and complexity of a file and determined by Envato staff.
If you want to purchase any of the ThemeForest items you must first register and then select what way you want your templates sorted. You can sort templates by:
or you can search for a specific template using keyword search which is basically entering the name of the theme or author you're looking for in the search box.
Payment is done by PayPal or loading funds using your credit or debit cards and after it's concluded you may download your chosen item straightaway.
If you're considering building a premium WordPress theme yourself, ThemeForest will be invaluable source of inspiration, knowledge, and an overall reference point. It's such a vast community that most of the times you won't have to look elsewhere, as you'll be able to extract the best out of multitude of templates, improve the things you think others could have done better or simply discard what you think is mediocre.
The thing I found most interesting about ThemeForest is that it helped me gain a certain perspective on the functionality and design of websites. Once you start developing that perspective you can dive into your own endeavor.
If you wish to read about my perspective in detail, about the authors, designs patterns that capture your eyes at an instant and about most sought after features that make certain premium WordPress themes do better that others, then stick around for my future posts, as I'll go up close and personal with this unique marketplace.