WordPress 4.0 came quite a while back, praised for its tons of improvements, updates, and functionalities to make the lives of WordPress users easy and delightful. Now, the core team of WordPress is ready to establish another milestone with its next big release in the form WordPress 4.1.
There are some great visible changes and advancements to see in this newly release, but remember, the software is still under the development phase, which means you are should not use the software with your existing websites and blogs.
If you want to test WordPress 4.1 beta 1, you can install the WordPress Beta Tester and get a rough idea about the functionality of the upcoming release.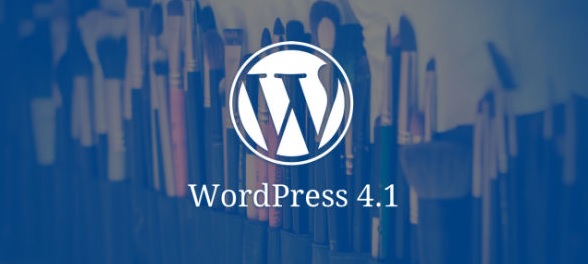 Highlighting Features of WordPress 4.1
One of the major features of 4.1 is the changes in the default theme, people will see more bug fixes, patches, and the new rest API. The version will also praised for its nice writing features, cool internationalization improvement, and the latest and more refined Twenty Fifteen Theme.
1. Distraction Free Writing Mode
WordPress 4.1 is all set with a new and improved distraction free writing mode. Although, the mode was also there in the version 4.0, but in the latest team the team has pushed the dimensions of this feature a bit further by introducing tweaking interactions and scroll functionality.
The feature makes it extremely easy for the users to switch back and forth between normal writing mode and distraction free editor mode. In the version 4.1, as soon as the user puts the cursor in the text, everything else fades away, so you don't lose focus while writing the content.
2. Theme Related Improvements
As far as theme updates are concerned, a new default theme called Twenty Fifteen is being introduced with a clean and beautiful layout. It's a fashionable theme that fits well when it comes to giving an international touch to your WP website. It supports Google Noto Serif and Sans Serif fonts along with the plenty of languages.
From features point of view, the theme has been updated with rich options including a custom header and background, options for setting color schemes, support for social media buttons and more. All you need is to create a menu in the native WordPress interface to have these icons displayed on your website.

In addition to these, the introduction of new tags make it extremely easy to play around the navigation in templates. Plus, with its Custom Customizer Control API, you can easily register and render your own controls in the Customizer section for maintaining a flawless flow of the theme.
4. Administration Improvements
When it comes to dashboard, one of the best features one could actually take a pleasure of is the language pack support from WordPress.org directly whenever you change the screen settings. Another highlighting feature includes is the so-called 'Focus' that enables newbies experience a fully-focused writing mode.
Many users usually don't know about this feature and those who know often fails to make the most out of this mode. By activating the option 'Focus' users will be provided with an environment wherein they can write rich content without getting distracted.
5. Inline Image Editing
WordPress users, especially those who are beginners often find it difficult to align images in the WordPress post editor. But, with the forthcoming version, as soon as users will click on the images, they will be able to see alignment options along with a button to clear alignment. The pencil button is still there which will open the image in the popup so that user can continue with the editing work.
6. Export Content
In WordPress 4.1, users will enjoy an improved way to export specific categories, authors, content published within a specified period of time. This way they will be able to establish firm control over content migration.
7. Enhancements for Developers
There are lots of changes introduced for developers to welcome in the upcoming version 4.1. First, the improvements made in the meta, date, comment, and taxonomy queries and querying comment types.
Another widely discussed update is the introduction of shared terms, which means you can now have two terms with the common name and slug belonging to different taxonomies.
---
There are also other expected improvements, like plugin recommendations, Custom Header and Background moved over to Customizer, etc.
If you are excited and equally impressed with the features, you can test them by installing WordPress Beta Tester Plugin, which will automatically get you the default Twenty Fifteen theme, and see how well everything performs.
Oh, and tell us your thoughts.