Any WordPress theme with even a pinch of complexity needs to have some sort of options panel. Over last few years there was a disturbing trend of many theme developers focusing more on what their theme options panels looked like than how they performed. In some cases that meant complete disregard of WordPress built-in mechanism for handling options pages (Settings API), but also things like this:
Which blends in with the rest of WordPress dashboard as well as a giraffe would in a rookery of penguins. Other than for your eyes, why is this so bad?
WordPress, like any other software relies on familiarity. That's why most of its dashboard screens look more or less the same. When a theme has its own SuperFantasticPanel, that's more user interface you have to learn and that knowledge is only going to do you any good while that particular theme is active. So, why bother?
Enter Theme Customizer
Luckily for users (and unfortunately for SuperFantasticPanels) WordPress 3.4 introduced a new way to, well, customize what your website looks like and preview the changes you make before they go live.
You can find the Theme Customizer in your WordPress dashboard > Appearance > Customize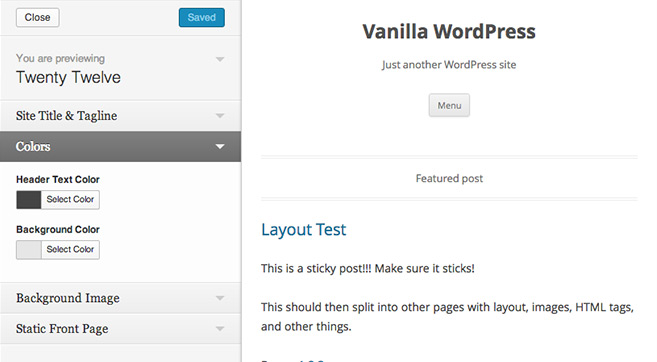 You know what the best part is? It will look the same in every website. Sure, the fields in it will change, depending on theme you're using, but once you're familiar with the Customizer, you'll be able to use it in any theme without breaking a sweat.
A WordPress theme is nothing more than an extension to WordPress core — one that's used for displaying your posts and pages. Its settings page should feel like it belongs in WordPress dashboard and there's no better way to achieve that than using Theme Customizer. So if you're trying to find that perfect WordPress theme, look for one that uses Theme Customizer.