A while ago I wrote this post on how to speed up your WordPress website. Since then, I've tried two more speed tricks which improve user experience and SEO. One is called Cloudflare, the other PageSpeed Service by Google.
I was pleasantly surprised by both. Reasons being they are free, offer extra security measures and indeed speed up websites. Let me show you what they are and how they do it.
Cloudflare
Give us five minutes and we'll supercharge your website.
Cloudflare is a free CDN (content delivery network) which acts as a proxy between your visitors and the server your website is hosted on. I saw an increase in speed by an average of 5-10% using the free plan, had an average of 5 minutes of downtime weekly and a lot of malicious and spam attacks rejected.

Setting it up isn't that straight forward, because you have to rename your DNSs via your host's admin panel, but it's not anything too difficult. Namecheap, the hosting we're currently using, has a one-click setup button, which made it so much easier for us to configure.
The advantages of Cloudflare:
Lowered load on your server – CPU and data usage of your account get lower, because it serves cached content
Improved speed – Cloudflare has servers all around the world and the one closest to your visitors is always being used
Bot and threat protection – Third party apps in cooperation with Cloudflare are being used to scan and identify malicious threats online and stop the attacks before they even get to your site
Cloudflare apps – You can enable extended functionality by using 3rd party modules
Comment spam protection – Third party resources reduce the number of spam comments
Offline browsing mode – If something happens to your server, Cloudflare should still be able to serve cached version of your website
Site Stats – You get crawl statistics for both humans and search engines
Cloudflare has a paid service, too. Paid plans give you more security, apps, faster servers and customer support.
Switching over to Google's PageSpeed Service. What is it and why haven't we heard about it yet?
PageSpeed Service
Turbocharge your web site with Google's PageSpeed Service.
It's still in beta. You need to sign in with your Google account and you'll be presented with a Google Console, where you control every API including Page Speed Service. To compare your website speed with and without their service you can check this Comparison Test Tool by Google.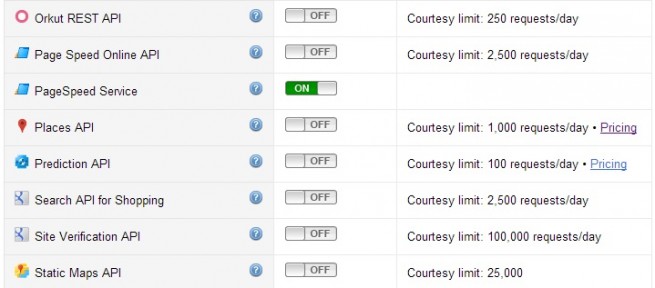 PageSpeed Service uses data from PageSpeed Insights to optimize your website. If you haven't already, you can download Insights for Chrome and Firefox.
PageSpeed Service benefits:
Dynamically rewrites webpages – applies performance best practices
Serves optimized content via Google servers – reduces load on your servers
Reduced perceived page load time – prioritizing portions of content which get served first, so you visitors have better user exeprience browsing your website
Security – your website gets security of Google servers
Parallel fetch – fewer requests and lower round-trip times
Made by Google – works well, good support and expect lots of improvement updates
Setting up Google PageSpeed Service is pretty much the same as configuring CloudFlare. There are some DNSs to be renamed and it's all easily done through the 3-step process.
The problem I find with the service is, while it's easy to set up, it's – limited free trial. There's no rumor on how long this free trial blessing from Google will last.
The complete list of PageSpeed Service FAQs can be found here.
---
We tried both "turbocharge" and "supercharge" services running simultaneously on our WordPress blog and we didn't experience any issues, but there were not big speed improvements either. I might try using one of the paid CDN solutions out there. Maybe Pingdom score gets even higher. I found it much reliable and more consistent than any other page speed tool, including Google's Speed Comparison Tool.
Both services might have issues with image search. Because images are being served from another location and if you have a lot of them, your traffic from image search might drop, but the most recent rumor is that the problem has been fixed. Don't forget to check other ways of speeding up WordPress following performance best practices and using .htaccess.
Have you had any experience with PageSpeed Service or CloudFlare on your WordPress website? If so, tell us your thoughts. Which one's faster, better or more reliable for you?
note: While free services have their advantages, some of the drawbacks would be inconsistency and mediocre customer support. We suggest CloudFlare and currently use one of their plans.
Update: PageSpeed Service is no longer in use since August 3rd, 2015.