This time we're putting masonry on the home page. Pho WordPress theme is a minimalist blogging theme with beautiful typography, lots of white space and the love for big featured images.

You can download it for free at WordPress.org and try it on your website.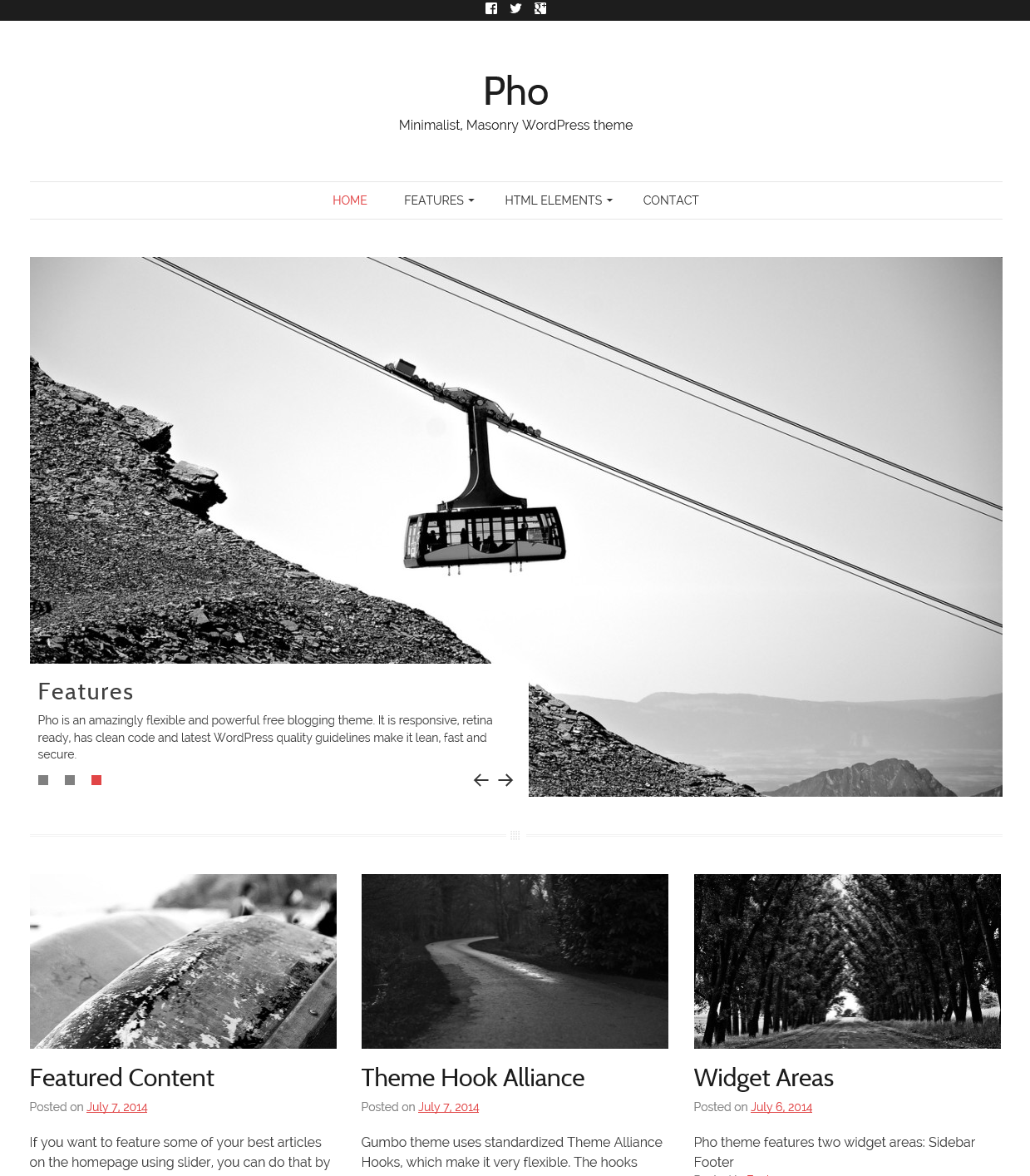 Clean code and WordPress best practices make it lean, fast and secure. It's retina ready and responsive so it will look great on any screen size using any resolution.
Customizer
Pho theme options can be set in Theme Customizer screen Appearance > Customize. This way you can preview all the changes you make before saving them.
Templates & Layouts
Pho lets you choose between 2 Layout Types:
Full Width (if you don't use sidebar)
Right Sidebar (primary widget area)
and 2 Page Templates:
Masonry (with or without sidebar)
Standard (with or without sidebar)
Typography
Pho features some of the most elegant Google fonts you can find:
Helvetica
Cabin
Open Sans
Droid Sans
Droid Serif
Raleway
The typography settings are also located in Theme Customizer and you can choose your headings and body fonts independently.
Widget Areas
Pho theme uses two widget areas:
If you don't add any widgets to the Primary widget area, then the full-width layout will be enabled.
Theme Hook Alliance
Pho theme uses standardized Theme Alliance Hooks, which make it very flexible. The hooks allow you to customize Pho or easily alter its functionality.
If you're a user who doesn't want to dig her or his way through the code and still be able to create child themes, you can. A plugin called THA Hooks Interface allows you to customize Pho from within dashboard by hooking into Theme Hook Alliance hooks.
---
Pho WordPress theme is an excellent choice for anyone who's looking for a fast and secure blogging solution with Masonry layout. For those who don't like this Pinterest-like template, there's also a Standard layout where articles are stacked on top of each other.
Try Pho and tell us what you think of it or showcase your website in the comments below.