When you think soft drinks, you think about Coke. Fast food? McDonald's. Some companies have become synonymous with the products they make. This could be because of their quality, popularity, ease of use or altogether.
In the world of software, Slack is synonymous with team communication and Zapier with automation; similarly, Mailchimp is synonymous with email marketing.
In fact, there have been quite a few MailChimp alternatives since it came into the market in 2001. However, it has stood the test of time and remained the most popular option of all.
Here's what makes it so great and why so many people use it. Moreover, here are some of the best Mailchimp alternatives to consider in 2019. If you want to explore the world of email marketing automation instead of immediately going for Mailchimp, take a look at these.
Why Mailchimp?
A part of its popularity could be attributed to starting so early with email automation. Being around for almost two decades, they amassed more than 14 million customers which account for over 1 billion emails sent every day. Having been on the market for so long, Mailchimp is considered the default choice to go for anyone looking for email marketing and automation software.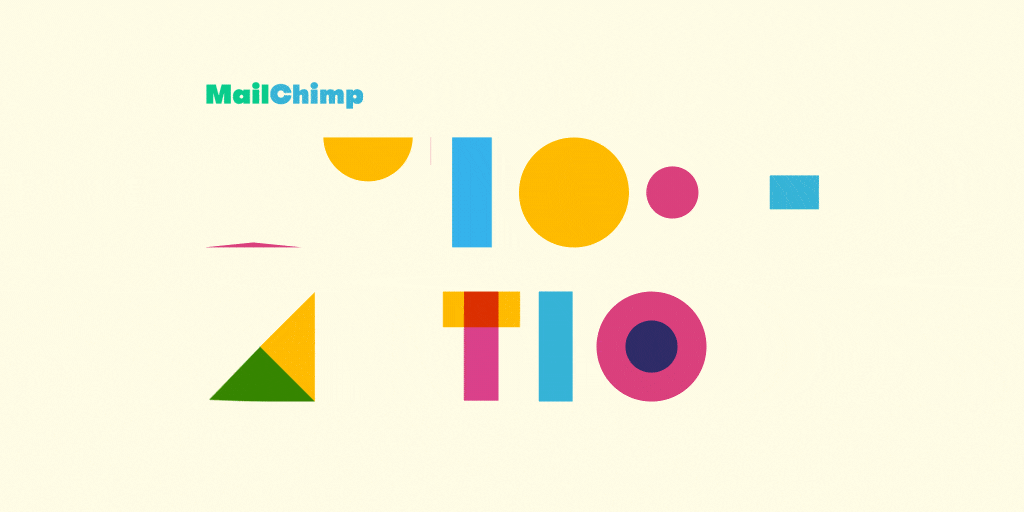 The second most important reason for Mailchimp's popularity is the price (or lack of one). It became popular because of its Forever Free plan, which makes it unique in the world of marketing automation. Namely, you can use Mailchimp for free, with up to 2,000 subscribers and 12,000 emails sent per month.
If you have a smaller website or business with a modest mailing list, this will be just enough to fit the bill so you don't have to pay for email marketing. However, if you're growing, you'll quickly realize that this plan is rather limiting in the number of users. For me, the biggest gripe of using the free plan is the Mailchimp logo in the footer of all your emails, which you cannot remove unless you upgrade.
The third and perhaps most obvious reason for Mailchimp's popularity is the ability to build lists. You can use this using the Mailchimp API and collect emails from WordPress contact forms or some other type of CMS and email collecting app/plugin.
Alternatively, you can use Mailchimp's built-in form builder, which is far from perfect but does the job if you're not too demanding. Once you collect emails, you put them into different mailing lists.
Furthermore, you can use those lists to send out campaigns based on different parameters. For example, you send out a batch of emails and you can target the campaign. The aim would be to send to those recipients who didn't open the first emails or clicked on a link within the first email.
Finally, automation is one of the main reasons why people opt for Mailchimp. They make it easy for you by delivering pre-made automation templates. For example, you can create a welcome email drip series for anyone who just joined your list. Similarly, create an abandoned cart series of emails for people who drop out mid-purchase. But, all of these are paid features.
Best Mailchimp Alternatives
Mailchimp may seem as the undisputed king of email marketing platforms. However, there have been quite a few attempts to take its crown in the course of its existence. Its free plan can be a great learning course before moving up to a more advanced email marketing platform.
We've prepared a list of best Mailchimp alternatives to choose from. Today, we're discussing three aspects:
Features
Pricing and
What makes the solution better or worse than Mailchimp
Hailing from France, SendinBlue is the new kid on the block aiming to take business from likes of Mailchimp and ActiveCampaign. Launched in 2012, SendinBlue has amassed more than 50,000 users, which is no small feat in this competitive market.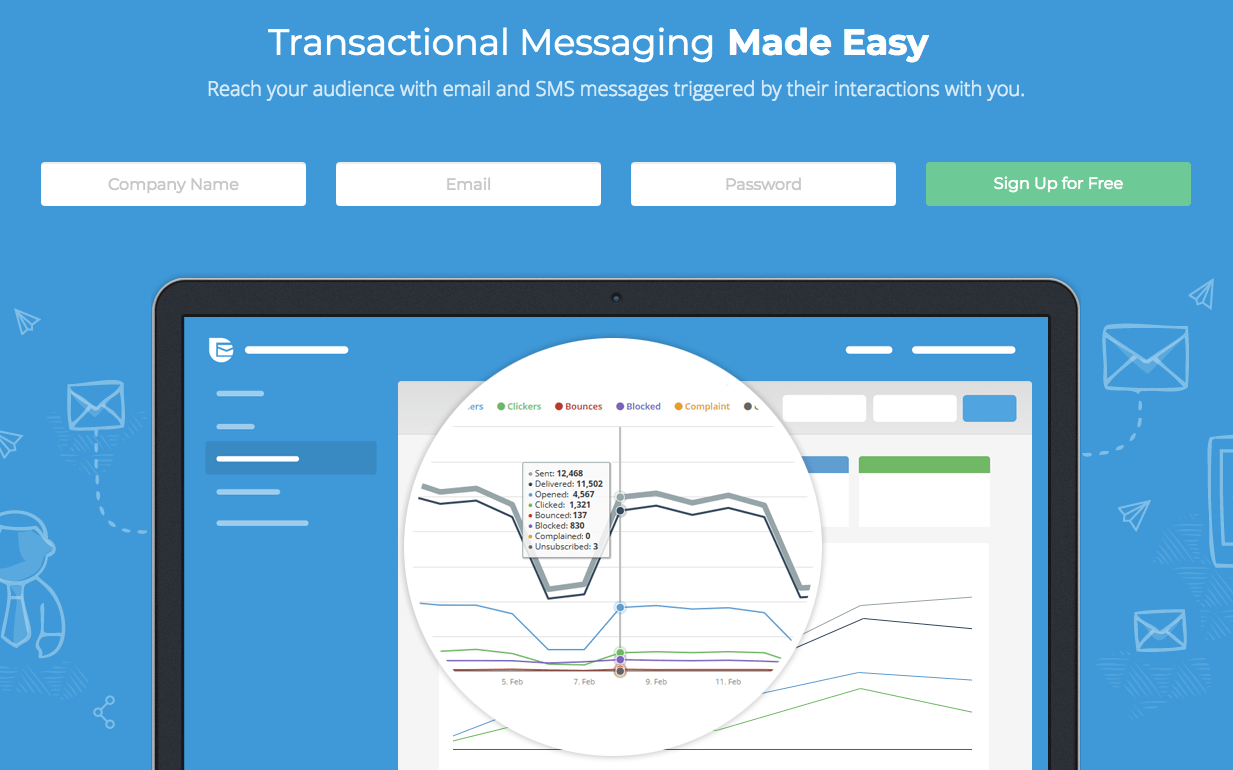 Features
As you would imagine, it comes with all the bells and whistles of a modern email marketing platform. These include a great autoresponder, the ability to set up split tests and segment your audiences. The email editor works great, no matter if you're a newbie using the drag-and-drop interface or a pro who knows their way around HTML.
What sets SendinBlue apart from the rest of the pack is the ability to send out SMS marketing campaigns. If a large part of your marketing efforts relies on SMS, this could be a great solution to kill two birds with one stone. Another great thing about SendinBlue is that their servers are in Europe. This makes it an excellent choice for EU-based companies.
Pricing
SendinBlue is one of the rare Mailchimp alternatives that offers a free plan, but it's hardly worth mentioning. It's just 300 emails per day for an unlimited number of contacts. However you do the math, it's simply not enough.
The next step up is the Lite plan, which is $25 per month and is good for up to 40,000 emails monthly. Depending on how big your mailing list is and how often you send out emails, this could either be a great or a horrible deal. However, if you have a list of 1,000 subscribers which you email 8 times per month, that leaves you with 32,000 more emails, so it's pretty good value. If you want to get their landing page builder and unlimited automation workflows, you'll have to go for the Premium plan at $66 per month.
Conclusion
In general, SendinBlue is an excellent Mailchimp alternative if you're looking for a paid plan with more than 1,000 subscribers. It focuses on the number of emails rather than subscribers, which can be off-putting to some marketers. However, it's generally affordable compared to other solutions on the list. If you're also in need of SMS marketing, this is without a doubt, the right software for your needs.
With about 15 years of experience behind their belt, GetResponse has been around for much of Mailchimp's existence. However, it struggled to get the same kind of popularity. It started out as an email marketing platform but eventually grew bigger. It now includes some more options to make it an all-round marketing solution, but more on that in a minute.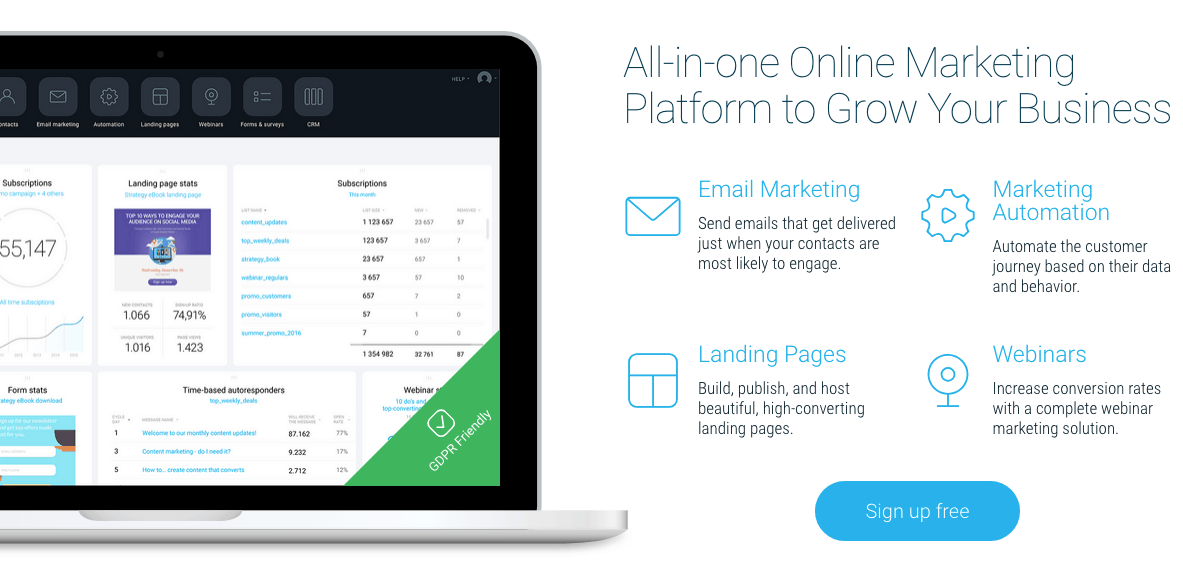 Features
The first similarity between the two is the autoresponder system, which works excellent on both platforms. You can schedule automatic responses to emails based on many parameters. These include date and time they join, the actions they take within the emails and much more.
From then on, things get slightly more complex. It offers autoresponders, drag-and-drop email composers and campaigns and more. It also comes with a landing page editor, an exit-intent popup designer, a full-blown CRM, as well as a webinar platform. If that sounds a bit too much for an email marketing solution, you probably need something a bit simpler.
Pricing
On account of pricing, Mailchimp is clearly better for smaller sized companies as they can use their free plan. Comparing the paid plans, GetResponse is more affordable in general. For instance, the cheapest plan is $15 for 1,000 subscribers. On the other hand, Mailchimp for the same amount of subscribers is $10, but as soon as you jump to 1,001, the price hikes up to $20 as well. When you count in the fact that GetResponse offers discounts if you pay annually and bi-annually, it's definitely a better deal.
Conclusion
In general, GetResponse is a better option if you have a larger number of subscribers. Moreover, it's great if you need an all-purpose solution that combines email marketing, landing page builder, CRM and more. If you're looking for something that's simpler in nature, for a smaller subscriber base, Mailchimp is the better option.
No email marketing comparison can be written without mentioning ActiveCampaign, and it's for a good reason. Founded in 2003, they've been around the block for a while. Mailchimp focused more on the B2C segment. On the other hand, ActiveCampaign has followed the B2B direction and developed features for more demanding users.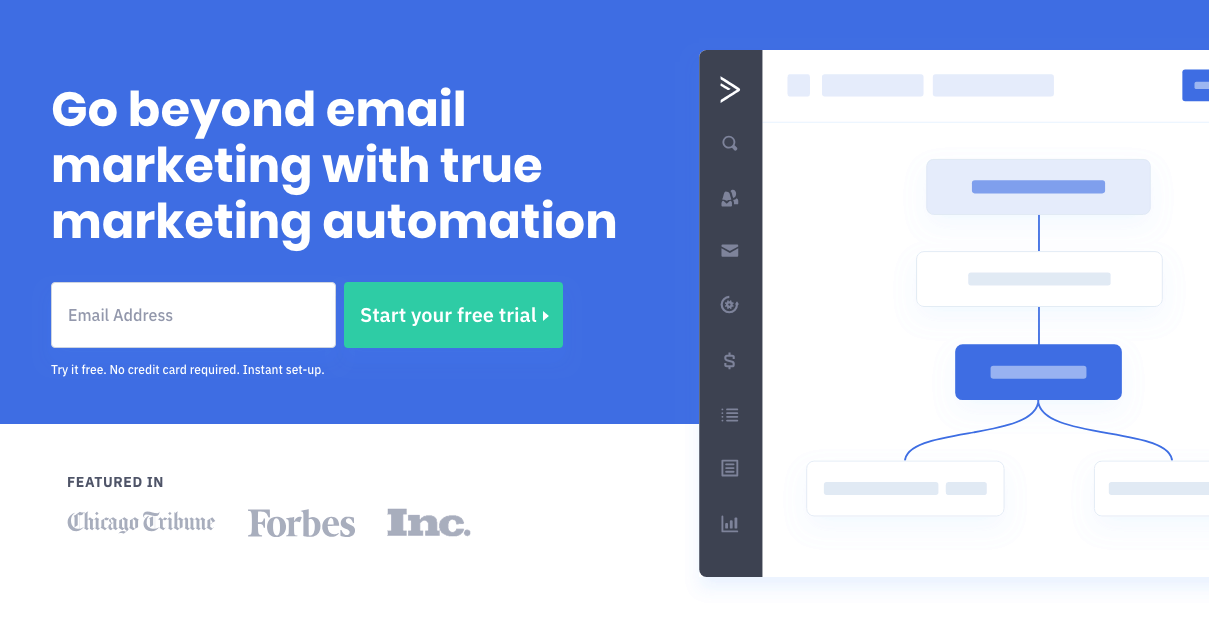 Features
Similar to GetResponse, ActiveCampaign is marketing automation software first. Other features include complex tagging, split testing, a CRM solution and much more. Even though it has the robustness of GetResponse, it's generally easier to use and the interface will be a breeze to even the most novice of users.
Pricing
ActiveCampaign's basic Lite plan for 1,000 subscribers is $17 per month if paid annually, or $29 per month if paid monthly. This makes it more expensive than Mailchimp in both cases. Note that the Lite plan only includes the most basic email marketing features. Some other features include complex lead scoring, tons of integrations, CRM and many others. If you want these, you'll have to jump for the Plus plan, which comes in at $49 (annually) or $70 (monthly).
Conclusion
In essence, ActiveCampaign is a great email marketing tool if you're in B2B. It's also excellent if you have a decent subscriber base and you need all the extras in the Plus plan. But, if you're looking to start small and need some basic features, then Mailchimp is a better and cheaper solution.
AWeber has been a household name in the email marketing business since it was founded in 1998. Even though it's been around for a while, it has a modest number of customers (somewhere around 100,000) compared to Mailchimp. However, this does not mean that it's not as good of a tool, or even better.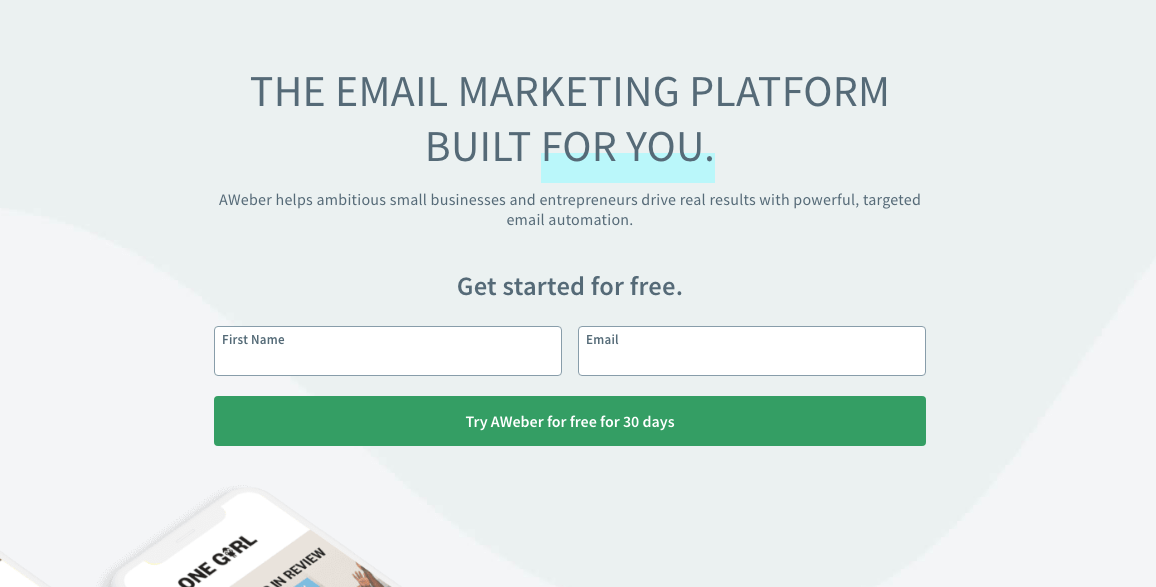 Features
It boasts a great autoresponder feature, complete with list segmentation and a range of pre-set sequences to choose from. It also has an email editor that comes with editable templates, but it's not as easy to use as Mailchimp's. In other words, don't go into editing a template without some previous knowledge of HTML, or at least an hour or two of free time for googling solutions.
It also comes with split testing features, as well as a drag-and-drop email collection builder. The builder is a handy feature for anyone who wants the same solution for collecting and storing their emails.
Pricing
On Aweber's cheapest plan, you will pay $19 per month for up to 500 contacts, which you can get for free on Mailchimp. From 501 to 2,500 contacts, you'll have to fork out $29 per month.
Conclusion
This might be the deciding factor for many entrepreneurs and the reason why Aweber is not so widely represented. Based on price alone, Mailchimp is clearly the better choice of the two, but AWeber is the better one if you're looking for advanced email marketing options and better support.
Built as a Mailchimp alternative for content creators (by a content creator), ConvertKit has been around since 2013. They've managed to get a fair share of the email software market in this time. It's one of the very few SaaS companies that strongly believe in transparency. They publicly disclose their annual and monthly recurring revenue. In fact, you can check out all of ConvertKit's metrics on a publicly available page.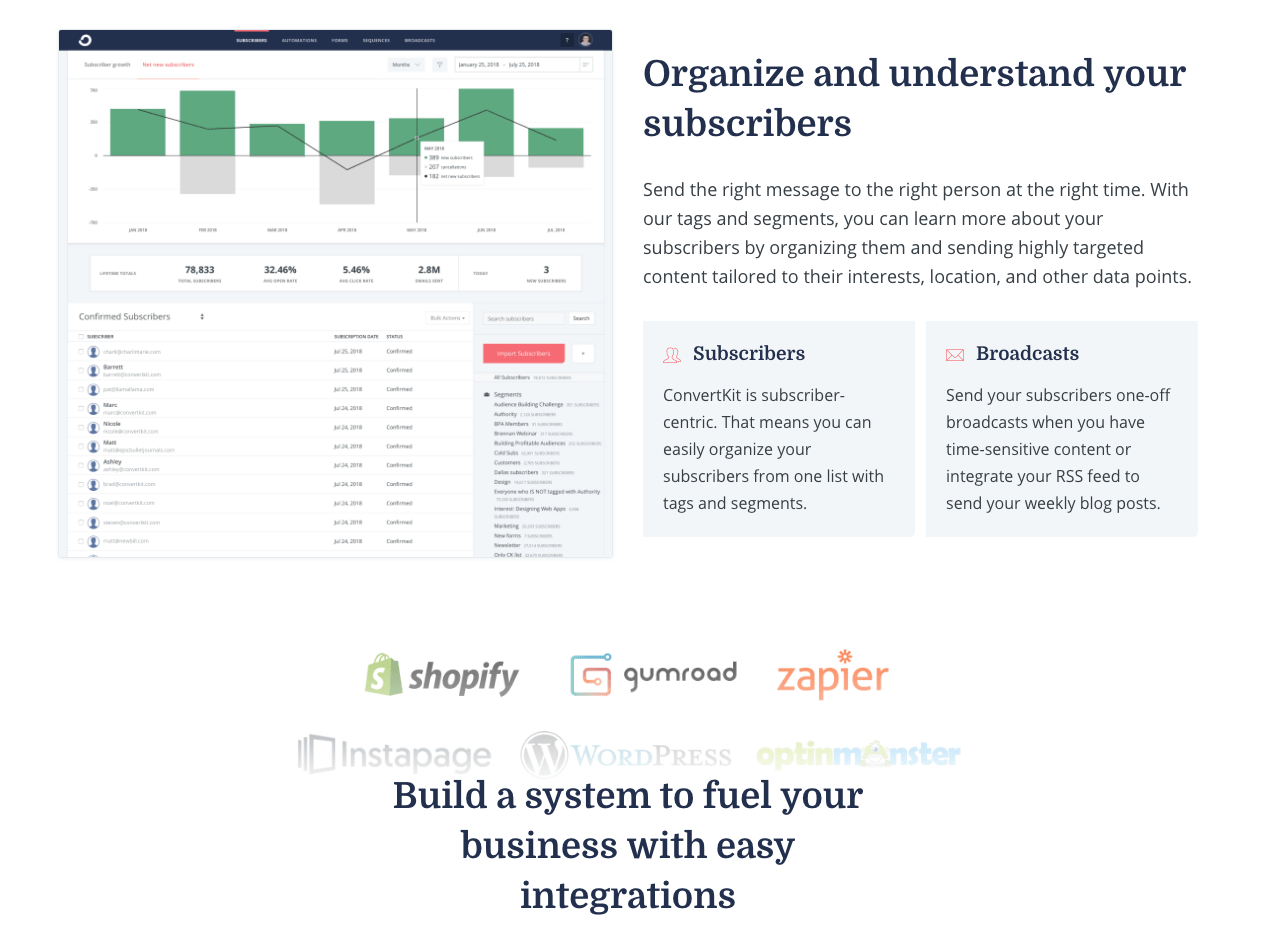 Features
When it comes to features, it boasts a great campaign builder. It allows you to create detailed campaigns with a broad set of triggers and conditions. If you are a more skilled user, you'll probably find it easier to use. What's more, it's also visually more impressive than Mailchimp's builder.
Where ConvertKit is seriously lacking is the email builder. Mailchimp (as well as many others mentioned in this list) come with tons of beautiful templates with pretty images. ConvertKit doesn't believe in flashy emails that look like spam, so you'll get a basic text editor and not much more. If this is not your cup of tea, you'll probably like Mailchimp's more visually focused email editor quite a lot more.
On the other hand, ConverKit's popup and landing page editor is excellent. It allows for plenty of options to edit the design, the placing and copy and create your ideal way to collect emails. Once you're done, you can embed and integrate into the CMS of your liking.
Pricing
As far as pricing is considered, it does not come with a free plan. However, the paid plans have a twist. The number of emails you send out is unlimited, and you pay by the subscriber number. This way, for up to 1,000 subscribers you would pay $24 or $29, depending on whether you pay monthly or yearly. This may seem more expensive than Mailchimp. However, if you factor in the unlimited number of emails, it could be a great deal for businesses that send out daily emails.
Conclusion
Overall, it's a great alternative to Mailchimp. However, the lack of free plan means that ConvertKit is a choice for large businesses and enterprises.
Instead of focusing on becoming great at everything, the folks at SendPulse picked a few fields and decided to perfect them. The platform combines email marketing, SMS marketing and push notifications, which makes it one of a kind on this list.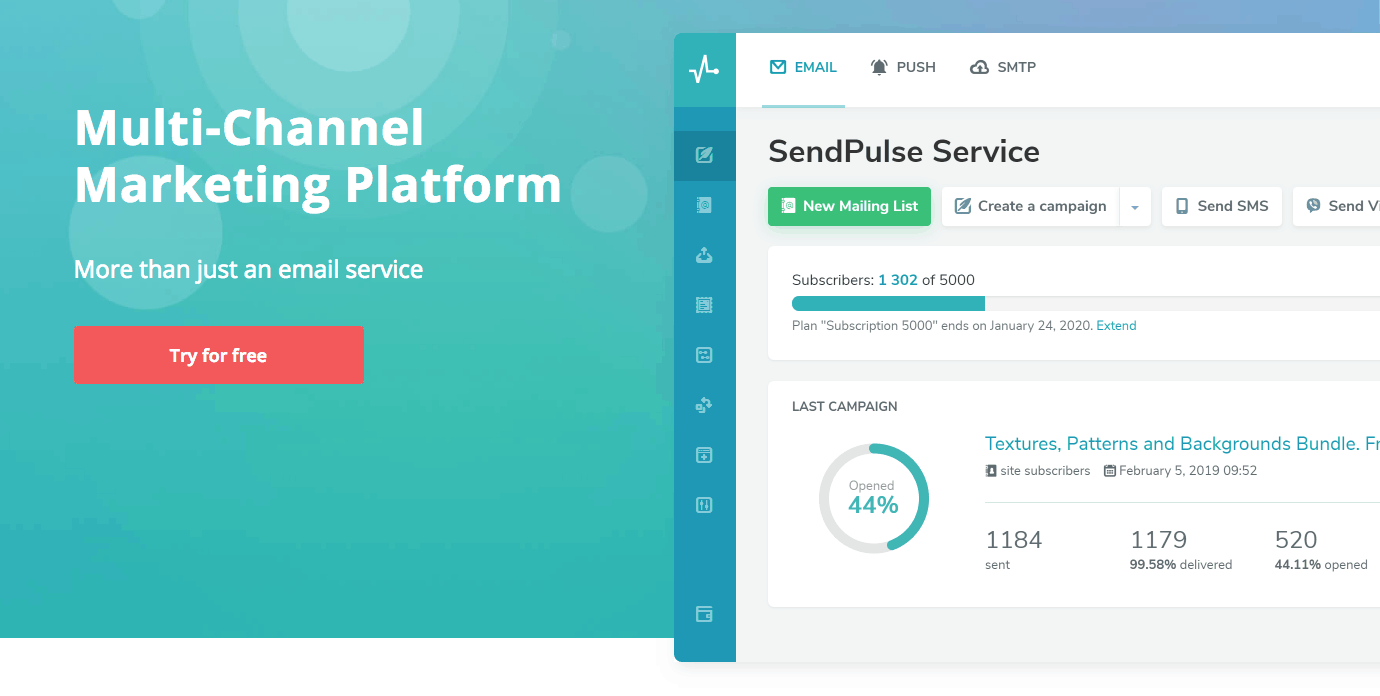 Features
In the standard email marketing package, they have all the usual features. These include autoresponders, segmentation, form builders, split testing, analytics and more. The SMS marketing works flawlessly and is easy to integrate into your global marketing strategy.
Pricing
Pricing is an interesting point with SendPulse, because it's one of the few Mailchimp alternatives that offers a free plan. You can snag it if you have up to 2,500 subscribers. Moreover, you can send out up to 15,000 emails monthly, which is an excellent deal for businesses with a smaller mailing list. You can also pay as you go, for a set number of emails, which is a great solution for businesses with lists that fluctuate regularly.
Conclusion
Overall, SendPulse is a worthy Mailchimp alternative. It has competitive pricing and plenty of useful features – and picking one of these two would be fairly difficult.
Perhaps this is a bit of an unfair comparison, but hear me out. Emma is a fairly new solution in the world of email marketing. However, it offers all the features of heavyweights such as GetResponse and ActiveCampaign.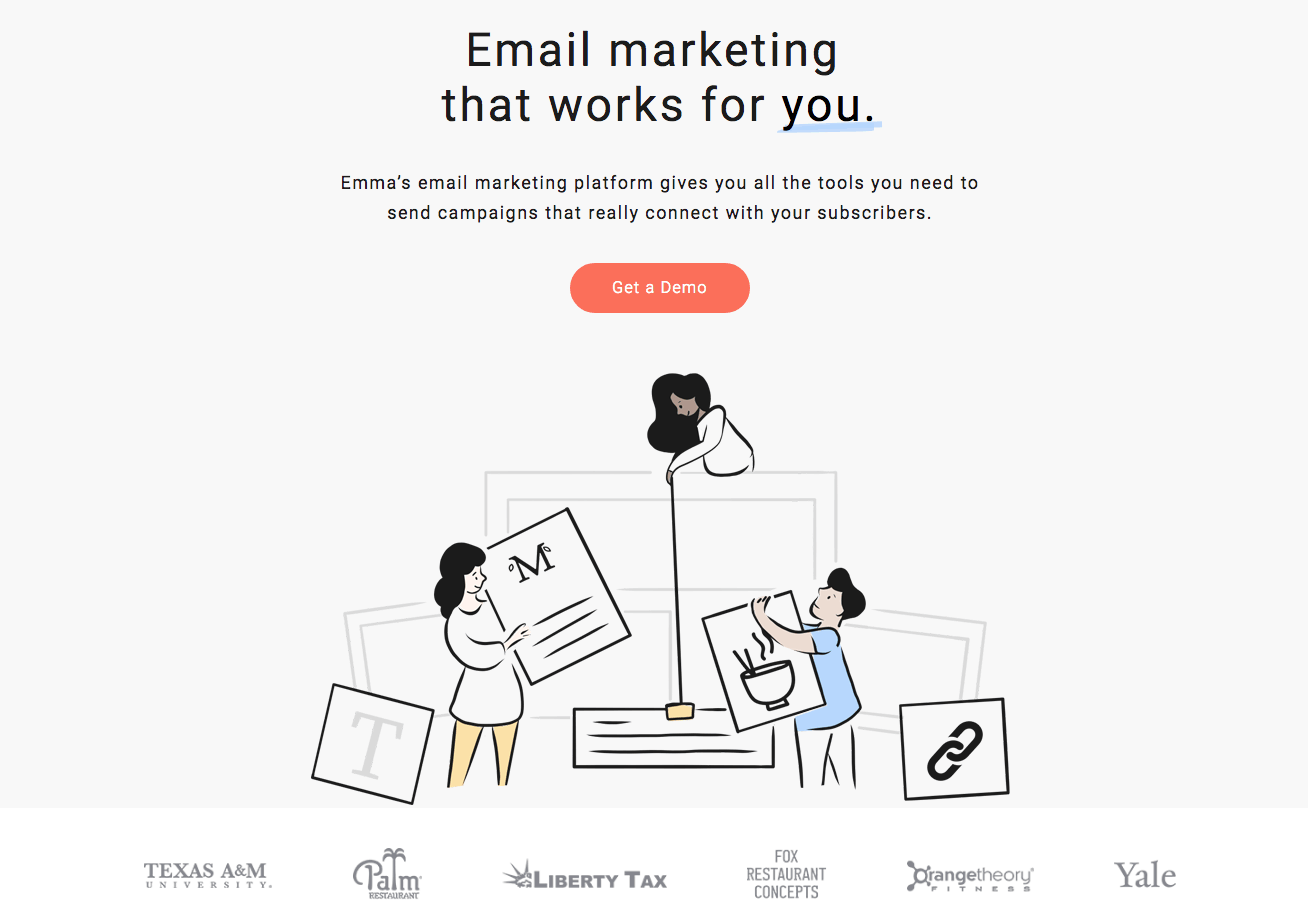 Features
Emma offers excellent segmentation, marketing automation and email personalization. On top of all this, you can set up dynamic content so that once you have email lists, they'll automatically receive exactly the messages they need to.
Similar to some previously mentioned tools, Emma comes with a landing page builder with tons of gorgeous templates to choose from. There's also an option to edit HTML if you feel like it – although it's not necessary.
Pricing
Here's why Emma isn't so widely spread as a Mailchimp alternative – it's very expensive. In fact, its cheapest plan comes in at $89, which allows up to 10,000 subscribers per month. Compared to others on the list, it's not so expensive for a 10,000-person plan, but the fact that this is their cheapest plan is quite inconvenient.
Conclusion
Emma is best geared towards small-to-mid-sized business with a larger subscriber list. For digital marketing pioneers, it's simply too pricey. Emma is also a part of the same group as Campaign Monitor.
Different email marketing clients serve different audiences. If you want an affordable service, you go to Mailchimp. If you want a complete marketing automation platform, you choose ActiveCampaign. On the other hand, if you want emails that look gorgeous, you choose Campaign Monitor.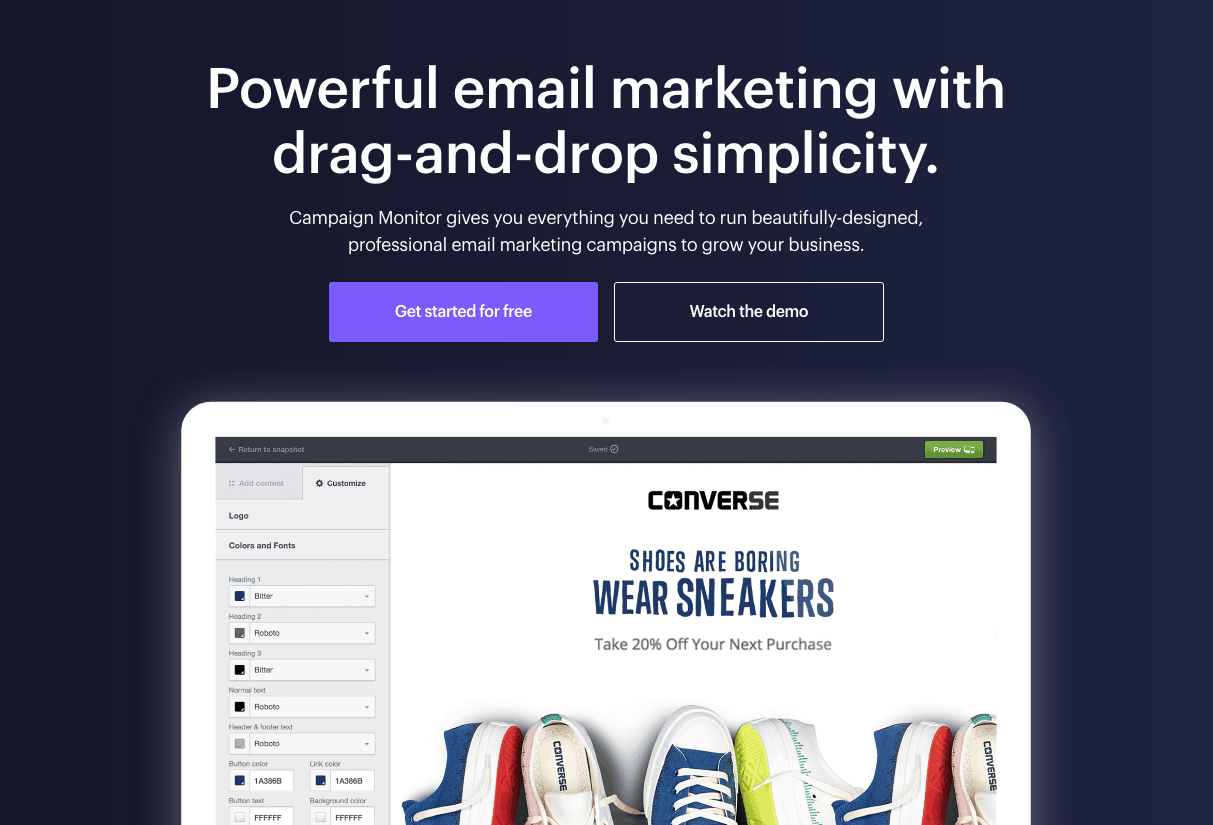 Features
It is equipped with a great drag-and-drop-editor and over a hundred templates. Moreover, Campaign Monitor makes it so easy to create beautiful emails that you'll never go to plain text emails again. To top it all off, emails are mobile ready so you don't have to worry about optimizing.
Some other features include split testing and integrations for social media platforms. There is also detailed automation and segmentation and much more.
Pricing
When it comes to pricing, there are no free plans but you can get the cheapest plan for $9 per month, which gets you 2,500 emails monthly for 500 subscribers. If you want to unlock unlimited emails, you'll have to spend $29, which is not exactly the cheapest option on this list.
Conclusion
If you want great looking emails, opt for Campaign Monitor, but the monthly plan is not worth the great looks alone. Mailchimp is the better option of the two, considering the pricing and capabilities.
In some shape or form, Constant Contact has been around since 1995, so they know their way around the industry. In 2014, they decided that just offering email marketing is not enough. Since then, they went the Active Campaign route to build a full-fledged marketing automation platform.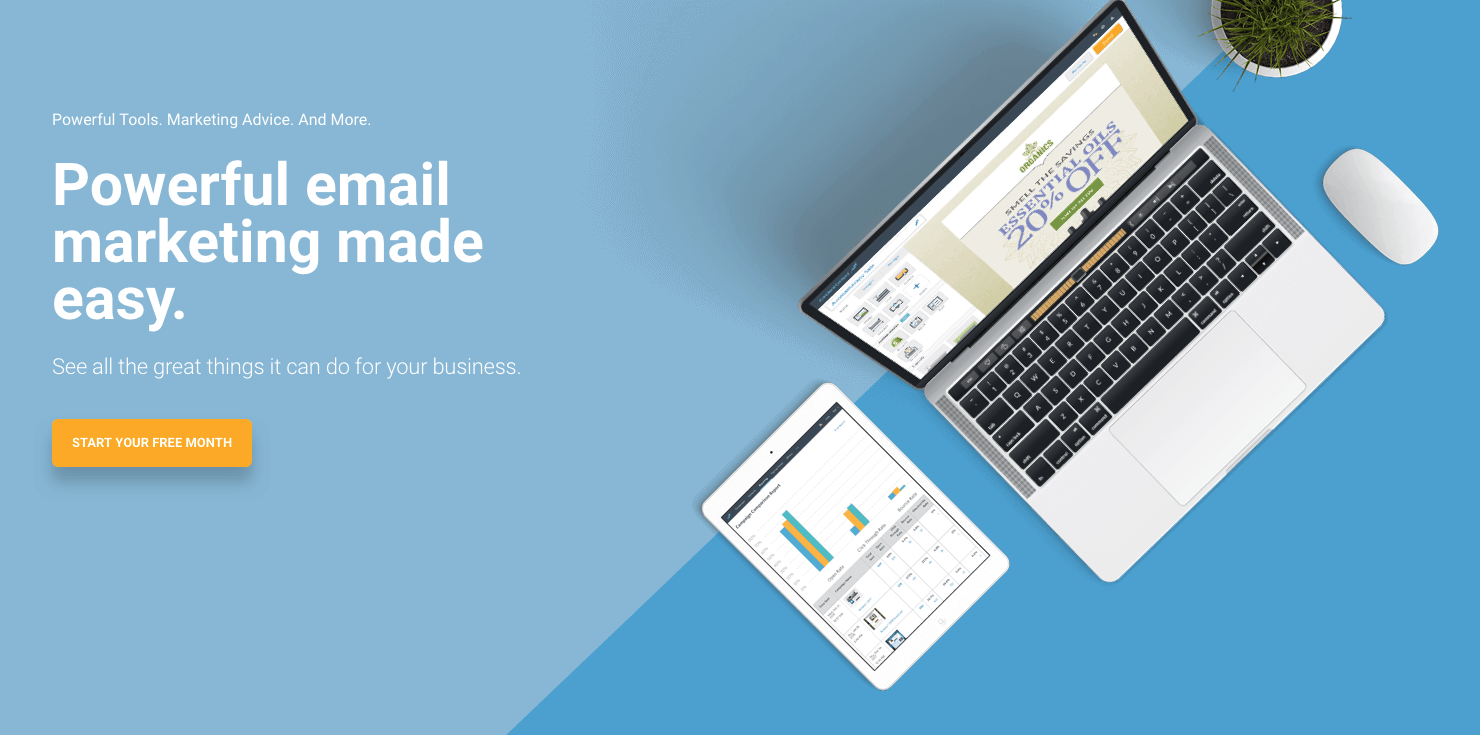 Features
Let's start out with the good things. Unlike Mailchimp, Constant Contact lets you tag and segment your list in great detail, which is a feature unavailable in Mailchimp. The email builder is great and comes with some neat templates which look slightly better than Mailchimp's, but that's more up to personal taste.
Now, some things that aren't so great. First of all, Constant Contact does not come with any split testing capabilities. If you want to run a split test, you'll have to do it manually, which takes quite some time and effort.
Second, the automation is rather limited, as you can only run autoresponder sequences once someone joins your list. Other than that, your hands are pretty much tied.
Pricing
Constant Contact charges $20 for a list of 500 subscribers and unlimited emails. Decent value – but you can get the same amount for free with Mailchimp, but without some of the features such as eCommerce integration, polls, better support, automated email resend to non-openers, etc. The next pricing plan is for 501-2,500 subscribers and will cost you $45. You get the first month free of charge.
Conclusion
If you have more than 2,000 subscribers and you need a robust email marketing software, Constant Contact is a good deal, but if your list is smaller and you're just beginning, try other options.
---
Mailchimp has proven its worth and stood the test of time. And this is the very essence of Mailchimp – it is ideal for beginners and small teams. It has all the necessary features. Couple this with an excellent Free Forever plan and it's clear why it is the choice of so many digital marketers.
However, many great competitors have come out since its conception. Mailchimp may seem kind of bare-bones compared to solutions such as ActiveCampaign, SendinBlue or GetResponse.
Also, Mailchimp is not the best option for anyone looking for an all-around solution. If you want more than just a simple email marketing platform or you're looking for B2B email marketing, you're much better off with Constant Contact, ConvertKit or AWeber.