The benefits of using WordPress appointment scheduling plugins for your business are enormous. Better management and more returning clients are only a couple of the things you will enjoy with their integration.
Do you run a business which requires reservations? Are you tired of making appointments on the phone? If you have just nodded your head twice and you own a WordPress website, then you are in the right place because today we are going to introduce you to WordPress appointment scheduling.
Imagine allowing your clients to book directly from your website on their own. Now that is possible with WordPress appointment scheduling plugins. With just a few clicks, website visitors can book your services quickly and easily.
For company managers or business owners like you, this is beneficial for several reasons. On the one hand, the booking process is much simpler and saves time. On the other hand, you can better manage yourself, the customers, and the staff.
Thanks to WordPress appointment scheduling plugins, you can also keep your customer data in one place. This includes emails which you can later use for email marketing or sending different promotions.
Thousands of users around the globe use BirchPress. This WordPress appointment scheduling plugin is developer-friendly and enables businesses to add a booking system into their website and manage their appointments and customers easily.

You can design different scheduling forms thanks to the form editor according to your needs. This tool is perfect for businesses which offer different services, including wellness centers, driving schools, healthcare, hair salons, gyms, etc.
Features
All WordPress websites that include BirchPress shortcode allow their visitors to check availability, make or cancel reservations by themselves. It also syncs the calendars you use (Android, Outlook, iPhone, Google, iCal) with your scheduling calendar while making it possible for bookings to be imported or exported automatically. This is undoubtedly one of the best features it offers.
Among the other characteristics, this WordPress appointment scheduling plugin offers, are email notifications and reminders. Forget about wasting time to contact customers on the phone. This tool allows you to easily get in touch with your clients online whenever an appointment is booked, canceled, or rescheduled.
You can even customize reminders and send them in advance. So, if you decide to use BirchPress, the number of missed appointments will decrease. Isn't that amazing?
In addition, by using this plugin, you can also accept payments online through PayPal. However, other getaways are possible as well through the integration of WooCommerce.
Pricing
BirchPress offers 3 pricing plans:
Personal ($99 for 1 site)
Business ($199 for 1 site)
Business+ ($249 for 1 site)
Each of them offers great features, however, the Business and Business+ have some more advanced features such as group booking, different colors for staff appointments, etc.
Amelia is another WordPress appointment scheduling plugin that helps website owners with online bookings. Many business people running repair centers, beauty salons, private clinics, and other industries, use this tool to manage their staff, offer their services, and make appointments.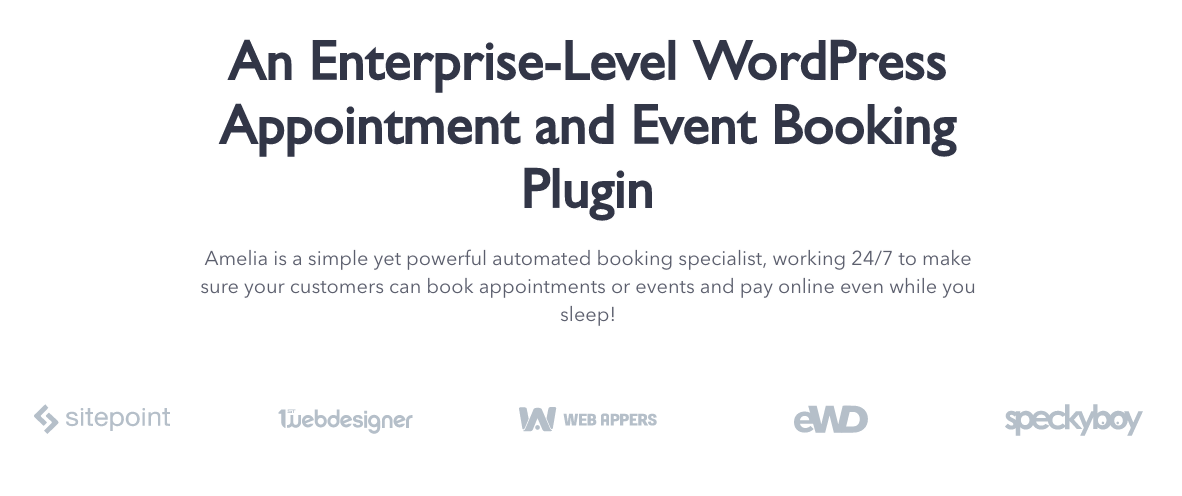 Features
Just like every other WordPress appointment scheduling plugin, Amelia has its own unique features. One of them is managing appointments at several locations. For example, if you own a chain of spa centers, thanks to this tool, your clients can book into the desired location from one website. Website visitors can also choose from multiple services and different bookings. Group scheduling is available as well.
Moreover, Amelia sends email and SMS notifications and reminders of appointments to both employees and clients. Employees can even accept, cancel, or reschedule their own bookings. So, this is quite beneficial when it comes to company management.
With this WordPress appointment scheduling plugin, you can also add special working hours and services, catalogs, discount coupons, calendar, and list view to better manage your workflow, Google Calendar synchronization, and photo galleries of services.
When it comes to payments, Amelia integrates with PayPal and Stripe. Therefore, you can offer services at different prices which visitors can book. WooCommerce integration is available we well.
What you will really like about this plugin is that by adding different shortcodes into your website, you can get insights on how your business performs. You can easily track business performance KPIs, new vs returning customers, revenue, etc.
Pricing
There are 3 pricing plans to choose from:
Basic ($59 a year)
Pro ($109 a year)
Developer ($249 a year)
They all offer the same features. The difference is only in the number of domains you get (Basic = 1 domain; Pro = 3 domains; Developer = unlimited domains).
With every purchase, you get 1-year premium support, unlimited employees and reservations, monthly updates, multiple locations, and customizable design.
Another on the list of best WordPress appointment scheduling plugins is Bookly. Thanks to this tool clients can book your services at any day and any time even when you are out of the office.

With Bookly, you will not only save money, but you will save time as well since clients won't interrupt you in your work calling on the phone again and again. It perfectly adjusts to different screens, so website visitors can book from their mobile phones as well.
Car rentals, dental offices, consultancy agencies, restaurants, massage centers, are only a few of the businesses that use this WordPress appointment scheduling plugin. It is very easy to do the setup on your website that even WordPress beginners are able to do it by themselves. The design is also user-friendly, so your clients can schedule appointments easily and quickly.
Now let's see what Bookly offers.
Features
Among the top features of Bookly is the design of the booking form. You are able to customize how every single step appears to your clients when they book or cancel a booking. Thus, you can add or hide options, change colors and text, etc. This characteristic simply allows you to custom everything according to your business needs.
When you set up the plugin, you can also add multiple service providers who can have an appointment calendar of their own. So, they will be able to accept bookings and manage their profiles and calendars by themselves. What's more, the appointments can be approved manually or automatically.
This WordPress appointment scheduling plugin integrates with Google Calendar thereby supporting the calendars from your staff. To better manage the bookings, Bookly also makes it possible to choose among daily, weekly, and monthly calendar view modes.
With the numerous filters, you can deal with hundreds of reservations easily. You are able to view and manage the booking list including past and upcoming appointments. Moreover, business owners can even export and print the schedules of their employees.
Just like BirchPress and Amelia WordPress appointment scheduling plugins, Bookly also sends email and SMS notifications automatically. This includes confirming reservations, reminders for upcoming appointments for clients and employees, etc. The good thing about these notifications is that you can customize them by yourself.
One of the best things about Bookly is that it supports multi-language websites. So, clients are able to translate the booking forms into one of the following languages:
Portuguese
Romanian
Swedish
Spanish
Russian
Chinese
German
English
French
Italian
Dutch
When it comes to payments, Bokly integrates with PayPal and WooCommerce integration is possible as well. Website owners can also create invoices, download and print them, and send them via SMS or email.
Group bookings, promotion coupons, chain appointments, shopping cart, service locations, setting prices, staff ratings, and built-in analytics are among the other features this plugin offers as well.
Pricing
Bookly WordPress appointment scheduling plugin offers a free and a paid version (Bookly Pro). With the free version, you get limited features. Bookly Pro costs $89 (one-time fee). If you accept payments online, then we recommend getting the paid version since payments are not available with the free one.
Booked is one of the best selling and best-rated WordPress scheduling plugin which makes booking appointments simpler than ever. It is a company and user-friendly whose interface looks nice and doesn't require any custom coding. It is also very easy to set up, so even WordPress beginners can do it by themselves.

Features
This tool makes it possible to create different calendars for every service you offer. It syncs with external calendars, including iCal, Google, and Outlook. Once a client requests a booking, it appears in pending requests where employees can approve or remove it.
Creating multiple calendars is possible, too, and you can choose who can have access to them. In addition, you can view the appointments as a list as well.
With Booked, you can add a page for returning customers who can manage their own appointments. They will also be able to manage their profiles and add personal details, including health information closely connected to the services the business offers.
Some other useful features of Booked include:
Different colors in the calendars for better management,
Paid, registered, and guest reservations,
Language translation,
Customized emails,
Custom time slots,
Vacation days…
Payments are also possible with this WordPress appointment scheduling tool. With WooCommerce integration, business owners can collect partial and full payments. So, your clients can make payments online anytime.
Pricing
You can only purchase Booked through CodeCanyon. It is much cheaper than the other WordPress appointment scheduling plugins, and it costs $49. This is a one-time price, and you need to pay an extra $16.50 for customer support for 12 months.
StartBooking is a handy appointment tool that not only allows you to manage customers but helps you grow your business as well. Its features can suit your business needs no matter how big or small your company is.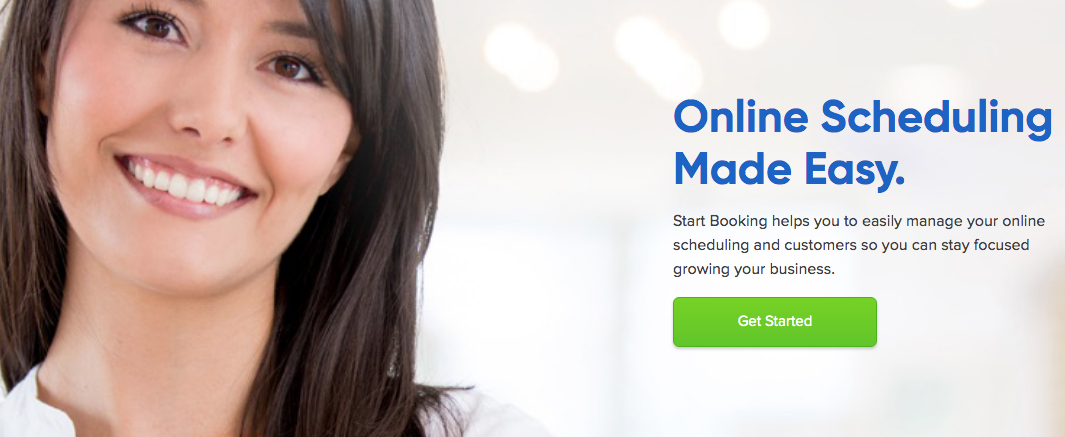 Features
StartBooking integrates with Google Calendar and it's quite easy to use. There are several ways you and your staff can view the appointments: daily, weekly, 3-day, and monthly option. The bookings are simple to make. Clients select the preferred time and date to make a reservation or drag the booking to a new time slot to change it. Just like the other WordPress appointments scheduling plugins, with this tool, clients can also cancel appointments.
Moreover, with StartBooking, you can create classes, group bookings, and unlimited schedules. Thanks to the filters integrated into the calendar, clients can easily search for classes and rooms. Customers are also allowed to select staff, create their own profiles, and add notes of appointments.
With this plugin, you can set office hours, assign specific services, send notifications and alerts. Payments are also possible with Stripe integration. Users can book and pay from their laptops, computers, tablets, and mobile phones 24/7.
Pricing
StartBooking offers 2 pricing plans:
Individual ($7.99 per month)
Business ($19.99 per month)
The Individual plan is great for businesses managing a single calendar, and the Business one is perfect for teams and growing businesses. With the first one, you get basic reporting and with the second one an advanced reporting.
The additional features you get with the Business plan also include business priority support, designated booking rooms, personal setup and onboarding.
When talking about WordPress appointment scheduling plugins, we also have to mention the WP Simple Booking Calendar. It is the perfect tool to use if you rent homes since with its help you can show the availability of rooms, beds, etc. Thus, tourists or website visitors from around the world can book the services you offer easily and quickly.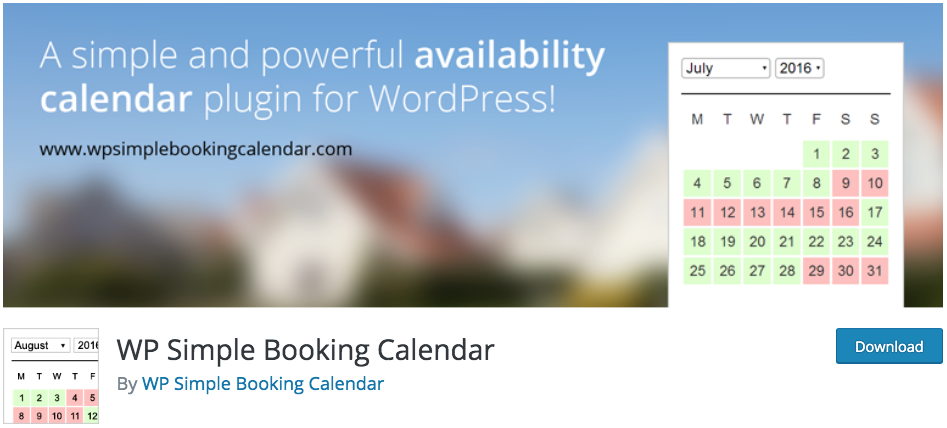 Features
WP Simple Booking Calendar allows you to show the availability of dates. So, people can book online without contacting you on the phone or via email.
Unlike other plugins, this tool only makes it possible for clients to book an entire day. There is no option for choosing hourly time slots. That's why it is best for businesses or people who rent homes.
Pricing
On the one hand, there is a free version of this WordPress appointment scheduling tool. However, the features you get are limited. You can only create one calendar which displays the availability of bookings. Language translation is also possible.
On the other hand, you can choose from 3 premium versions:
Personal ($39)
Business ($69)
Developer ($139)
With each of these 3 versions, you get all of the premium features. The difference is only in the number of websites you can manage. With the Personal plan, you can manage 1 website and with the Business plan up to 5 websites. Those who will purchase the Developers plan can run an unlimited number of websites.
Some of the features you will enjoy with the premium versions include:
Assigning different users to specific calendars
Exporting calendars to other websites
Choosing different themes
Highlighting the current day
Multiple calendar overview
Professional support
Creating legends
Restoring data…
You can choose the plan that works best for you depending on whether you are a person who rents their apartment, you have a range of homes to rent, or you are simply a developer managing businesses.
Among the other WordPress appointment scheduling plugins that are worth mentioning is Easy Appointments. Many businesses integrate this tool on their WordPress websites to make reservations with ease.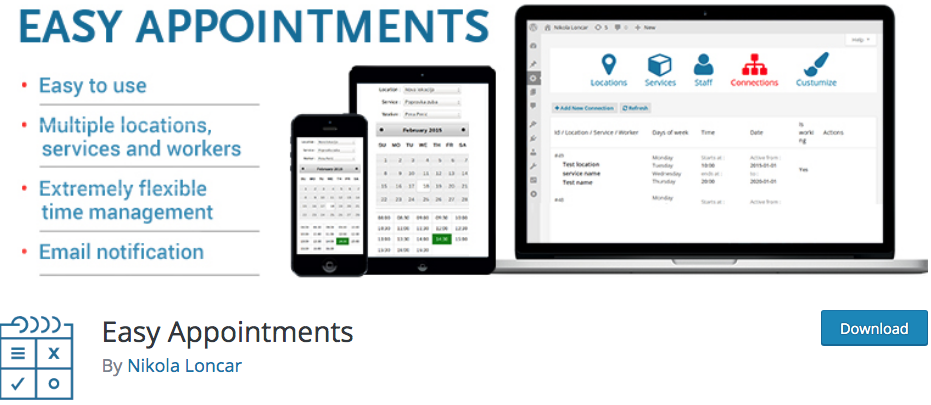 Features
With Easy Appointments, you can add multiple employees, services and locations. There are options for adding different time slots and time formats as well. To make the booking process smoother, sending email notifications are also on the list of features this tool offers. Website owners can send emails for different statuses of reservations: pending, canceled, and confirmed, to both clients and staff. Sending SMS is possible as well.
What's great about Easy Appointments plugin, is that you can connect multiple Google calendars. For each service, you can have different calendars and stay better organized. Even every employee can have their own calendar. Thereby, your staff can easily make changes such as creating, updating or deleting events.
With this WordPress appointment scheduling tool, you can take payments thanks to PayPal integration. So, your clients can pay for your services at any time, even when they are at home.
In addition, this plugin allows you to integrate WooCommerce and iCalendar. With the Reports feature, you can get overviews of bookings and export them to Excel. Thanks to the Tracking Events, you can track appointments with tracking systems such as Google Analytics.
Pricing
You can get Easy Appointments for free. However, just like with the other free plugins, you get limited features. With the Starter ($39) and Pro ($59) extensions, you will enjoy its premium features. The difference between them is only in the time length of updates you get.
Last on our list of best WordPress appointment scheduling plugins is Team Booking. Just like the other plugins, it allows you to choose who can take different actions in the booking system. With the features it offers, you can better manage yourself, your employees and your company.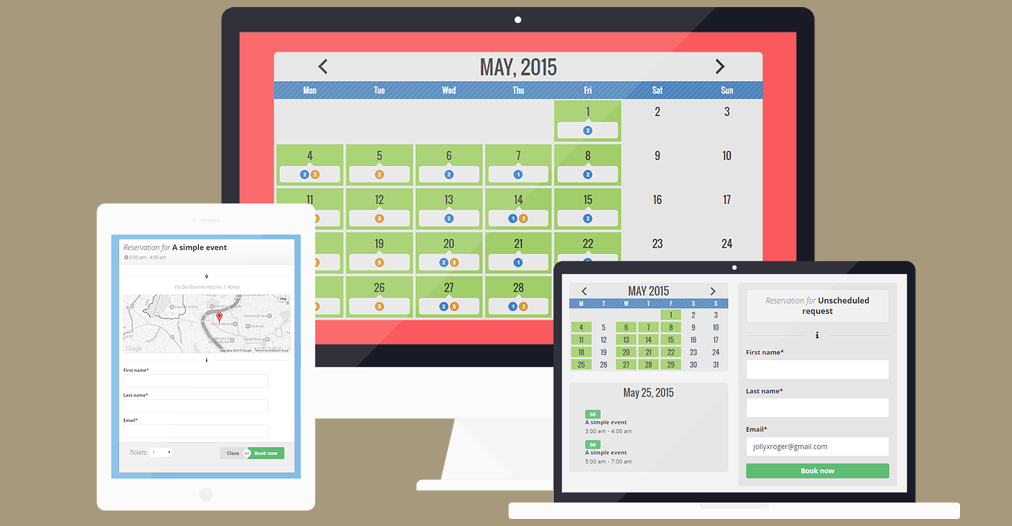 Let's see how this tool differs from the others.
Features
To make appointments, Team Booking integrates with Google Calendar. So, you can easily manage availability and reservations. Each of your team can also access the system and control their own bookings by themselves. You, your employees, and your clients can cancel and reschedule appointments. By sending emails automatically through the system, everyone will be notified if any changes occur.
If the appointments require payments, don't worry, collecting money is also possible with Team Booking. It integrates with PayPal and Stripe thereby offering secure remittances. Sending promotional campaigns and discount coupons are available as well.
Moreover, maps are also integrated into the system, so you can easily send locations to your clients. Language support and time zone conversion are also among the other features of this WordPress appointment scheduling plugin.
Pricing
Team Booking offers 2 pricing plans:
Regular ($28)
Extended ($125)
The Regular plan is affordable and much cheaper than the other WordPress appointment scheduling plugins on the market. However, it does not include payments. So, if your clients need to pay when they book your services, then the best option for you would be the Extended plan. It all depends on your business needs.
---
In the past, people would simply pick up the phone and book the services they need. However, in the digital world we live in, there are many tools that can make the booking process much quicker and easier.
If you run a business that requires making reservations and you own a WordPress website then with the help of the WordPress appointment scheduling plugins you will easily manage yourself, your company, the employees and even the clients.
Stop wasting time answering the phone and writing down each reservation. With the booking plugins, you and your clients will deal with appointments effortlessly.
Your customers don't have to contact you during your business hours anymore. Improve user experience by allowing your clients to make, cancel, and reschedule bookings by themselves at any time and any day. If you want you can even give them an opportunity to pay for your services through the booking system and receive SMS and email notifications, including reminders and promotions.
If you've ever used any of the WordPress appointment scheduling plugins, please share your experience with me.