Author Box Plugins for WordPress are becoming more popular each day. If your business relies on content marketing you should install an author bio plugin to:
Give identity to your blog
Make the connection & enable reader engagement
Highlight your articles in the search engine result pages by showing the author's face next to it
Increase conversions and click-through rates
Multi-author blogs, magazines and other WordPress based business are in constant search for better author boxes to get the most of their blogs aesthetically and in terms of conversions.
I suggest you never use a theme that has a built-in author box functionality, because one day you may choose to change it and your authors' user details are gone.
Fancier Author Box v.1.1 – Overview
We've used a set of metro-styled icons created by our designer, Goran. They look great in Fancier Author Box V.1.1 and you should check that for yourself.
This is how the author box looks with all the social network links enabled.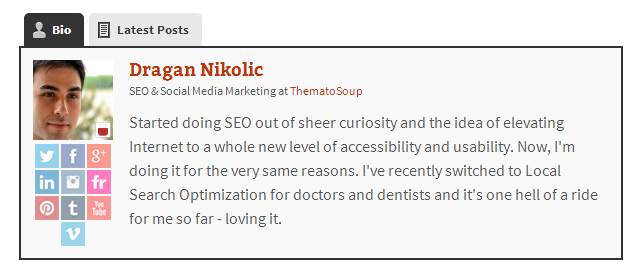 You can see there's quite a few of them:
Beside adding a link to your social profiles, Fancier Author Box automatically verifies your Google Authorship. All you need to do is:
Enter your Google+ ID in Users > Your Profile > Fancier Author Box User Details
Link to your website in your Google+ Contributor to section
Installation, settings, miscellaneous
Fancier Author Box is a free WordPress plugin found in WordPress.org plugin repository. This makes it really easy to install, configure or uninstall it via your WordPress dashboard.
Once activated, Fancier Author Box automatically adds fields to the user profile within the WordPress dashboard for each of the compliant social media icons that can appear in the author box.
Each WordPress user fills in his/her details about company position, social networks and may even choose not to show the author box. You, as an administrator, have the option to choose where you'd like Fancier Author Box to be shown – above or below posts, pages or custom post types and you can also tweak the visual appearance of it.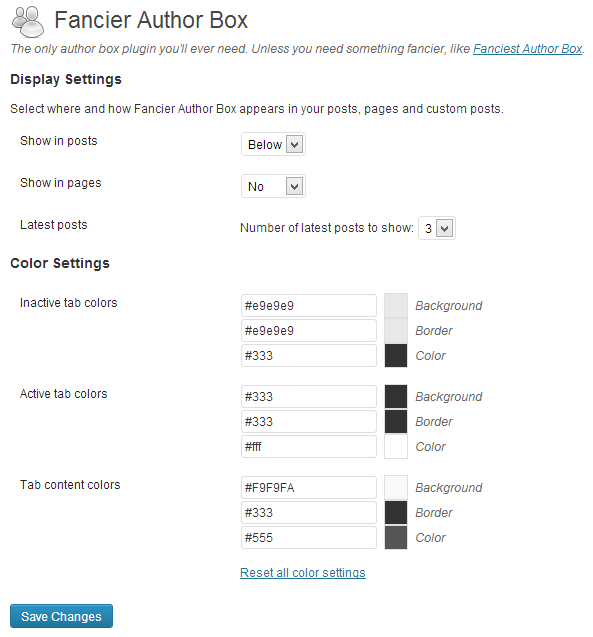 Can I manually hide it for certain posts or pages?
The answer is yes. If you don't wish to show Fancier Author Box for any of your post, pages or custom post types, you can do it by following the instructions below.
Enable "Custom Fields" in screen options in WordPress dashboard

Find "Custom Fields" underneath the post/page where you want to hide Fancier Author Box, and enter a new one: ts_fab_hide

Enter any value (for example: 1), save it and that's it, the plugin won't be added to that post or page.
---
Fancier Author Box is a free WordPress plugin that enables you to quickly and easily add author bios above or below your posts, pages or custom post types. It features some nice functionality and design tweaks through the admin interface so you can match the look of the author bio box to your blog design.
You'll find a lot of free WordPress plugins that enable you to add an author bio to the end of each post on your blog. This is a great feature for blogs with multiple contributors. By highlighting the author's credentials at the bottom of each article, readers get a sense of your blog authority and your authors get an opportunity to promote themselves.
Try it, then tell us what you think. We want to make it even better.