You already know that we listen to you very closely when it comes to new features for our Fanciest Author Box and there's quite a few improvements and tweaks we've implemented over the past couple of months.
Let's take a look at what's been done so far and how we can push the boundaries even further.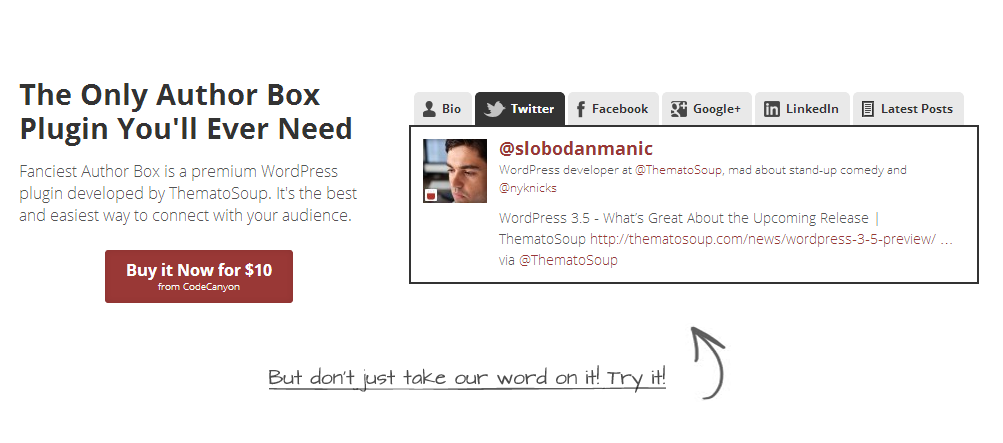 Fanciest Author Box or as we like to call it "The Only Author Box Plugin, You'll Ever Need" has come to a stage of it's full maturity. Majority of you were part of this growing process and helped it take it's current shape and form with some helpful suggestions and constructive critique.
We were so happy when we released the first version and we're so proud of it today. Fanciest Author Box is currently at version 1.3.3. Allow me to walk you through some of the main upgrades and tweaks.
LinkedIn Widget
We had a lot of request from you that we include LinkedIn tab with a profile widget. LinkedIn has recently overhauled the website and updated its API. I know a lot of you have or want many business contacts there, so we did what had to be done. The results are below for you to judge.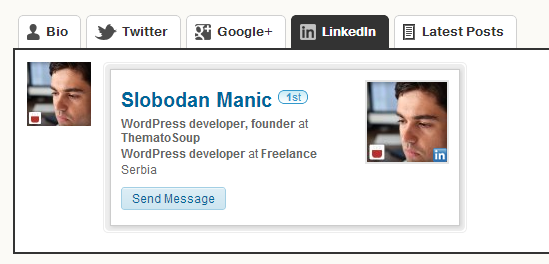 If a person viewing your LinkedIn widget is already in your network, they'll see "Send Message" button, otherwise the button will read "View Profile".
Author Box in RSS Feeds
Some of you wanted to have your author bio in feeds. The advantages to this is that whenever scraper sites copy/paste your content they'll automatically copy author's info with all the links ultimately giving credit to the person who deserves it.
Here's an example of how it turned out. Java-script is disabled in RSS, so we had to restyle it a little.
Other Features
We realize Pinterest has become a major social media platform. For all you who like pinning we've given you a Custom HTML Tab, so you can now easily insert Pinterest Follow button in your author box.

You can also do this for any other social network that gives their users an option for embedding a "connect button" using HTML only.
We've also incorporated the latest Twitter API and your author box now uses Facebook HTML5 instead of iframe, which should lower your server's traffic and speed up your websites.
Other features found in Fanciest Author Box v.1.3 include:
Added option to show icons only in tabs
User profile fields now not shown for Subscribers
Added name linked to Facebook profile for Subscribe widget
Improved custom tab, allowing admin to make it possible for users to override custom tab content only or both title and content (Thanks to Kimberly Castleberry)
Added RTL support (credit: Metude)
Added random author option to widget (credit: Indie-Film Moonworks)
Added Latvian translation (Thanks to Klavs Petersons)
You can read all about new features on CodeCanyon product page.
---
We're so thankful for all your comments and suggestions, but we'd love to hear even more from you. Every new feature you think of makes the plugin punchline even more true.
We always welcome your thoughts in the reply section below and answer your every comment on Twitter, Facebook or Google+.