If you're running a news oriented blog, there's a chance your headlines might not be exactly keyword rich. Figures of speech are to be blamed for that, but people love them and they make your news a lot more fun to read.
That's why Google announced "news_keywords" meta tag which is intended to help Google News to properly classify content and make it more discoverable for users.
We, at ThematoSoup, wanted to make inserting the meta tag an easy-peasy job for you.
Google News Keywords from Tags is a WordPress plugin that automatically picks your posts' tags and uses them to generate "news_keywords" meta tag.
The publishers have been using the News XML sitemap for some time now and news_keywords meta tag seemed like a logical step towards making it easier to tag news articles. So, if a news headline is not keyword rich, Google will still know what's it about.
How does "Google News Keywords from Tags" plugin work
Let me give you an example. Tags used to describe this post are the following: google news, keywords, meta, News, tags.
The code generated by the plugin will be:
<meta name="news_keywords" content="google news, keywords, meta, News, tags">
Simple, right?
Facts about the plugin: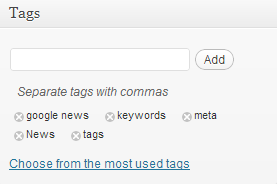 The News Keywords meta tag is automatically generated from posts' tags
If a post has no tags, Google News Keywords meta tag will not be generated
Each article can have up to ten news keyword phrases
All keywords have equal value; input order doesn't matter
Which websites should use News Keywords meta tag?
Google News Keywords From Tags plugin is intended for News Websites only and will not benefit any other type of websites. Guys at Google are serious about this so before installing this plugin, make sure you're running a legitimate News Website.
If you're thinking this might just be open to abuse, you're probably right. Google warns, however, that keyword tag manipulation probably won't do you much good.
~ Search Engine Land
The news_keywords meta tag is but one SEO signal among the sea of others. Quality of news and timing are still the most valuable ranking signals for publishers.
---
You can read more on Google "news_keywords" meta tag by clicking on the links bellow.
A newly hatched way to tag your news articles
Google Wants You To Use Keyword Metatags… No, Really
Google Announces A Meta Keywords Tag Just For News Articles