If you have been reading our blog, you know how we feel about do-it-all premium WordPress themes. The ones that register shortcodes, custom post types, custom taxonomies, handle your SEO, Google Analytics code and who knows what else. A theme that does all that is not a perfect WordPress theme, it is a bloated one at best.
Before explaining it any further, here's our perfect WordPress theme checklist that we plan to cover in upcoming posts:
If there's a chance users might want to keep a feature after switching to another theme (plugin teritory), do it as a free plugin instead
Great support is the most important feature
No branded theme options pages
Make sure first rule isn't broken
In this post, we'll cover our first rule and take a look at why more is usually not better when it comes to WordPress themes.
If a Feature is Really Important to You Don't Let a Theme Handle It
There's a great reason why both themes and plugins exist in WordPress ecosystem, if they were supposed to be the same thing, they'd probably be merged and called thegins or plugemes.
A public WordPress theme, free or paid, is supposed to pull data from the database and display it. That is all.
Sure, it can and should give you options on how to display it, like color schemes, page layouts or background images, but it should never add extra functionality, especially not something you might want to use after switching to another theme. You know, like shortcodes or custom post types. Stuff you might use so much that your site depends on it, but have no idea you'd lose if you replaced the theme.
Why Bloated WordPress Themes Even Exist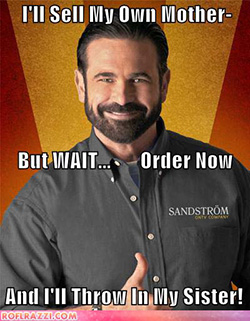 Marketing bullshit, that's why. Selling gimmicks as features and throwing in stuff that you either don't need or can get for free elsewhere is one of the oldest tricks in the book.
Just like products from those infomercials that make sure Idiocracy script is becoming reality, bloated WordPress themes try to make you ignore your needs and buy based on your wants. By making you want something you don't need, of course.
What you actually end up with are option pages so long you'd have to kill a small tree to print them and so difficult to configure you'd probably have to hire a WordPress developer to set it up for you. I've been that developer more than a few times, and after helping two clients configure a top-selling ThemeForest theme, I can't help but feel like we're being Punk'd by ThemeForest crew showing us wrong sales numbers. No, I don't REALLY think that's happening.
Bloated WordPress themes keep bombarding you with features you'll probably never need until you cave in and buy them simply because of their "bangforbuckness".
A bloated theme is like steroids, while you're on them it's mostly WOW, once you're off you start feeling the side effects. Like shortcodes scattered all across your posts, or none of your custom posts being visible in the dashboard.
Modularity is Probably the Best Thing About WordPress
Remember Legos? The coolest thing about them was everything working with everything. In its essence WordPress ecosystem (WordPress installation, themes, plugins) is similar to that. You install WordPress, pick a theme, several plugins and you're good to go. If you want to change the look and feel of your website, replace the theme. Want to add or remove some functionality? Add or remove plugins.

So how do bloated themes kill modularity? Back to Lego example, imagine supergluing two blocks because you think they should always be used together. If you ever change your mind and decide you'd like to use just one of those glued blocks, you can either try ungluing them, breaking them, or finding another block that does exactly what the one you glued did.
So, it doesn't really make sense, does it? Think of it next time you want to buy a WordPress theme because of its "SEO features". A perfect WordPress theme shouldn't pretend to be a plugin.
How a WordPress Theme Can Be Both Simple and Powerful
We believe there is an alternative that's both user friendly and noble. Instead of packing all the extra features into the themes, we're releasing them as free WordPress plugins. The first one, Widget Pack by ThematoSoup, can already be downloaded from WordPress plugin repository. It wasn't made to be used with ThematoSoup themes only, we fully tested it with Twenty Twelve and Twenty Eleven to make sure anyone can use it.
That way you can keep the extra functionality and we're giving back to WordPress community without which none of this premium themes business model would be possible. It also allows you to only use the extra functionality you need and keeps theme options pages short and usable.
Instead of putting on your work clothes with all the tools attached to it, this allows you to open the toolbox and take only the ones you need. It also makes it possible for you to change your clothes and still be able to use the tools. Imagine not being able to use a hammer if you're not wearing your hammering shirt, that's exactly what WordPress themes trying to do plugins' work are like.
Image credits (Lego): Alan Chia