Your branding consists of your:
Logo
Font
Website look & feel
But, these are your colors and brushes, your canvas and artist's signature. Important as they may seem, none of these make up for the picture your're about to paint.
---
Before you start using the easel, you need inspiration. Figure out why you've become a start up, what's your mission, what are the benefits of using your product or reading your blog. The process of figuring out never ends and as it changes, your small business will grow, your blog will gain more readers, you'll learn a lot about yourself, about what drives you, what you stand for.
Branding is the idea you try to build your brand on top of.
The most important branding spice that will help you achieve this is – value. You need to add value to the world by using your words, deeds and ideas. Once you attach your signature to that value, people will recognize your brand.
For example, the idea behind ThematoSoup is that we want to offer you simplified online presence. We do it via our blog by sharing our knowledge and experiences and by producing WordPress products made with best practices in mind, easy to install and configure.
This is a cycle which never ends and we constantly try to improve ourselves.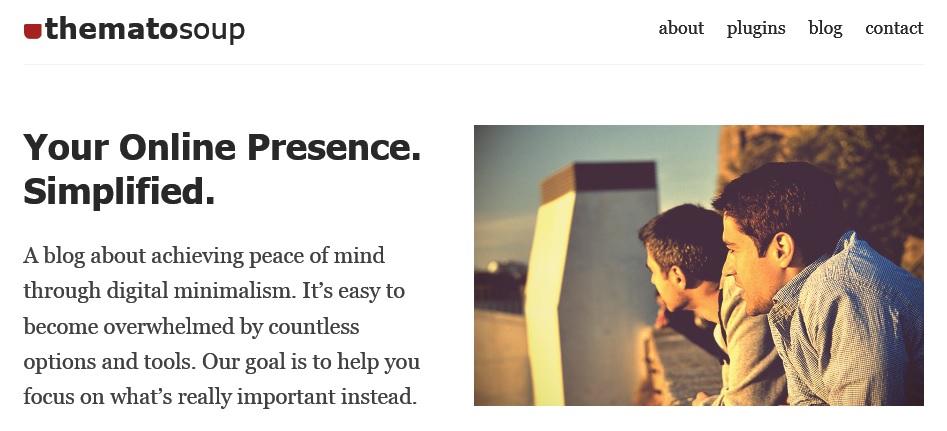 If our WordPress products and articles deliver on the promise of simplifying your online presence, then our logo and our name will be attached to those values.
How to do branding
It's easy once you know what you want. Then it comes down to creating it yourself or paying someone to do it by your instructions.
1. Develop a tagline and make your business philosophy around it
It's easier once you have your pillar stone.
2. Think of and create a logo that will be unique and easy to recognize
Use it with your product lines, on your website, social media networks, etc. Create multiple sizes, you'll need them.
3. Design templates and brand standards for your marketing material
Use the same color schemes, same look and feel for everything connected to your brand.
4. Be consistent
We're working on some of these points ourselves, so don't feel lonely. It's a process of self-realization. We're still discovering ourselves, how we want to contribute and make it easier for all of you starting up or developing your small business.
---
Done right and it's branding that:
Delivers your message clearly
Enhances your credibility
Connects with your readers emotionally and establishes loyalty
Motivates the leads
If this is something you want, then you should spend time researching, defining and building your brand. It's the foundation of your marketing and the core of your every action.
Your branding is the reflection of the ideals you aspire to. Make them big.