Hi all, this time I'll take a look at one of the best all-in-one email marketing and web push services around, SendPulse.
Email marketing is undoubtedly the most efficient way to promote any business. The only problem is, it's not easy. We've covered email marketing plugins for WordPress not that long ago, but this time you'll learn about a web service called SendPulse.
If you are new to Internet marketing, know that customer acquisition and product promotion using email marketing is one of the most challenging tasks.
There are dozens of tools and plugins available on the Internet which can make your email marketing campaigns smooth and easy. Most of the time they do, but only when you spend hundreds if not thousands of dollars on each of your campaigns.
Almost none of these so-called professional and built-for-everyone email marketing platforms (like AWeber) provide you with any sort of free subscription or even feature trials. There's only a few like MailChimp or SendPulse that let you test-ride them. You've probably heard of MailChimp, but what about SendPulse?
What is SendPulse?
It's one of the most customer-friendly, easy to use and truly free email marketing platform founded back in 2015. As the SendPulse guys tell me, it has over 275,000 active users from almost every single country on the planet.
I also wanted to know more about how many people are working on developing new updates and maintaining the current platform so I asked their liaison, Jacob. He tells me there are currently 40 programmers working every single day to make this platform even more stable and feature-rich for their current and new users.
To me, one of the most interesting features which truly distinguishes SendPulse from other email marketing platforms is access to premium features even on their free subscription plans.
I'm currently using their free plan and I could send 15,000 emails to 2500 subscribers. I have been in the field of internet marketing since 2008, and till today I haven't found a single competitor who could provide such a level of service to their customers.
Drag-and-drop Email Editor
Ever wondered how your competitors are creating mobile responsive and beautifully designed emails? Well most probably they are purchasing premium email templates or they are paying hundreds of bucks to professional designers.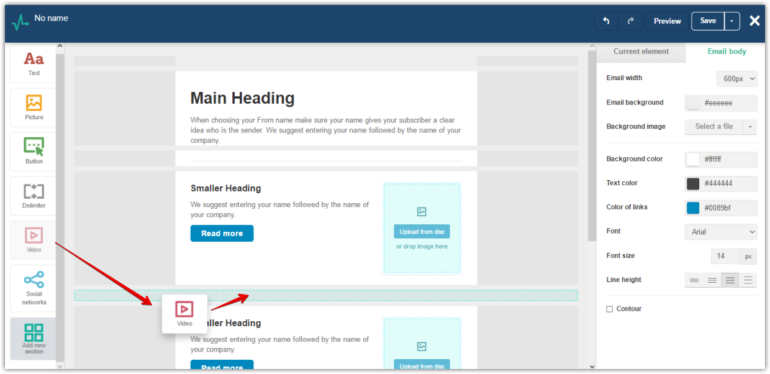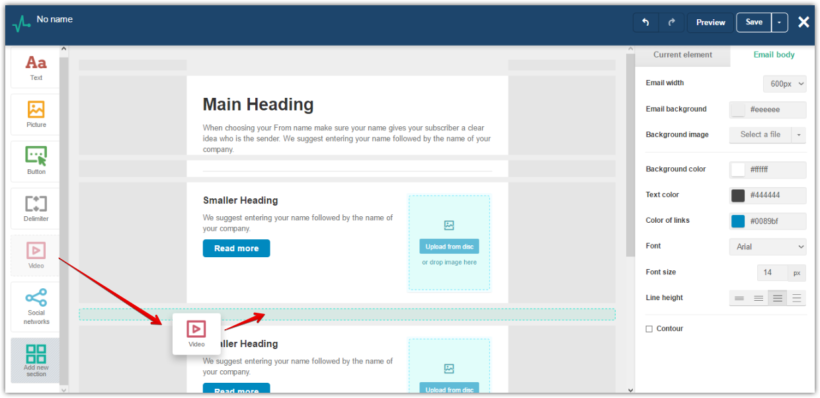 I discovered that with SendPulse, you don't need to spend any extra money on email templates. Even with a free account, you get access to one of the most feature-rich and at the same time easy to use, drag-and-drop email editors.
You basically get three different options to start with:
Use HTML editor
use layout template editor
Import your own already designed template
If your choice is the layout template editor, you will be asked to select a starter template which can be basic, news, e-commerce or simple text. Once you have made your decision, you will be directed to a drag-and-drop email builder. Over here you will be able to add and customize headings, paragraphs, buttons, videos, social media buttons and everything else that makes high-converting emails.
Automated Response
With the help of email automation, you can automatically remind your customers about the product they have added to their cart, but for some specific reason, they have forgotten to complete the checkout process.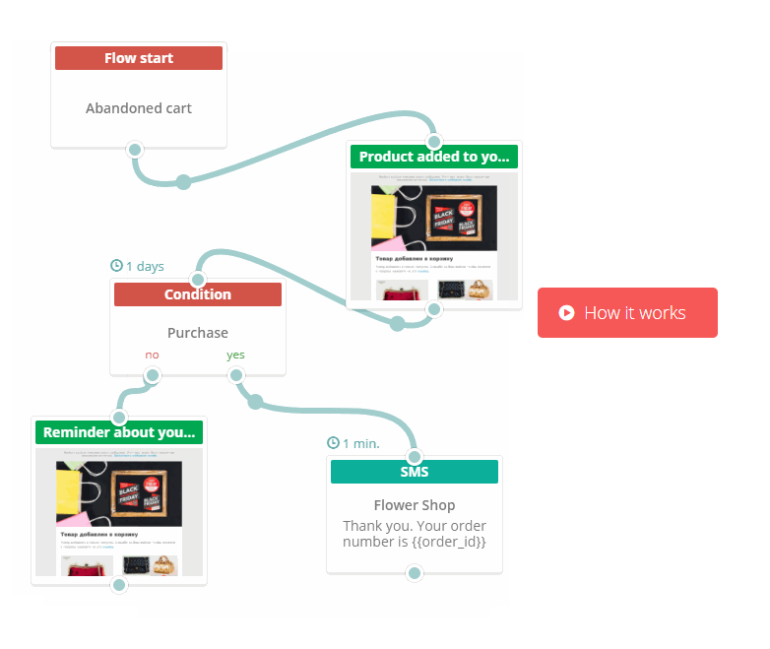 Similarly, you can create specific events which can trigger a particular set of emails for those events. For example, if a customer purchases any product from your store, then you can send them their purchase details along with a thank you note.
A/B Testing
A/B testing, also known as the split testing, is a method which improves your:
Marketing efficiency
Email open rate
Conversion rates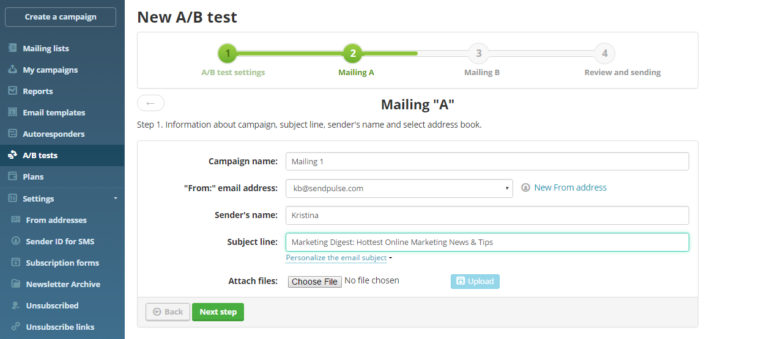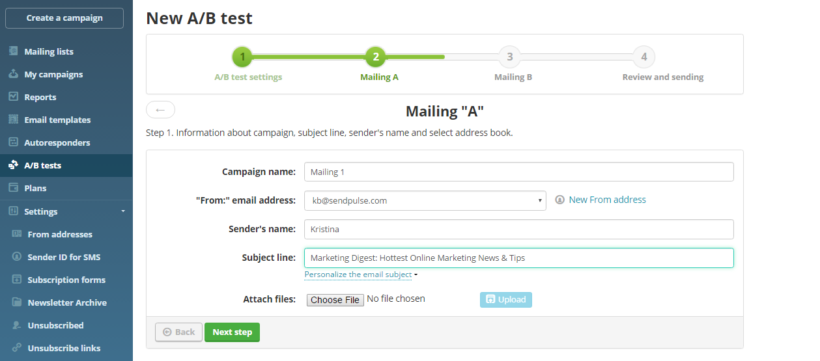 Split testing allows you to create different variations of the same email and then provides you with detailed statistics about their performance.
For example, in your Campaign-1 you choose to send an email in which the subject doesn't have any Emoji while in your Campaign-2 you send the email with the subject which contains Emoji.
Once both of the campaigns are completed, you can track their performance and can see which performed better. Considering the details which you will receive from this A/B testing you can optimize your future marketing plans.
Web Push Notifications
This is my favorite because I've noticed that it converts a bit better than email marketing (maybe because it's new). "Push notifications" is now one of the most trending marketing methods which will improve your number and level of subscribers and return visitors.

SendPulse push notification is free and will remain free to use forever, as they tell me. Furthermore, you will also receive $5 per month for implementing push notifications on your website.
You are literally getting paid for something which is free and which will further improve your conversion rate and your profit.
How to Use SendPulse
Step 1: Create Account
To explore all the features and functionalities of this platform, you will have first to create a free account at SendPulse.
You can either use your email address to create an account, or you can also sign up using Facebook or Google.
Step 2: Create Mailing List
Once you have created and verified your account, you can log in to SendPulse Panel.
There you can start building mailing lists. The mailing list will hold the details of your subscribers.
Step 3: Embed subscription form on your website
Create beautiful newsletter subscription forms without having any programming knowledge with the help of inbuilt Subscription form generator.
Grab the form code and embed it in your website's sidebar or footer area.
Wait for your readers and visitors to subscribe to your newsletter.
Remember that if you already have subscribers, then you can import their details in your lists.
Step 4: Start Your Campaign
Create a new campaign and assign it to any of your email lists.
Remember that you can use A/B testing to improve your open rates and click rates.
Note that even with a free account you get the ability to create unlimited campaigns, A/B tests, and automated response, so don't hold back.
Pricing
SendPulse is free to use if you have less than 2,500 subscribers. Moreover, you are even allowed to send up to 15,000 emails per month.
This platform is free for almost every single newbie internet marketer. But if you are a professional player and have more than 2500 subscribers in your mailing list, then you have to upgrade to either of these two plans:
SendPulse pricing is mainly divided into two different categories.
Email service
Free plan: Best if you have less than 2,500 subscribers.
Monthly plan: Starts from just $9.85 and goes as high as $7,000.
Pay-as-you-go plan: You pay only for the emails you send to your subscribers. It starts from $32 for 10,000 emails and goes up to $812 for 500,000 emails.
VIP plan: If you have more than a million subscribers, then SendPulse guys will create a customized plan for you. All you need to do is to call them. Alternatively, you can also email them.
SMTP service
Monthly subscription: The plan starts at just $8.85 for 25,000 messages. That's actually dirt cheap when compared to the pricing offered by competitors in this field.
Pay-as-you-go subscription model: This plan is best for those marketers who don't send too many emails to their subscribers and customers. You only pay for the messages you are sending. The plan starts at just $15 for 10,000 messages. That's just $0.0015 per email.
Conclusion
Web push notifications is becoming my favorite marketing channel. It seems there's less friction to conventional marketing methods and this leads to more open-rates and better conversions. There's no reason not to try this yourself and test this for your niche.
Email marketing has stood the test of time. It's every marketer's top choice and it's a no-brainer.
SendPulse allows you to utilize both on your website with ease. Try their free account and share your feelings with me. I've had a nice customer experience with them and I want to know your thoughts and feelings about the platform.
If you subscribe using this link, you'll get a nice discount. You will receive a total $50 discount for any monthly plan (email or SMTP). The discount is $10 per month for the first 5 months.